Name : Nusrat Imroz

Nick : Tisha

Born : February 20

Education : Studing in North South University

Vital Stats :

Build : Medium

Height : 5′ 4″

Weight : 49

Zodiac sign : Piceses

Awards :

CZFV Awarded (2004-2005)

Meril Prothom alo 2005

Dubai award Presented by chanel I

London award Presented by NTV

1995 national awarded notun koreeeHair Color : Black

Eye Color : Black

Happiest moment: spending time with family and friends

Interests : Gossiping, watching..

Personal Interests:

Ideal Person : Father
Favorites :
Movie: Babies Day Out
Color: Light Color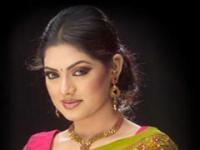 Tisha is a Bangladeshi model. People like her acting very much for her own style. Tisha showed her quality through modeling and acting. When Tisha perform drama from modeling at that time some people say that you can't do it. She continues her task. As a result, Tisha is well-liked actress in short time. Tisha act upon Notun Kuri Magazine program in BTV in early age. Then Nurul Huda surprised to see her acting. Aronno Anower, Mostafa Sorowar Faruki, Golam Sohorab Dalal are her favorite directors. Tisha said that those directors have given chance her for acting she is very much thankful to them. Now Tisha is acting with Mosharof Karim, ATM Shamsul Jaman, Chanchal Chowdhury, Mahfuz Ahmed, Mir Sabbir, Jahid Hasan etc.

Tisha acted various dramas such as Karam, 420, Busy Director, Third person singular number, Kather khucca, etc. Tisha is also acting telifilm. Third person singular number movie is written by Mostafa Sorowar Faruki which is commercially success. This telefilm is very much familiar. Tisha performed various products modeling such as Keya cosmetic Keya lipjel, keya cloth clean soap etc. Her favorite food is Bankarkhani and Fuchkka.