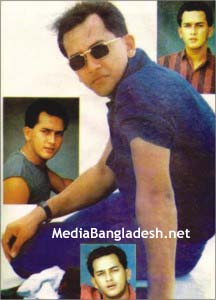 Salman Shah was born in 19th September 1971. The full name is Shahriar Chowdhury Emon. Her father name is kamaruddin chowdhury and mother name is Nila chowdhury. Shaharan is his younger brother. At first, he began his career with the one episode TV serial which name was Pathor Shomoy. After that,
he was performed in TV advertisement. His first movie is Keyamat Thekey Keyamat released in 1993 which is more successful movie. He acted more films like as Keyamat Thekey Keyamat , Tumi amar , Antorey Antore
y , Sujon Sokhi , Bikkhov , Sneho . Prem Juddho , konnya dan , Denmohor , Sopner thikana , Anjuman , Moha milon ,Asa valobasa , Bichar hobe , Ei ghor ei shongsar , Priyojon , Tomake chai etc. He was very active and qualified performer in Bangladesh. In maximum time she was performing his movie with the film actress Sabnur. There are lots of movies which were acted by Sabnur and Salman Shah.  He died in 6th Sep
tember 1996.