First Television channel BTV - Bangladesh Television was broadcast in Bangladesh in the year 1964. Untill 1990s BTV was the only Terrestrial Television in Bangladesh. ATN Bangla was the first private satellite TV channel in Bangladesh. ATN Bangla channel started operating in 1997.

Television Bangladesh :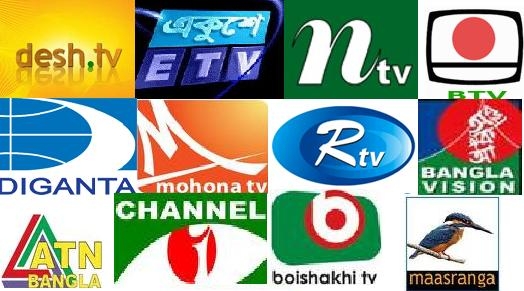 Terrestrial broadcasting networks: Bangladesh Television (BTV), Bangladesh TV owned by Government.
Satellite broadcasting networks: BTV, Independent Television, Diganta Television, Ekushey Television, ATN Bangla, Banglavision, Boishaki, Mohona TV, Bijoy TV, Channel 1, Channel I, DeshTV, Islamic TV, Mytv, Ntv, Rtv, Channel 9, BTV World, Somoy TV, Sangsad Bangladesh TV, Maasranga TV, GTV.
All TV of Bangladesh channels are broadcast from the Telstar 10 satellite with the exception of ATN Bangla which is broadcast from Thaicom2/5.
Internet streaming Television: BDESH TV is the First Online Bangla Entertainment Television is streaming from United State.
Followings Government and Private Bangladesh TV available with details -