We are a TRUSTED newspaper Ad Agency in Bangladesh for all Bangla and English Newspapers advertisements. We provide advertising services since 2004 for all National and Local Newspapers at the lowest price.
যে কোন বাংলা ও ইংরেজী পত্রিকায় ডিসপ্লে ও ক্লাসিফাইড, সাদাকাল বা রঙ্গীন বিজ্ঞাপন দেয়া যায়।
 বিস্তারিত জানার জন্য আমাদের সাথে যোগাযোগ করুন: Contact with us:
01794000169 
বিজ্ঞাপনের মূল্য জানার জন্য  আমাদেরকে নিচের হথ্যগুলো ও কনটেন্ট/টেক্স প্রদান করুন:
 আমাদের ইমেইল এ লেখা বা ডিজাইন পাঠান।

কোন পত্রিকায় বিজ্ঞাপন দিতে চান?

কালার, নাকি সাদাকাল?

কোন পাতায় যাবে?

সাইজ : প্রস্থ্ ও দৈঘ্য কত?
Types of Advertisement and features: – Size: Color or Black White inch-column ad minimum size : 1 column 1 inch and maximum size: width: 8 columns / 6 columns, height: 20 inches.
–  Ad Rate: Advertisement Rate depends on ad color and the page number.
– Classified ad: certificate or documents Lost, Birthday, scholarship, anniversary, Tuition, congratulation, affidavit, Help, matrimonial, buy, sale, and others.
– Spot Ad – front and Back page. – Notice, Court order, caution, legal notice.
– Tender: Request for proposal / Tender for company or organization.- Job Requirements. and other commercial and personal advertisement.
please write or design your advertisement and send to our email address [email protected] to know ad price or rate.
Let us know following: Important
Name of the NewsPaper. – কোন পত্রিকায় এ্যাড দিতে চান?
In Which Page to publish. – কোন পাতায় বিজ্ঞাপনটি ছাপা হবে?
Color / Black-White. – রঙ্গীন, নাকি সাদা-কাল?
Size of the Ad. – বিজ্ঞাপন সাইজ?
Content of the advert. – বিজ্ঞাপনের লেখা?
we will send you quotation or price accordingly within short time.
Top Bangla Dailies in Bangladesh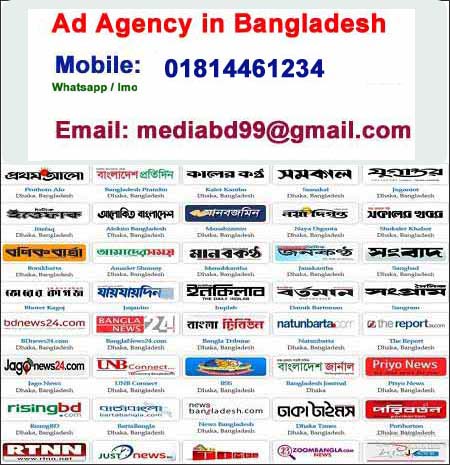 Prothom Alo
Bangladesh Protidin
Ittefaq
Jugantor
Samakal
Kaler Kantho
Janakantha
Naya Diganta
Bonik Barta
Inqilb
Jai Jai din
Amadersamoy
Manabzamin
Sangbad
Bhorerkagoj
Sangram
Manabkantha
Shomoyer Alo
Alokito Bangladesh
Sokaler Khabor
Bhorer Kajog
Janata
and more..
Top English Dailies in Bangladesh
Daily Star
Financial Express
Daily Sun
Dhaka Tribune
New nation
Observer
New Age
Dhaka Tribune
Bangladesh Today
and more..
Contact Ad Agency in Bangladesh
01794000169 
NewsPaper: Ad size
Prothom Alo: Column size: 2 inches
All other newspapers column Size: 1.5 inches.
Full Page Width: 8 column or 6 columns.
Full Page : Height : 20 inches.
Classified  Ad
Advertisement for lost certificate, mark sheet, admit cart,  document, affidavit, buy sale of land, car and more…
Prothom Alo : Min 15 words, Max 60 words
Jai Jai din : min 20 words
Samakal : min 20 words.
Kaler Kontho: min 20 words.
Ittefaq : min 16 words.
Somoyer Alo: min 20 words.
Asia Bani : min 20 words.
Sonali Barta : min 20 words.
more..
Please send your text and gd copy to our whatsapp or imo number (imo: 01814461234) to know advertising cost.
To Get a free advertising quotation please send an email to: [email protected]
Call Ad Agency in Bangladesh
01794000169 
Our office is located in the Motijheel area of Dhaka city, Bangladesh.