Ekushey TV was the first private terrestrial TV channel in Bangladesh. ETV Official transmission began on April 14, 2000, within a very short time of transmission ETV became most popular private TV channel in Bangladesh for its peerless news broadcasting and other innovative programs.
ETV was closed down on August 29, 2002.
Prmission for the TV station to continue transmission once again was granted on April 14, 2005, and transmission was resumed on December 01, 2006.
Finally, ETV official transmission started on 29 March 2007 and, started 24 hour transmission on June 1, 2007.
---
Management:
Chairman and CEO:
Mr. Mohammed Saiful Alam
Chairman
Mr. Abdus Samad
Vice Chairman
(News & Current affairs)
Abdus Sobahan (Managing Director)Mr. Dr. Abdus Sobhan Miah
Managing Director
(Admin. & HR)
Farzan Parveen62222068Ms. Farzana Parveen
Director (Welfare)
Mr. Md. Abdullah Hasan
Director
Mr.K M Shahid Ullah
Director (Public Relations) Mr. Subrata Kumar Bhowmick
Director, Finanace
Mr. Sabbir Bin Shams
Director (Program)
Mr. Rabiul Hasan
Director
(Broadcasting & Marketing)
Mr. Mohammed Morshed
Coordinator, Chittagong &
Marketing Associate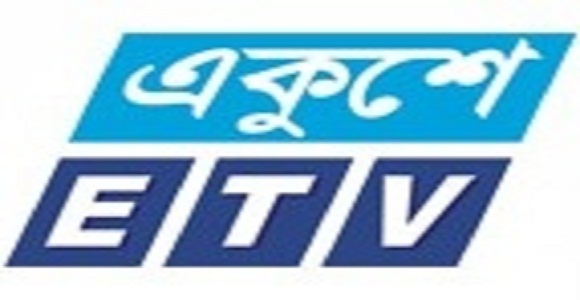 ---
Technical Specification:
Satellite: Telstar 7
Orbital location: 76.5 degree E
Band: C Band
Frequency: 3787 MHz
Polarization: Horizontal (H)
F E C: 2/3
Symbol Rate: 4.600 MS Schedule:Ekushey TV is a Bangle-language channel transmitting news and current affairs, entertainment, drama, films, musical programmes, talk show, telefilms, educational & social programmes, documentaries, foreign affairs, fillers, documentaries, live event & sports and skills development programmes from its headquarters in Dhaka, with plans to broadcast round the clock.
Network Coverage:
Bangladesh
North America
Middle East
Online streaming available
---
At present there are 500+ staff working with ETV, employed in:
1 Management and administration
2 Programming & Production
3 Broadcast & Engineering
4 Finance
5 Sales & Marketing
6 Graphics
7 New and current affairs
8 Human resources Development
9 Business Development & Corporate Strategy.
Address:
Ekushey Television Ltd
Jahangir Tower
10, Karwan Bazar,
Dhaka 1215,
Bangladesh
Telephone:00880-2-8189910, 8189909 Fax:00880-2-8189905 Email Address: Websiite: