Mohona Television is a satellite television channel broadcast from Bangladesh. It was launched on 11th of November 2010. The TV is very popular all over the country for its programs MOHONA TV started its journey with the determination of promoting Bengali culture and language by using latest technology.
MOHONA TV has its own fully redundant state of the art Satellite Earth Station. The earth station is used to broadcast digital signal to Telstar 10 satellite.
Management:
Kamal Ahmed Mojumdar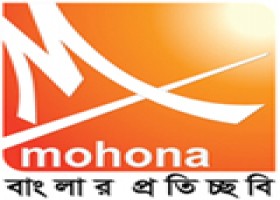 Chairman & Managing Director.
Shaikh Wahidur Rahman
Vice Chairman
Technical Specification:Satellite: Telesatar10 (Apstar 2R)
Orbital Location: 76.5 E
Transfponder: 10A, C-Band
Downlink Polarization: Horizontal
Modulation: QPSK
Download Frequency: 4003MHz
Uplink Frequency: 6228MHz
Compression: MPEG2
Symbol Rate: 4340MSPS
FEC: 3/4
Mohona TV Bangabandhu 1 Satellite Frequency
Satellite Mohona : Bangabandhu 1
Orbital Position: 119.1 degree East
Downlink Frequency: 10805 V MHz
Symbol Rate: 3696 KSPS
FEC: 30000, 2/3
Polarization: Horizontal Pole
Video Coding Format: DVB-S2, 8PSK, MPEG-4.
Mohona TV programs schedule
Mohona TV mainly shows Bengali drama, film, Live talk show, music , Islamic program and english news also. The Bangla news time are 10.30 am, 12.30pm, 2.30pm, 4.30pm (Songbad Saradesh), 7pm, 10.30pm &  12.30am
Productions of Mohona TV
-News and Current Affairs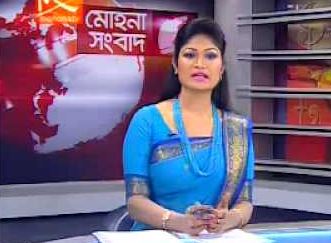 -Documentary
-Live Program
-Talk Show
-Drama (natok)
-Law Related Program
-Musical Program
-Islamic related Program
-Information and IT based Program
-Cinema
-Cultural Show
-Program for Children
-Travel Show
Address:
Mohona Bhaban,
House # 8, Road # 4,
Section # 7,
Pallabi, Mirpur
Dhaka-1216
Telephone:00880-2-9011799, 9016596 Fax:00880-2-9005495, 9005496 Email Address: Websiite:
about mohona tv
Mohona tv is  premier broadcaster of Bangladesh, shall adhere to highest ethical standards and values of the society;
They provide news with objectivity, integrity, and absolute professionalism;
Popular products are plays, our music, our arts and our culture depicting our true and traditional cultural heritage;
Mohana  finds new talents from all fields of our cultural life, nurture and promote their growth, and place them forward; and commit towards satisfaction of each of viewer, worldwide, and will be responsive to their expectations.