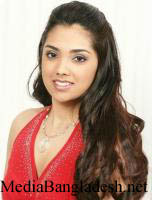 Junior Miss America's Nora Ali, daughter of a immigrants Bangladeshi who won $50000 scholarship in cash in 2007.
Nora Ali's parents, Zaki Ali & Mahfuza Ali, emigrated from Bangladesh in 1977. They both earned their Ph.Ds in chemistry.
Although Nora Ali born in USA she came Bangladesh and visited the National Mausoleum in Savar and placed wreath at the altar paying tributes to the liberation war martyrs.
Nora has been mobilizing funds for the Sidr affected children of Bangladesh.