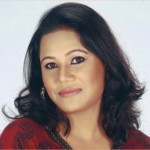 Singer Chandra Roy, daughter of Renowned singer Rathindranath Roy.
Chandra Roy took her first lesson on music from her mother in childhood. She also learned respectively from Swapna Roy, Surojit Roy, Sazzad Hossain and Khairul Anam Shakil. Her first solo album 'Jokhon Thambe Kolahol' was released in 2009 in New York.
Her first basic solo album 'Boroshar Himel Hawa'.
Music director of her first album, Basu said, "Chandra came to sing songs after learning, not before learning like many other singers.