It is considered the oldest archaeological site of the county. It is located at a distance of 18 km north or Bogra town on the western bank of the Karatoa river. The spectacular site is an imposing landmark in the area. having a long fortified enclosure. Beyond the fortified area, other ancient ruins fan out within a semicircle of about 8 km radius. This 3rd century B.C. archaeological site is still held to be of great sanctity by the Hindus. Every year (mid-April) and once every 12 years (in December) thousands of Hindu devotees join the bathing ceremony on the bank of the Karatoa river. A visit to the Mahasthangarh site museum will acquaint tourists with wide variety or antiquities, ranging form terracotta objects to gold ornaments and coins recovered from the site
Kaptai Lake Chittagong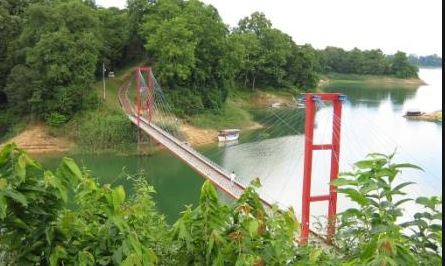 Famous Kaptai Lake, the largest "man-made" lake, spreading over 680 sq. km. of crystal-clean water flanked by hills and evergreen forests lies in the Rangmati Hill District. The lake was formed when the Karnaphuli river dam (153 feet high, 1800 feet long crest) was built for the purpose of hydroelectric power project at Kaptai. The old Rangmati town was submerged under lake water and a new town had to be built later. The lake is full of fish and provides facilities for cruising
Madhabkunda waterfall Sylhet
Madhabkunda waterfall is one of the most attractive tourist spots in Sylhet Division. Lots of tourists and picnic parties come to Madhabkunda every day for their enjoyment. You can go to Madhabkunda either from Sylhet if you go by road or from Kulaura if you go by train.
Kantaji Temple Dinajpur
The most ornate among the late medieval temples of Bangladesh is the Kantanagar Temple near Dinajpur town, which was built in 1752 by Maharaja Pran Nath of Dinajpur.
World War II Cemetery Comilla
Second World War warrior's graveyards are in this Cemetery. There are 755 graves in this graveyard of the great warriors who died in world war from1939 to 1945 in Chittagong and Comilla areas. In this well-preserved cemetery at a quiet and picturesque place within the city lie buried in eternal peace over 700 soldiers from British, Australia, Canada, New Zealand, India, Myanmar, East and West Africa, The Netherlands and Japan who laid down their lives on the Myanmar front during the World War II. Every year a number of tourists come here to visit this Cemetery.
Foy's Lake Chittagong
This lake is a natural beauty of Chittagong, where you can enjoy boating and also you can spend your leisure time in a serene atmosphere of lake and hills. This is in Pahartoli, a satellite town of Chittagongh. Chittagong Division is located at southern part of the country has an area of 33771 sq. km and a population of 23.99. It has 11 districts and 38 municipalities..more Beautiful tourist sposts in Bangladesh..