The Sundarbans is the largest mangrove forest in the globe, located in the southern part of Bangladesh. Sundarbans lies on the Ganges-Brahmaputra Delta at the point where it merges with the Bay of Bengal. Its beautiful array of trees and wildlife the forest is a showpiece of natural history. Sundarbans consists of more than 200 islands, separated by about 400 inter-connected tidal rivers, creeks and canals.
The Sundarbans was originally measured more than 200 years ago that about 16,700 square kilometers. It is now estimated to be about 4,110 square kilometers of which about 1,700 square kilometers is occupied by waterbodies. The Sundarbans lies under two forest divisions, and four administrative ranges viz Chandpai, Sarankhola, Khulna and Burigoalini and has 16 forest stations. The forest further divided into 55 compartments and 9 blocks. The Sundarbans was declared as a Reserve Forest in 1875. About 32,400 hectares of the Sundarbans have been declared as three wildlife sanctuaries, and finnally the UNESCO declared World Heritage site in 1999.
Voting system was as follows: (voting is over) You should have an email address to vote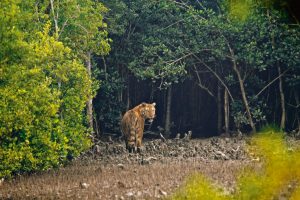 Then visit new 7 natural wonders website
select region "Asia" then select "Sundarbans, Forest (Bangladesh/India" from the drop down box
should submit up to 7 nominations
Multiple nominations for the same candidate are was voided
Then click to Submit button
New member was asking to sign in or ask to fill member form, then click Submit button
Finally email verification to complete vote.
There was an alternative system to vote by SMS from mobile phone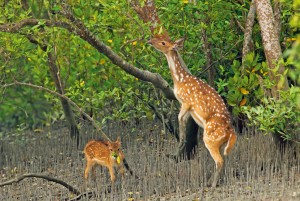 SMS Voting for Sundarbans was as follows:
Go to message option of mobile handset then Typed – from Bangladesh Telephone operators
SB then sent to 16333
Within few seconds the vote sender was received a congratulation message. thats all.
The Sundarbans placed 14 in the new 7 wonders of nature competition organized by the Swiss-based New7 Wonders Foundation which announced world wide competition in 2007.
(Voting was closed)
New7 wonders of Nature
Amazon Rainforest and River – Bolivia, Brazil, Colombia, Ecuador, France (French Guiana), Guyana, Peru, Suriname, Venezuela
Jeju Island – South Korea
Halong Bay – Vietnam
Iguazú / Iguaçu Falls (National Park) – Argentina, Brazil
Puerto Princesa Underground River – Philippines
Komodo Island (National Park) – Indonesia
Table Mountain (National Park) – South Africa