Rock legend Harrison's wife comes to Dhaka with another mission
Forty years ago he had made Bangladesh indebted to him through staging the Concert for Bangladesh.He died ten years ago at 58. But even ten years after his death, the world's one of the biggest rock icons George Harrison's legacy has returned to Bangladesh in a different way.
This time, Harrison's wife Olivia Harrison has come to Bangladesh. Her mission is to launch some floating schools with the help of the Unicef to provide education to the underprivileged children in remote areas. Olivia is providing the fund for the schools through the Unicef from the George Harrison Fund for Children that was created in 2005.
"I wanted to leave something in his name. He [George] trusted Unicef," said Olivia Harrison in an interview at Hotel Sonargaon on Tuesday following her two-day visit to see the primary progresses of the floating school scheme.
She added, "It's in its initial stage… Sometime by the end of the year it will get a shape."
She said the floating schools may in future ultimately become the model for schools where children have no access to educational institutions.
The George Harrison Foundation carries out the legacy of Material World Foundation that the Beatles guitarist founded in 1973 to support alternative cultures to promote music of the world, especially from the Indian sub-continent.
"He had an emotional attachment to Bangladesh," said Olivia, whom Harrison first met in 1974 and married in 1978.
Being a very close friend of legendary Bengali Indian musician Ravi Shankar, who felt very strong about doing something for Bangladesh during the War of Liberation in 1971, Harrison had planned the Concert for Bangladesh.
"Ravi was very distressed… which George could not ignore," said Olivia describing how Harrison conceived the historic concert in Madison Square Garden, New York. "He [George] was in very deep water. It was only a year after his band [the Beatles] had disbanded. He was in the middle of a recording… He felt that his part of contribution [to the cause of Bangladesh] was music."
When Harrison was organising the concert with Eric Clapton, Bob Dylan, Jim Keltner, Billy Preston, Leon Russell, Ringo Starr, Ustad Ali Akbar Khan, Ustad Alla Rakha and Ravi Shankar, Olivia was a Californian resident who was travelling to Europe. "When I came to know about the concert, I was very angry that I did not know about it beforehand and I did not get the chance to see it," she said.
George was also spiritually inclined to the Indian sub-continent and, in particular with the Bengali culture. While he taught himself sub-continental musical instruments like sitar, he also took lessons on Hinduism from various spiritual gurus.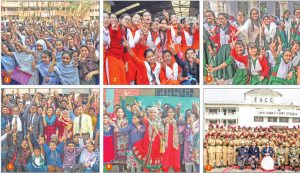 "George cooked very good Bengali food," Olivia noted, adding, she herself can cook a few good Bengali dishes.
George named his only son Dhani after the sixth musical note of Indian scale (Sa, Re, Ga, Ma..), said Olivia. Dhani was born in 1978 and is a musician.
Asked if George ever planned to come to Bangladesh, Olivia said, "His life ended too soon… I'm here. I did not expect to be here. He could have been here."
On which of Harrison's works epitomises his spirit the most, Olivia picks his 1973 studio work Living in the Material World and his first post-Beatles 1970 triple album All Things Must Pass.
On her two days of exposure to Bangladesh, Olivia said, "I spent a good deal of time in India and also visited Cambodia. There is a similarity among the three countries. Bangladesh has had a hard time and a harsh life. It's not a surprise to me. There is a great movement here among the people. It's a sea of culture."
A passionate gardener who is also busy with music, Olivia believes all grownups have a responsibility to look after the children around the world. This is her driving force to work with the Unicef to help the children