Mount Fuji is the highest mountain in Japan. It is known as Fuji san in local. Near the Pacific ocean and coast in the middle of Honshu. Mount Fuji is 3776 meters high. Mount Fuji has erupted about 600k years ago.
It is one of the sacred mountains which experienced major popularity throughout the world. Mount Fuji erupted in 1707.
Mount Fuji was included in world heritage sites from 2013. Mount Fuji is an active volcano.
July and August every two months in year Mount Fuji is opened for climbing, eight peaks of Mount Fuji on the edges of jagged are –
 Jojudake.
 Izudake Mushimatake.


 Hukusandake.
 Komagatake and
 Kusushidake.
Oshaidake, Kengamine, temples, and shrines are surrounded by Mount Fuji. To climb on Mount Fuji has been a religious practice. People used to choose the night to climb Mount Fuji to finish it by dawn.
Way to Mount Fuji
From Yokohama and Tokyo, it can be seen on clear seasons. It situated on the Yamanashi and Shizuoka border. Mount Fuji erupted in 1707. To enjoy Mount Fuji in the best way you should go to shin fuji station during the middle of the day.
Mount Fuji Also enjoyed by a train trip from Osaka and Tokyo. From Tokyo, you can choose this departure option.
 Ikebukuro Departure – Bus ONLY
 Ikebukuro Dept – A Plan includes Drinks & Food
 Shinjuku Dept – A Plan includes Drinks & Food
 Ikebukuro Dept – S Plan includes Drinks & Food
 Shinjuku Dept – S Plan includes Drinks & Food
 Shinjuku Departure – Bus ONLY
For seeing beautiful nature more leisurely you should go Fuji five lakes local name (Fujigoko and Hakone) and Fujinomya. Here are some stations for Going to Mount Fuji –
JR Limited Express train Shinjuku Station to Otsuki and Fuji excursion limited express train from Shinjuku Station direct to Kawaguchiko Station, you can take a trip with a guide that is available in Mount Fuji.
Around Mount Fuji
Around the Mount Fuji, you can also enjoy the beautiful tourist places like –
 Lake Kawaguchi.
 Snow Town Yeti.
 Fuji Q highland .
 Gotemba premium outlets.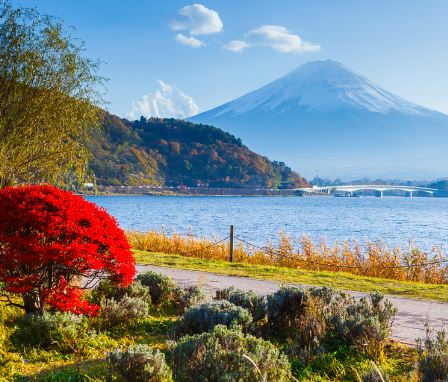  Lake Yamanaka.
 Fujinomiya 5th Station.
 Arakurayama Sengen Park.
 Fujisan World Heritage Center.
 Fuji 5 lakes.
 Shibazakura Festival (Moss Pink).
 Narusawa ice Cave/Fugaku Wind Cave.
 Kawaguchiko Music Forest Museum.
 Sakana.
 Aokigahara Jukai Forest.
 Oshino Hakkai Springs.
 Fuji-Subaru Line 5th Station.
 Fujisan Hongu Sengen Taisha.
 Fujiten Snow Resort.
Kawaguchi-ko
Second largest lake is lake Kawaguchi-ko it is named as Fuji 5 lakes region in world heritage sites, Mount Fuji's reflection can see on the surface of lake Kawaguchi-ko on clear weather which is marvelous to see, you have to fall in love after enjoying the seasons at lake Kawaguchi-ko, cherry blossoms and spring festivals in spring dark green scenery in summer.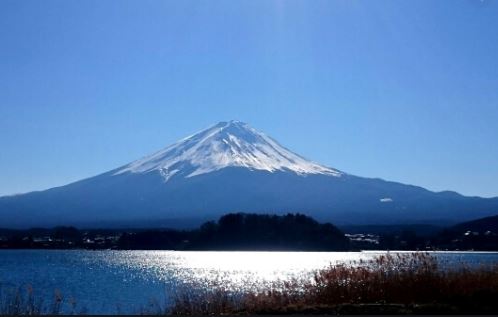 Fireworks fest in august which is light up the night sky, snow-covered in winter days become more beautiful. Art galleries and museums are all over beside the Mount Fuji.
Aokigahara Jukai Forest
Northwest of Mount Fuji Aokigahara Jukai Forest is situated. Aokigahara Jukai Forest is a suicidal forest. Its other name is the seas of trees. Approximately 1100 years ago this forest was created. It is a part of Fuji-Hakone-Izu national park.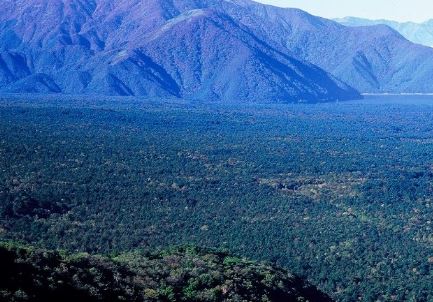 This is a famous site known as the forest of suicide internationally. Though the local police are not revealing the truth of dead bodies. It's a mysterious place for travelers. The volcanic rock consists of the forest more intricate to walk.
Lava caves also attracted travelers more Like the Fugaku Wind Cave, Narusawa Ice Cave, and Lake Sai Bat Cave. In winter these caves are warm. You should take the help of a guided tour to know deeply about the flora & fauna also more enjoyable to walk. Aokigahara Jukai Forest stays dark on sunny days.
Sakana park
Sakana park is 1 kilometer away from Oshino Hakkai. Sakana is the park where at the same time you can learn about nature and fish. From Mori no Gakushukan and Fujiyusui no Sato aquarium. It consists of woods and water.
The Mori no Gakushukan museum which is designed to keep in mind about the relationship between the wood and human throughout the centuries. Children to adult everyone can learn easily. There is also an interesting part that you can make handicrafts by using clay.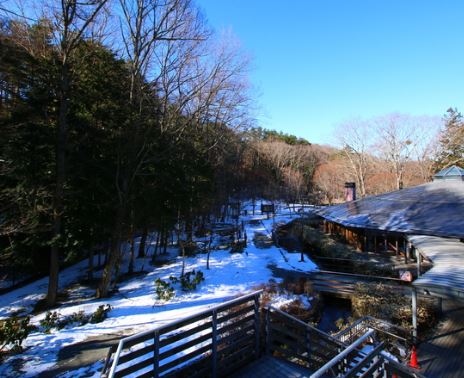 The museum has many corners like a library, learning corner, and interactive. About freshwater fish, there are aquariums, a river, ponds, and small waterfall everywhere.
The way fish exhibits is popular here. 8000 sweet-fish can be seen here during summer.
Arakurayama Sengen Park
If you want to take a full view of Mount Fuji with another natural beauty scene of blossom cherry and city you should go Arakurayama Sengen Park.
It was recognized in 705. This is near at Oshino Village. Mainly it's popular for the sight of blossom cherry. It takes halfway from Mount Fuji. This is one of the interesting places to explore near Mount Fuji .It takes about 400 stairs to reach the peak.
At the top, there is a vermilion five-story pagoda. There is a monument for the martyrs' who died in the first world war. During Autumn an incredible sight you can see where the Mount Fuji s base adorning with gold and red leaves.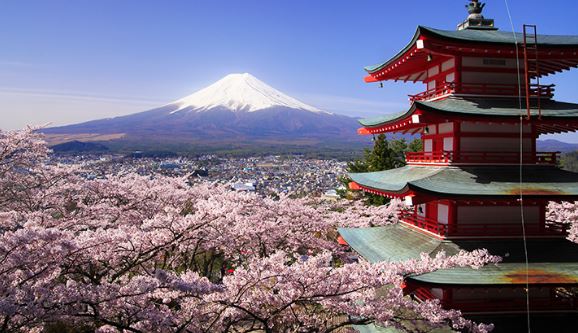 This is the only shrines which worship Mount Fuji . It is a traditional symbol for the local people who prayed here for princess Konohanasakuya-Hime for their happiness. The night view of this site definitely makes you cheerful.
Snow Town Yeti
Snow town yeti is the snow blanket of Mount Fuji . It is a family site. It has two slopes for the beginners. Including a snowboarding park and snow, the stadium makes more attractive for children and adults. During Late October opening a resort to practice here.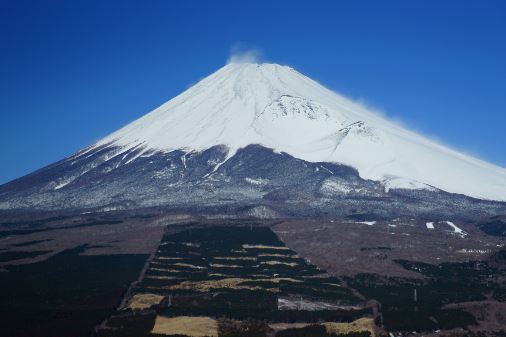 Day to night skiing is available here. Night skiing tickets are cheaper than daylight. Winter sports can be enjoyed here outstandingly. You can take a bus trip or bullet train from Tokyo to go Snow Town Yeti bottom the Mount Fuji .
Gotemba Premium Outlets
Near Mount Fuji , at Gotemba, this is one of the biggest outlet malls in Japan. About 200 stores contain here with 210 brands. Sports, outdoors, interiors products are the main goods in the Gotemba outlet mall. It has a two-zone east zone and west zone linked with a bridge.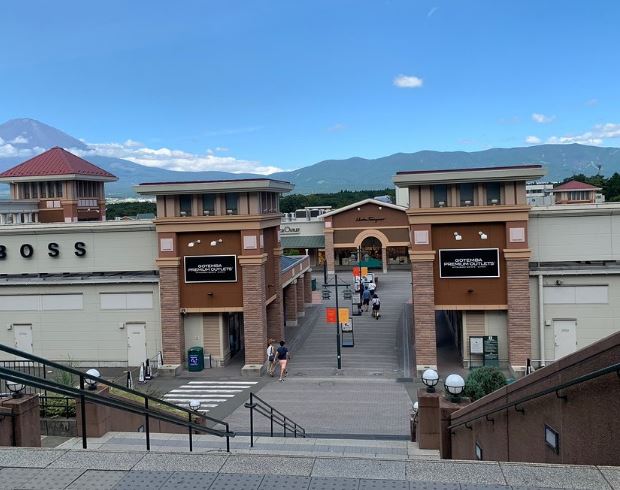 Besides there has a big attraction for shopping in the nature of Mount Fuji and Hakone. Japanese brand and international brands such as ADIDAS, NIKE, LEGO, MIKI HOUSE, TASAKI, BOTTEGA, GUCCI, COACH, ERMENEGILDO ZEGNA, PRADA, VENETA, ARMANI, MICHAEL KORS and more.
The bus operates daily from Tokyo Station, Yokohama Station, Shinagawa Station, Ikebukuro Station, Shinjuku Station, and Kawaguchiko Station.
iPhone 11, iPhone 11 Pro, iPhone 11 Pro Max price.