Balaka Cinema Hall was established in 1968. Balaka is very famous cinema hall in Bangladesh, Balaka 1 and Balaka 2 are situated in the same building at New Market area of Dhaka. Just beside Neelkhet and Bakusha market. Balaka is well known movie hall in Dhaka,
Where is Balaka Cinema hall ?
Balaka cineplex is situated in New market area beside Neelkhat and Bakusha Books market. Bolaka cinema hall on the right side of Mirpur Road, if your go through Mirpur Road from Eden callege side or New market area. If you want to go Balaka just ask any Rickshow puller to carry you there or you can go to Balaka from anywhere by bus or CNG 3 wheeler.
Balaka Cineworld Movie time
Balaka cineeplex movie shedule are 10:15am, 3:30pm, 6pm, 9:30pm in every day. Balaka cineworld also operate same movie schedule in Friday also.
Balaka Cineworld ticket counter
Balaka cimena hall in bd ticket available in the counter just before the movie start. You can take advance balaka movie ticket on regular price but you should contact 7 days the the movie show. There are 6 ticket counter in the ground floor of the Balaka cineworld building.
If you want to watch any new film just go to balaka cine world to watch. Balaka cine world is one of the cineplex in BD which will be in the first row to bid for new film like Ak Cup Cha. Producer also prefer bolaka cinema hall to release film in any new film in Dhaka. There is no change in Balaka cinema hall movie schedule for new movie. But for new filem try to buy ticket before Balaka cineplex showtime.
Balaka 1 and Balaka 2 Cinema Hall, Newmarket, Dhaka
Balaka Cineworld ticket price
There are 3 categories seat are available in Balaka cinema hall such as Executive Clash, Special Class and Economic Clash. Executive Class Ticket price 150 taka, Executive Class ticket price : 100 Taka and Economic Class ticket price : 60 taka
Bolaka cinema hall seats:
There are 2 halls inside the 3 storied building. Every hall seats capacity are 1265.
Food corner
On the ground floor there is a food corner and another one on the 1st floor.
Car Parking
There is a authorized car parking back of the Balaka Cineword. People can park on the road also.
Other facilities:
Balaka Cinema Hall is a modern and air-condition cinema hall in Dhaka. Sound system and display system are equipped with modern technology. There is a waiting room for male and female in the gound flood and Toilet in every floor for male and female.
List of Cinema Halls in Bangladesh
»Balaka Cinema Hall Govt. New Market, Dhaka, Tel : 86200903, 8622103
»Girls' Guide Theatre
Guide House, New Baily Road, Dhaka, Tel: 8315501 Fax: 8315592,
»Modhumita Cinema Hall
158/160, Motijheel C/A, Dhaka, Tel: 9554386, 9550463, Fax: 9569841,
»Mohila Samity Theatre
New Baily Road, Dhaka, Tel: 9337050
»Ovishar Cinema Hall
35, Hatkhola Road, Dhaka-1203
»Razmoni Cinema Hall
46, Kakrail, Dhaka
»Shamoli Cinema Hall
Mirpur Road, Shamoli, Dhaka, Tel: 9117744, 9113857
»  STAR Cineplex Bashundhara City 
Bashundhara City, Level-8, Block-D 13/ Ka/1, Pantha path, Dhaka, Tel : 9134098,9138260

Star cineplex website : www.cineplexbd.com
Show time : 12:00 PM 3PM, 6PM, 9PM
Mukti Cinema Hall
House # 2, Road # 49, Gulshan # 2
Dhaka – 1212
Bangladesh
+880-2-9896165, 9883991, 8814562
+880-2-8827147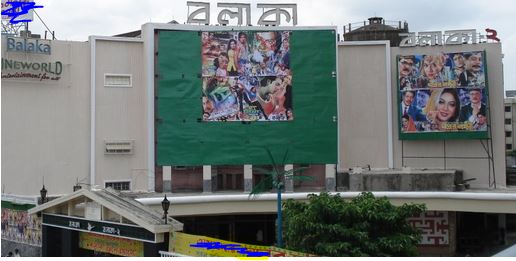 Purabi Cinema Hall
Mirpur
Dhaka – 1216
Bangladesh
+880-2-9001753
Purnima Cinema Hall
34 Kazi Nazrul Islam Avenue, Kawran Bazar
Dhaka – 1215
Bangladesh
+880-2-9120896, 9123352
Taranga Cinema Hall
3/A Darus Salam Road, Mirpur
Dhaka – 1216
Bangladesh
+880-2-9001616, 9002277
wide space, air condition room,good environment
Ananda Cinema Hall
Farmgate
Dhaka – 1215
Bangladesh
+880-2-8119666, 8118320
Anarkali Cinema Hall
Mirpur
Dhaka – 1216
Bangladesh
+880-2-9002526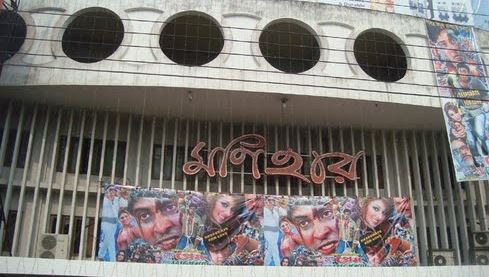 Eximp Trade Ltd Cinema Hall
House # 11, Road # 7, Block # F, Banani
Dhaka – 1213
Bangladesh
+880-2-9882518, 8827159
+880-2-9884641
Garison Cinema Hall
Dhaka Cantonment
Dhaka
Bangladesh
+880-2-9870011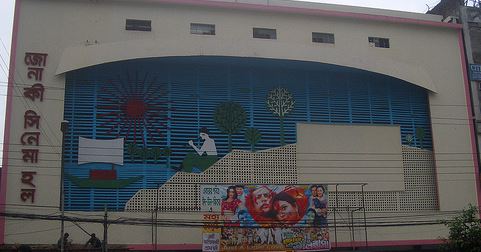 Lion Cinema Hall
47, Syed Aowlad Hossain Lane
Dhaka
Bangladesh
+880-2-7113682
Blockbuster Cinemas in Bangladesh
Jamuna Future Park, Ka- 244, Pragati Avenue, Kuril, Dhaka
Phone: 88-02-8413765-66
Website: www.blockbusterbd.com
Movie show time : 12:30pm, 2:50pm, 5:30pm, 07:30pm, Show time depends on movie duration
Rani Mahal Cinema Hall
Sarulia, Demra
Dhaka, Bangladesh
Cinema Hall film show time : Most of the cinema halls in Bangladesh movie show time almost same. Normally Cinema movie show time in Dhaka and other cities at 12:00pm, 3:00pm, 6:00pm and 9:00pm. Asia Cinema Hall, Chayabani , Ananda , Nabin also show time start at 12:00pm, 3:00pm, 6:00pm, 9:00pm.
Modhumita cinema hall is in Motijheel commercial area. Modhumita cinema hall is opposite of Dhaka Stock Exchange (DSE) building. You can go from Shapla Chattar to Modhumita Cinema Hall by Rickshaw at 10 taka only.