যারা মালয়েশিয়াতে কলিং ভিসায় যেতে আগ্রহী তাদের কে বিভিন্ন ধরণের তথ্য দিয়ে সহযোগিতা  করা হয় । বিভিন্ন ধরণের কাজের ভিসায় মালেশিয়া যাওয়া যায় । যদিও এখনও  কলিং ভিসা চালু হয় নাই.   যাদের কোন কাজ জানা নাই তারাও যেতে পারবেন ।
মালয়েশিয়ার কলিং ভিসার বিভিন্ন তথ্য ও নতুন খবর জানার জন্য যোগাযোগ করুন:
মালয়েশিয়ার কলিং ভিসার বিভিন্ন নিয়ম কানুন: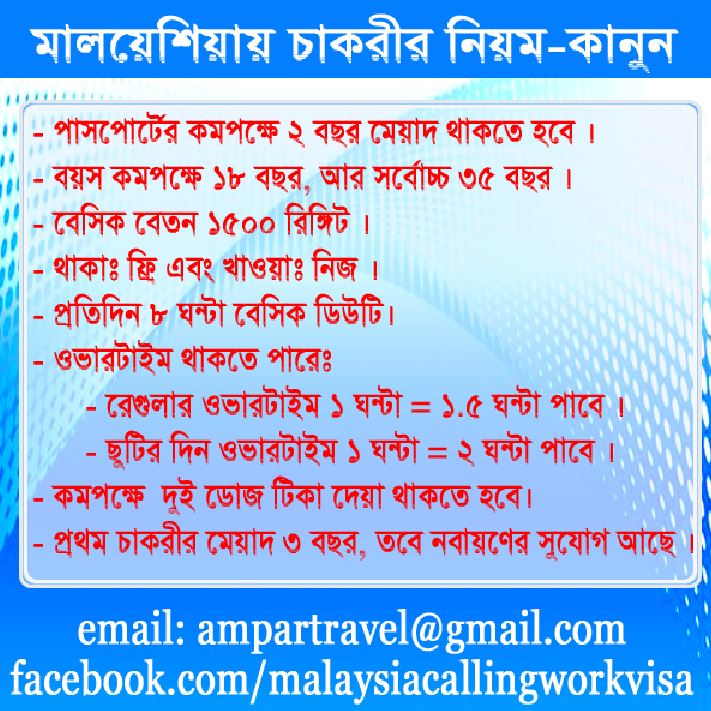 মালয়েশিয়ার কলিং ভিসা চালু হলে যে সকল ভিসায় যাওয়া যাবে –  Malaysia Calling Visa not start procesing  yet – information for Work visa for Bangladeshi
ম্যানুফেকসারিং  – ফ্যাক্টরী ভিসা, –  Manufacturing / Factory Visa
কন্সট্রাকশন কোম্পানি ভিসা, – Construction Visa.
সার্ভিস প্রদানকারীে কোম্পানির ভিসা – Services Visa
প্লানটেশন – বৃক্ষরোপন  – Plantation and
কৃষি কাজের ভিসা,  – Agricultural work visa.
কলিং ভিসা চালু হওযার সাথে সাথে নিচের ফর্ম  পুরণ করুন যাতে রিক্রিুটিং এজেন্সি বা ট্রাভেল এজেন্সি আপনার সাথে যোগাযেগা করতে পারেন  । If you want to obtain malaysia calling visa after officall announced by the Government ‍, please fill the form below: (For Bangladeshi Worker only)
আপনি যে ক্যাটেগরির ভিসায় বা কাজে জন্য মালেশিয়া যেতে চান সেটা নিজে েইচ্ছা মত নির্দারণ করতে পারবেন ।
যদি কোন কাজ ভালভাব জানা থাকে তাহলে ঐ কাজে যাওয়াই ভাল হবে ।
যদি কোন কাজ জানা না থকে তাহলে সাধারণ ওয়ার্কার হিসাবে যেতে পারেন ।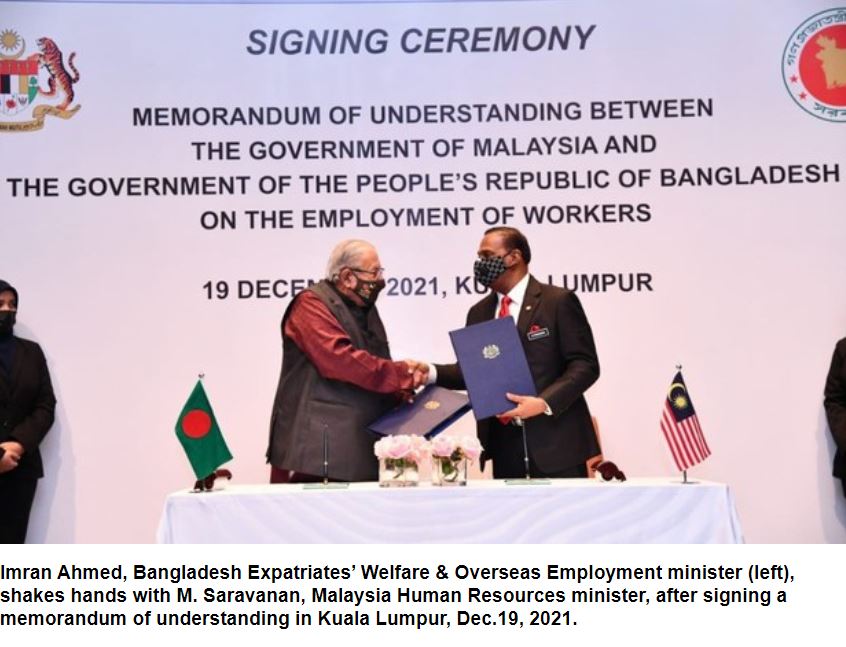 caption: MOU signed between Bangladesh and Malaysia on December 19, 2021.
If you want to go MALAYSIA with CALLING VISA or WORK VISA after getting approval from the Government, we can help you with work permit approval, recruiting, visa processing, ticketing, and Employment.
Type of Work visa for Bangladeshi
Manufacturing,
Construction,
Plantation,
Agriculture and
Services;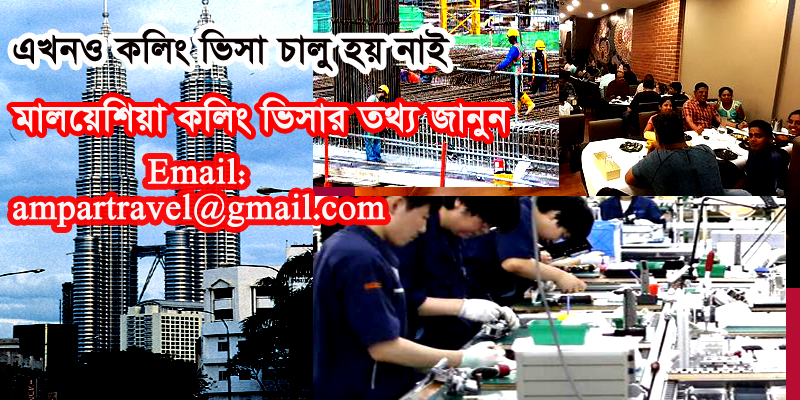 Malaysia work visa requirements?
There few requirements for Malaysia Work Visa are as follows:
A valid passport. minimum 22-24 months.
4 recent (Passport size) color photographs.
Medical Fitness.
Bangladeshi Citizen.
Skill / Semi-Skill / Non-Skill.
Age: 18 – 35 years.
Male
How to Apply for a Malaysia work permit?
On behalf of you, the employer in Malaysia has to apply for a Malaysia work permit. After getting approval of the work permit then send the work permit to the Bangladeshi recruiting agent or any travel agent. By this time, you have to apply to get a work permit to work in Malaysia.  Then the agency will select you.
Malaysia calling visa 2022
Bangladesh Government and the Malaysian Government are working together to complete the process. The Malaysia Calling visa 2022 process will start in a short time. So, you have to submit your documents including a password to the travel agency to make a priority sheet for getting a calling visa from Malaysia in 2022.
Those who contact the travel agency on an early basis will get a Malaysian Calling visa in the primary stage, after the announcement by the Bangladesh Government.
As you know, the Malaysia Calling Visa is at the top of the list for manpower supply in Bangladesh.
So, contact with us as early as possible for a Malaysia calling visa.
What is the Malaysia calling visa open date?
The date of the Malaysia calling visa is not decided yet by the governments of Bangladesh and Malaysia. According the recent news, the date will be announced in a short time.
Malaysia calling visa processing time?
The companies in Malaysia already applied to get visa approval from the Malaysia Government. Most of the companies already got the approval for the calling visa. So, the processing time will not be so lengthy. The process will be very quick and urgent basis as the employer is asking to get employees as quickly as possible.
Malaysia work permit apply online
Actually, there is no online application process for the Malaysia work permit. You have to contact an agency in Bangladesh to get your work permit. So, do not waste your time for searching Malaysia work permit visa apply online.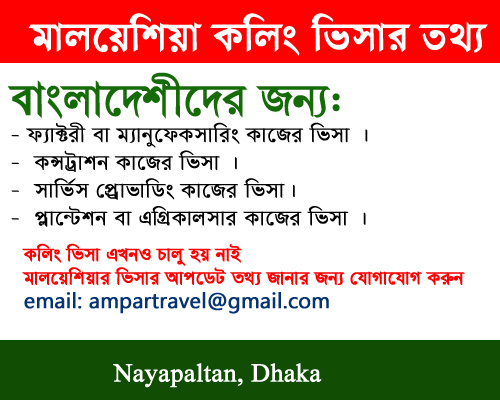 Malaysia work permit fees
The Malaysia work visa fees is not fixed yet. This is under process. As you know Bangladesh Government will fix Malaysia Work Permit fees.
After announced by the Bangladesh Goverment, to get a Work permit visa to go Malaysia, fill the form below: