Arfin Romey is a Bangladeshi popular singer. He started his career as a singer but he came in to lime light for his composition for TVC. All of Arfin's music composition for TVC went supper hit.
His solo albums are Ore Priya, Porojonom, Mon Chuye Dekho, Nilanjona, Bhalobashi Tomai, Shada Mata, Eshona, Chader Nijer Kono Alo Nei, etc.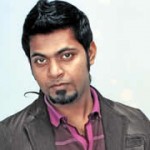 In 2009 Arfin joined Bangladeshi Band "Durbin".
Arfin Romey playbacked in many Bangla films such as- "EITO PREM", "LOVE 21", "COMMON GENDER", and "EITO VALOBASHA, etc.





In 2012, Rumey married one of his US-based fans Kamrunnesa. He took persmission from his first wife Ananna for the second wedding.
Rumey and Ananna have a son named Arian.