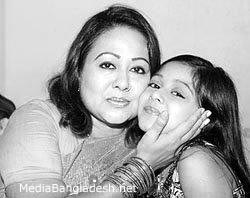 Doel was Born on September 25 in 1966 in Bikrampur.  Doel has played different role in almost 100 films.
Ifte ara Dalia made her film debut in 1982, the first film is  Chandranath  against Razzak'. 'Kabuliwala' was her last film with husband Subrato & daughter Dighi. Doel daughter also a child actress and model.
Doel was married to Subrato, another eminent performer of Bangladesh film industry.
Sweet actress Doel died of cancer on 29 December 2011.