Boishakhi TV of  Boishakhi  Media Ltd. is a private sector effort, dedicated to the creative presentation of television technology for Bangla speaking people all over the world. The company has established round-the clock satellite television channel aimed at the a worldwide audience with programming depicting Bangla culture, history, geography, people, language, and faiths responding to both national and international needs and demands. The name of the channel is 'BOISHAKHI'.
Boishakhi TV Bangabandhu 1 Satellite Frequency
Satellite: Bangabandhu 1
Orbital Position: 119.1 degree East
Downlink Frequency: 10805 V MHz
Symbol Rate: 3696 KSPS
FEC: 30000, 2/3
Polarization: Horizontal Pole
Video Coding Format: DVB-S2, 8PSK, MPEG-4.
Boishakhi TV Apstar 7 Satellite Frequency
Satellite Name: Apstar 7
Orbital Position: 76.5°E degree East
Downlink Frequency: 3811 H
Symbol Rate: 3696 KSPS
FEC: 3460, 3/4.
Polarization: Horizontal Pole
Video Coding Format: 8PSK, MPEG-4, DVB-S2.
Address:
Boishakhi Media Ltd.
32, Mohakhali C/A, Level-6,
Dhaka-1212, Bangladesh. Telephone:+88 02 8837081-5,8837542 Fax:+88 02 8837541 Email Address: Websiite: Management:Managing Director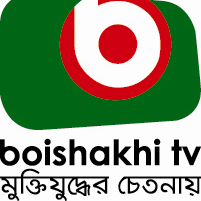 M Rafiqul Amin
Directors:
Irfan Ahmed Sunny
Syed Sajjad Hossain Technical Specification:Name of the satellite: TelStar-7
Orbital Location: 76.5 East
Downlink Frequency: 4089 MHz
Polarization: Horizontal
Modulation : QPSK
Symbol Rate: 4300kb/s
FEC: 3/4
Modulation: QPSK
Type of carrier: MPEG-2/DVB
Schedule:Baishakhi TV NEWS HOURS
NEWS TIME NEWS TITLE
8:00 AM:Sokaler News
9:00 AM:English News Bulletin
10:00 AM:10 tar News
12:00 PM :Bangla Songbad sironam
12:05 PM: English news head lines
2:00 PM:Duporer Songbad
3:00 PM:Ortho o Banijjo Songbad
5:00 PM:Sara Desh er Songbad
6:00 PM:Evening news bulletin
7:00 PM:Sondhar Songbad
10:00 PM:Raat er Songbad
1:00 AM:Moddho raat er Songbad Online Transmission not available.