ATN Bangla is the first Bengali language digital cable television channel in Bangladesh. This channel is transmits from its own studio in Dhaka, Bangladesh. ATN Bangla is transmitted in South Asia, the Middle-east, Europe, and North America. The channel offers a wide variety of programming including news, movies, dramas, talk shows, educational, social, political and many more programs.
ATN Bangla Television
The channel started broadcast in South Asia on 16 July 1997. Broadcasts to Europe began in 2001.
ATN Bangla won the International Children's Day award for Broadcasting "Amrao Pari" in 2004.
Address: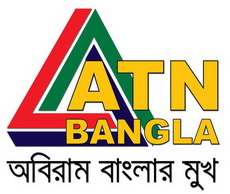 WASA Bhaban (1st Floor), 98 Kazi Nazrul Islam Avenue, Karwan Bazar, Dhaka-1215
Telephone/Landphone:
008802-8189630-33, 008802-9139758-60,
008802-880-2-8189634
Website:www.atnbangla.tv
Management: Chairman and Managing Director
Dr. Mahfuzur Rahman
Chairman & Managing Director
Neser Ahmed
Director-1
Maqsudur Rahman
Director-2
Mrs.Nahid Parvin
Director-3
Mrs.Sheikh Urmi Arman (EVA)
Director-4
Mr.Amir Hossain Chowdhury
Director-5
M. Shamsul Huda
Advisor (Sales & Marketing)
Nawazish Ali Khan
Advisor (Programme)
Mir Md. Motaher Hasan
Advisor to Chairman
Mr.Manjurul Ahsan Bulbul
Editor In Chief
Z.I. MAMUN
Chief Executive Editor
Arkanullah Harooni
SVP (Islamic Programme)
MR.Moniruzzaman Monir
Senior Vice President (F&A) and Advisor Admin & H.R (Additional
Duty)
MR.Tasik Ahmed
SVP (Programme & Transmission.)
MR.Syed Mahmud Ahmed
SVP (Photography)
ATV Bangla Television Bangabandhu satellite Frequency
Satellite: Bangabandhu 1
Orbital Position: 119.1 degree East
Downlink Frequency: 10805 V MHz
Symbol Rate: 3696 KSPS
FEC: 30000, 2/3
Polarisation: Horizontal Pole
Video Coding Format: DVB-S2, 8PSK, MPEG-4
ATN Bangla Frequencies
Technical Specification: Satellite
Thaicom 5 76.5°E : 3669.75 MHz H
(Apstar IIR)
Eutelsat 28A (Europe): 11681 V 27500 2/3
Dish Network (USA): Channel 818
Sky (UK): Channel 827
ATN Bangla Reporter
RUMI NOMAN – Chief News Editor
ZULFIKAR ALI – Sr.News Editor
MONIUR RAHMAN Chief Reporter
MAHMUDUR RAHAMAN Chief Reporter
MANASH GHOSH News Editor
KARAMOT ULLAH BIPLOB Current Affairs Editor
NADIRA KIRON Chief Reporter
SANAUL HAQ Chief Reporter
ASHRAFUL KABIR ASHIF News Editor
SK. NAZMUL HOQUE SAIKOT Asstt. Chief Reporter
ISMAT JERIN KHAN Business Editor
SYED REAZUL ISLAM RIAZ Special Correspondent
ARIF HOSSAIN Special Correspondent
ABUDARDA ZUBAIR Special Correspondent
G.M.TASLIM Special Correspondent
MD. MORSHED ALAM Special Correspondent
MR.MOINUL AHSAN Special Correspondent
MR. HUMAUN KABIR CHISTY Special Correspondent
MR. KAMRUZZAMAN RAJIB Special Correspondent
MR. MAHBUBUL ALAM Sr.Reporter
MD. SHARFUL ALAM Sr.Reporter
MAHAMMAD FAZLE RABBI Sr.Reporter
AKRMUL HAQUE SAYAM Sr.Reporter
NIAZ ZAMAN SHAJIB Sr.Reporter
MD. SHAFIQUL ISLAM SHAMIM Reporter
NUR SALINA SHEULY Reporter
MAHBUB KABIR (CHAPAL) Reporter
MIZAN SHAJAHAN Reporter
IMDADULLAH SIDDIQEE Reporter
RAZIA SULTANA MUKTA Reporter
GIASH UDDIN SOJIB Reporter
HABIBUR RAHAMAN OVI Reporter
SAIFUL ALAM Reporter
APPLE MAHMUD Reporter
ATN Bangla Programs Schedule
Every hour news: 7 am, 8 am, 9 am, 11 am, noon to 1 pm, 1 pm, 3 pm and 4 pm. English News 6pm
Thursday Programs:
09 hours 15 min – talk show
10am: ATN Bengali News
10 :35 am : Movie
11 00am: ATN Bengali News
1 pm : ATN Bengali News
02 pm : BTV News
03 :10pam: quiz show
03:45pm: Documentary
4:00pm: ATN Bengali news
04 hours 05 min : cooking show
05 pm: rural news.
05 : 05pmn : Islamic ceremony
5:40: reality show
07 pm : ATN Bengali News
08 pm: drama series
09 pm : drama series
10 : ATN Bengali News
10: 55 pm: telefilms.
1:00 pm: talk show
1:15:am : ATN Bengali news
Friday:
Health Program: 09 am
News : 10am
Bengali cooking show : 10:35 am
ATN Bangla Awards
Amrao pari (We, too, Can), won the International Children's Day of Broadcasting Award at the 32nd International Emmy Awards Gala in 2004. go.  Another news channel own by ATN Bangla is ATN NEWS
List of Television channels in Bangladesh