Bangladesh Television, also known by its acronym BTV, is the state-owned Television network in Bangladesh. It started broadcasting Black-and-White transmission on 25 December 1964. BTV was known as Pakistan Television at that time, and was renamed Bangladesh Television BTV after the independence of Bangladesh in 1971. It Broadcasts in full color started from 1980. About 2 million televisions receive transmissions from the network's 17 relay stations.
Transmission Time: 18 Hours per day (7AM – 1.05AM)
BTV has a national channel which is broadcast from Dhaka. BTV transmission is relayed to the whole country via local relay stations in major cities like Dhaka, Khulna, Chittagong, Rajshahi, Rangpur, Sylhet B. Baria, Noakhali and other cities of the country. BTV has a regional station located in Chittagong which broadcasts local programs in the evening. In 2004, BTV started worldwide broadcasts through its satellite based branch, BTV World.
BTV Head Office
121 Kazi Nazrul Islam Avenue,
Shahbag, Dhaka-1000
Fax: 880-2-8624839
BTV News section
TV Bhaban, Rampura, Dhaka-1219, BANGLADESH
Telephone:0088-02-933-0131-6, 88-02-933-0036-8 Fax:0088-02-831-2927 Email Address: Websiite:www.btv.com.bd Management:Director General
Tel: 9334918, 9334110
Deputy Director General
(News)
Tel: 9347653
Deputy Director General
(Program).
Tel: 8316212
BTV Frequency and Satellite
Satellite: Bangabandhu 1
Orbital Position: 119.1 degree East
Downlink Frequency: 10805 V MHz
Symbol Rate: 3696 KSPS
FEC: 30000, 2/3
Polarisation: Horizontal Pole
Video Coding Format: DVB-S2, 8PSK, MPEG-4
Satellite Name: Apstar 7
Orbital Position: 76.5°E degree East
Downlink Frequency: 3811 H
Symbol Rate: 3696 KSPS
FEC: 3460, 3/4
Polarisation: Horizontal Pole
Video Coding Format: 8PSK, MPEG-4, DVB-S2
Bangladesh Television Transmits it is transmission through 14 relay stations cross the country, which has a coverage of about 95% of the territory and 95% of the population.
Relay stations located in the following districts/cities:
Natore,
Sylhet,
Khulna,
Rangpur,
Mymenshingh,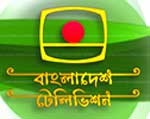 Rangamati,
Noakhali,
Shatkhira,
Jhenidah,
Thakurgaon,
B-Baria,
Patuakhali,
Rajshahi,
Ukhia. Schedule:BTV Programs list:
News(Bangla): 8:00am
The News : 10:00am
News(Bangla): 12:00pm
News(Bangla): 2:00pm
The News :4:00pm
Khabor : 5:00pm
Janapad Khabar: 6:00pm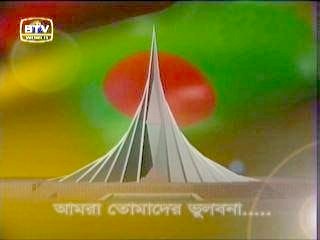 Share Market: 6:45pm
News (Bangla): 8:00pm
News at Ten : 10:00pm
Rater Sangbad: 11:00pm
The News: 11:45pm
Weather: 6:50pm
BTV also broadcasting Bangla music, drama serial, sports like world cup football and cricket, dance, educational programs, documentary on liberation war, Business related program, talk show, country development activities, political and social activities of the country as well as world news and more..
BTV Live online streaming:
Different hosts broadcast BTV news and other program on the Internet.
BTV worldwide:
BTV is a terrestrial station but BTV World is a satellite channel. Bangladeshi people living outside can watch BTV programs through BTV World.
Basically BTV broadcasts art and culture of the country. BTV has different kind of programs to aware and educate people of the country.
BTV popular programs :
Popular programs of BTV are Ittadi, Aso Gan Siki, Amader Angina, Debate, Jonotar Mot, Matri Vasa, Akhonkar BD, Ms o Shesu,computer program, Kor o Karbar, Islamic programs, Mati o Manus, etc.