Tamanna Rahman is one of the leading Manipuri dancer of Bangladesh. After completing her graduation from the Bangladesh University of Engineering and Technology in 1992, Tamanna Rahman went to India and undertook a six-year rigorous training in manipuri dance at Kolkata.She has mastered different aspects of the dance under the tutelage of Kalavati Devi, Darshana Jhaveri and finally the most famous Guru Bipin Singha.Tamanna obtained the title 'NARTAN VISHARAD' from Manipuri Nartanalaya at Kolkata.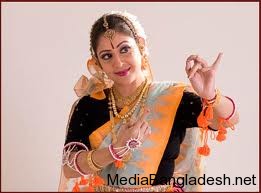 Dancer Tamanna Rahman

Bangladeshi Dancer Tamanna Rahman performing Dance
Dancer Tamanna Rahman of Bangladesh in a dance program
An ICCR scholar, Tamanna Rahman holds a post graduation degree in Music, specialised in Manipuri dance from Rabindra Bharati University, Kolkata.Tamanna Rahman is honoured with the 'GURU MAISNAM AMUBI SINGH PRIZE' from the, university for her excellence in Manipuri Dance.
Tamanna Rahman teaches manipuri dance at different institutions such as Shanto Mariam University of Creative Technology and cultural organization Chayanaut.
Tamanna is also a graduate architect from BUET, Dhaka, Bangladesh.