Vegetable Mutton curry is very deliciouse and taste food. it's main ingredients is mutton.
Ingredients and quantity
Mutton – 500 grams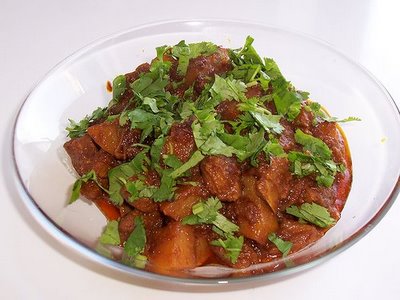 Patota – 250 grams
Green pea – 200 grams
Carrots – 2 whole
Cauliflower – Half
Onion big – 2 whole
Garlic – 6 seeds
Ginger paste – 1 tea spoon
Chili powder – 0.5 tea spoon
Turmeric Powder – 0.5 tea spoon
Masala – As required
Sour Yogurt – 50 grams
Oil and Salt – As required
Sugar – 4 Tea spoon
Green Chili, sliced – 4 whole
---
Procedure:
Wash potato, tomato, cauliflower and carrots and chop these into small pieces. Marinate the mutton mixing with sour yogurt, onion and sliced garlic. Give a pan on the oven and give cardamom, cinnamon, cassia leaves, onion and garlic and fry for some times. When its smells good, add all other ingredient and the mutton into the pan and braise for some times. Add water and cook more. When the mutton is tender add sliced green chili and braise at low heat. Add all the vegetables and salt and cook for another few minutes. When the entire material is tender and smells good place the entire into a bowl add coriander leaves and serve. Vegetable Mutton curry is vey well-known in Bangladesh, India and Pakistan. It also cooked by western country but within other system.