The new cabinet Ministers of Bangladesh government was sworn on January, 2019 by President Abdul Hamid at his office-cum-residence Bangabhaban, Dhaka, Bangladesh.
Awami League chief Sheikh Hasina sworn as prime minister and will head the 47 member cabinet which includes 25 ministers, 19 state ministers and 3 deputy ministers.
List of ministers of Bangladesh new Government are-
MINISTERS in Bangladesh
List of Ministers in Bangladesh 2019
1) Sheikh Hasina – Prime Minister (Gopalgonj-3)
2) AKM Mozammel Haque – Liberation War Affairs (
3) Obaidul Quader – Road Transport and Bridges (Noakhali-5)
4) Md Abdur Razzak – Agriculture (Tangail-1).
5) Assaduzzaman Khan Kamal – Home Minister (Dhaka-12),
6) Hasan Mahmud – Information ministry – Chottagram-7)
7) Anisul Huq – Law (Bramanbaria -4)
8) AHM Mustafa Kamal – Finance (Cumilla-10)
9) Md Tajul Islam – LGRD (Cumilla-9)
10) Dr Dipu Moni – Education (Chadpur-3)
11) AK Abdul Momen – Foreign (Sylhet-1)
12) MA Mannan (Planning),
13) Nurul Majid Mahmud Humayun (Industries),
14) Golam Dastagir Gazi (Textiles and Jute),
15) Jahid Malek (Health),
16) Sadhan Chandra Majumdar (Food),
17) Tipu Munshi (Commerce),
18) Nuruzzaman Ahmed (Social Welfare),
19) SM Rezaul Karim (Housing),
20) Md Shahab Uddin (Environment),
21) Bir Bahadur Ushoi Shing (Hill Tracts),
22) Saifuzzaman Chowdhury (Land),
23) Md Nurul Islam Sujan (Railways minister) and
24) Yafes Osman (Technocrat minister– Science and Technology),
25) Mustafa Jabbar (Technocrat minister– ICT).
List of State Ministers in Bangladesh. 2019
1. Kamal Ahmed Majumdar – Ministry of Industries (Dha-15)
2. Imran Ahmed – Ministry of Expatriates' Welfare and Overseas Employment (Syl-4)
3. Md Zahid Ahsan Russel – Ministry of Youth and Sports (Gaz-2)
4. Nasrul Hamid – Ministry of Power, Energy and Mineral Resources (Dha-3)
5. Md Ashraf Ali Khan Khasru – Ministry of Fisheries and Livestock (Netr-2)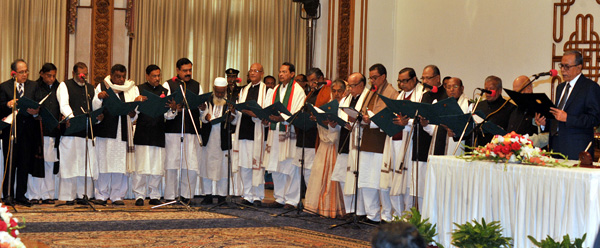 6. Begum Munnujan Sufiyan – Ministry of Labour and Employment (Khu-3)
7. Khalid Mahmud Chowdhury – Ministry of Shipping (Dinaj-2
8. Md Zakir Hossain – Ministry of Primary and Mass Education (Kurig-4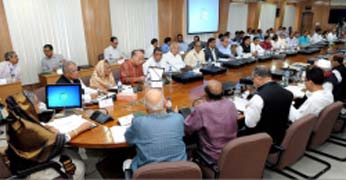 9. Md Shahriar Alam – Ministry of Foreign Affairs (Raj-6
10. Zunaid Ahmed Palak – Ministry of Information (Nat-3)
11. Farhad Hossain – Ministry of Public Administration (Meher-1
12. Swapan Bhattachariya – Ministry of Local Government, Rural Development and Co-operatives
(Jashore-5)
13. Jahid Faruk – Ministry of Water Resources (Baris-5)
14. Md Murad Hasan – Ministry of Health and Family Welfare (Jamal-4)
15. Sharif Ahmed – Ministry of Social Welfare (Mymen-2)
16. KM Khalid – Ministry of Cultural Affairs (Mymen-5)
17. Dr Md Enamur Rahman – Ministry of Disaster Management and Relief (Dha-19)
18. Md Mahbub Ali – Ministry of Civil Aviation and Tourism (Habi-4)
19. Sheikh Md Abdullah – Ministry of Religious Affairs
—
Deputy ministers of the new cabinet of Bangladesh
1. Habibun Nahar – Ministry of Environment, Forests and Climate Change (Bager-3).
2. AKM Enamul Haque Shamim – Ministry of Water Resources (Shariat-2)
3. Mohibul Hasan Chowdhury – Ministry of Education (Chattog-9)