Anika Hossain
When I was given Shawkat Osman's cookbook, Bird Recipes to review, I thought it would be a pretty boring assignment, not being much of a cook myself. As I started leafing through the pages however, I realised this was not your typical cookbook. The book caught my interest from the very first page as it started off by informing the reader why "birds may be considered extremely modified reptiles."
---
The bodily characteristics of birds are described in detail and we are informed that there are 30,000 species of birds, out of which only three have been domesticated and used for food in Bangladesh. Osman then goes on to give us information on these three species, the quail, the chicken and the duck and their eggs, and fills the book with different recipes, both his own, and those contributed by friends and family, that these birds can be used in, both typical Bangladeshi as well as foreign dishes which have become popular over time amongst the Bangladeshi people.
Shawkat Osman's Delightful Bird Recipes, published by Aftab Bahumukhi Farms Ltd (a member of the Islam group) contains recipes ranging from the elaborate Bater Pakhi Bhaji (quail) and Morog Pulao to the simple Duck with oyster sauce recipe. Just reading the descriptions and looking at the accompanying deliciously mouth-watering photographs of the food can make anyone want to become a chef. The instructions are so detailed and simple at the same time, the food connoisseur managed to make even me, who burned my chicken (and almost my entire apartment along with it) the last time I tried my hand in the kitchen, believe I could cook any of these scrumptious looking concoctions easily. Being the anchor of the first ever food shows on Bangladeshi television and the only Bangladeshi to host cooking shows on two Indian TV channels and the successful organiser of the much admired Bangladeshi Food Festivals in Dhaka, Mumbai, Delhi and Kolkata, Shawkat Osman has an impressive resume when it comes to Bangladeshi cuisine. So I decided to trust him.
Encouraged by my newfound modus operandi, I tried to cook Murgi'r Lal Bhuna (Chicken Red Fry). The whole process took me half a day, and two silent tantrums but his instructions from tenderizing the chicken to preparing the chili paste were explained so well that my dish turned out better than I had expected. I remember my mother making a similar dish a few times, but it was always too spicy for me. The small amount of chillies and spices in Osman's recipe were just perfect for my taste buds and when I forced my reluctant (and somewhat terrified) parents to try it, they actually said it was "yummy". And guess what it looked exactly like the picture in the book! (kidding!) His looked much better but I'll get there someday.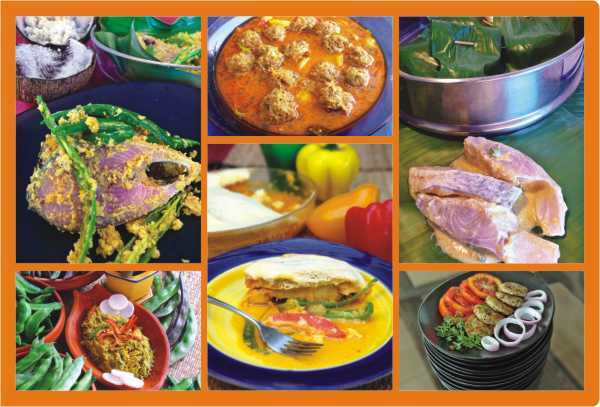 What I liked most about Shawkat Osman's Delightful Bird Recipes book was that he added a little bit of history with each of the recipes, explaining where they originated, making it an interesting read, even for non-chefs. He informs us that the famous dish, Chicken Tikka Masala, found in almost every Indian restaurant all over the world was actually invented in a British kitchen by a Bangladeshi (Syheti to be exact) cook, when a British diner demanded gravy with his chicken tikka. "A sauce was hastily prepared from a can of tomato and some spices and a new food phenomenon was born" says Osman. The Chicken Tikka Masala bears little resemblance to authentic Indian cuisine. He says Indian cuisine rose to prominence in Britain when the East India Company brought in Sylheti seamen along with spices from Bangladesh, and these seamen started to establish places to gather, and eat food that reminded them of home, and later set up food outlets to make a living.
Bangladeshi cookbooks in English are rare to find, which makes Shawkat Osman's book a pleasure to go through. He mixes the traditional with the contemporary and tries to interest the future generation in Bangladeshi cuisine. He claims all our delicacies have come about as a result of a fusion of different cultures, and is extremely passionate about, and proud of our culinary delights. I for one am inspired to try out his chicken Kima kebab (Minced Beef Kebab), Murgi-bash'r torkari, Raj Hush Roast (Roasted Duck), Mosla Hush (Masala Duck), Chicken Cordon Bleu and at the risk of being over ambitious, my favourite dish in the whole wide world, morog pulao which is very tricky to prepare. I have learned quite a few interesting facts from this book, not only about birds and their nutritional properties as food, but about eggs as well. I never knew that eggs were good for the eyes, or that cholesterol in egg yolks may not carry any health risks at all. Shawkat Osman even answers the age old question about which came first, the chicken or the egg, but I won't tell you the answer– you'll have to read the book and find out for yourself. I'm sure you'll have as much fun with it as I did. Enjoy!