In 2005, Shakib Al Hasan played with Bangladesh under-19. He played debut One Day International (ODI) against Zimbabwe in 2006. Shakibul made his debut in Test match was against India in 2007. Shakib Al Hasan was the World's Top ranked All-Rounder (ODI) from 2009 to 2011. Sakib again ranked as the world's top all-rounder in 2012. Sakib Al Hasan became the world top ranked Test all-rounder in December 2011.
Shakib Al Hasan



Full name: Shakib Al Hasan (Saqibul Hasan)
Date of Birth: March 24, 1987,
Place of Birth: Magura, Jessore
Nationality: Bangladeshi
Religion: Islam
Height: 5 feet 9 inch (1.75 meter)
Father's Name: Mashrur Reza, Mother: and Younger Sister:
5 ft 9 in (1.75 m)
5 ft 9 in (1.75 m)Nike Name: Maina

Batting style: Left-hand bat
Bowling style: Slow left-arm orthodox
Shakib Al Hasan Annual Salary: $4,30,000
Shakib Al Hasan Daughter
Shakib Al hasan daughter picture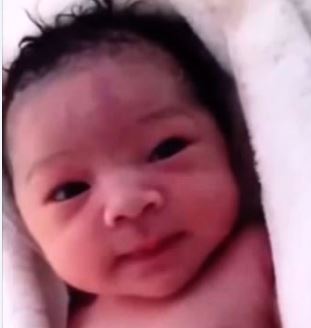 Sakbi al Hasan has become father of a babygirl "Shakib al hasan new born baby picture". Sakib baby was born at a local hospital in New York, USA.
Shakib experss his happiness with a message "A piece of Heaven" and convey thanks to his fan for praying for them.
Shakib al hasan daughter name still not confirm.
Shakib Al Hasan is a left-handed spinner and left-handed batsman of Bangladesh.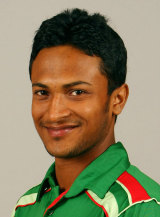 Shakib Al Hasan known to his family as "Faisal". In his early life he was playing for Islampur Para Club, a team in the Magura Cricket Leagure. He started practice with spin bowling and he took a wicket with his first ball. Shakib Al Hasan got training at Bangladesh Krira Shiksha Pratisthan (BKSP), a government run sports training institute.
Shakib Al Hasan Wife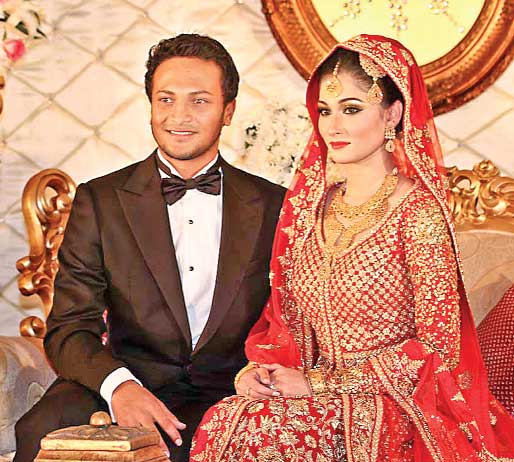 Wedding reception with Shakib al Hasan wife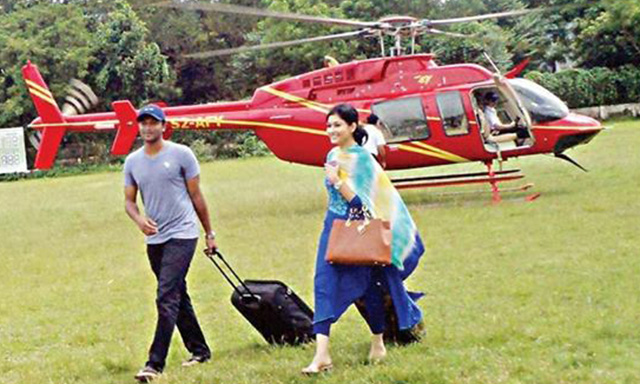 shakib al hasan wife name Umme Ahmed Shishir
Shakib-Al-Hasan and new Married Wife Umme Ahmed Shishir came from Dhaka to Magura by Helicopter
All rounder cricketer Shakib Al Hasan was appointed Vice captain in 2009, that time captain Mashrafe Bin Mortaza was injured and All rounder cricketer Shakib Al Hasan became captain from 2009 to 2011 and win first overseas test series against West Indies at age 22 year only. Shakib Al Hasan left captaincy in July 2010 to continue upgrade his performances. During his captaincy Bangladesh won one Test out of 9 matches. He represented the team for 47 ODIs, won 22 matches and lost 25. He was captain for 4 Twenty20 matches with no win.
In 2009, Shakib was named "The Wisden Cricketer's "Test Player of the Year".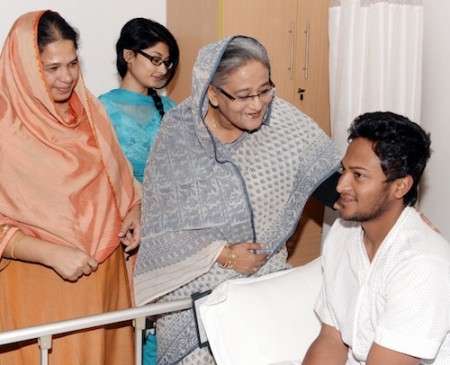 Bangladesh Prime Minister Sheikh Hasina visited Hospital to see sick Shakib-Al-Hasan
Cricketer Shakib Al Hasan Career
Cricketer Shakib Al Hasan played for national and international Leagues or teams:
Khulna Division, Bangladesh – 2004
Worcestershire, England – 2010.
Indian Premier League, India – 2011
Kolkata Knight Riders, India – 2011, 2012, 2014
Khulna Royal Bengals, BPL, 2012
Dhaka Gladiators, BPL, 2013
Caribbean Premier League, West Indies, 2013
Adelaide Strikers, Australia, 2014
Bangladeshi Player Shakib Al Hasan played in Twenty20 IPL 2014
All rounder cricketer Shakib Al Hasan was 6th most valuable player in Indian Premier League (IPL) for 2014. Kolkata Knight Riders contracted with Shakib Al Hasan for a fee of Rs. 2,80,00,000 ($ 5,09,000) in Pepsi IPL 2014. All rounder Shakib Al Hasan scored 227 runs in 13 matches and got 11 wickets with 238.5 points. Owner of KKR Shah Rukh Khan is very pleased with Shakib Al Hasan performance.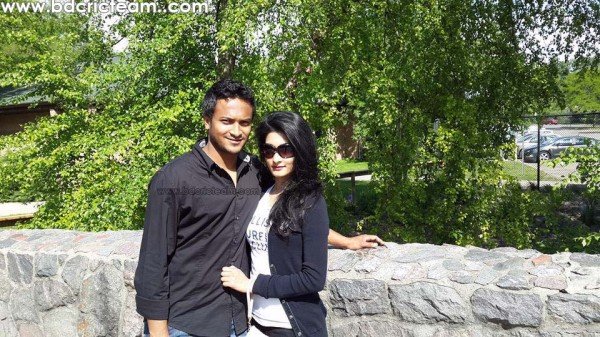 wife of shakib al hasan
Best Cricket Player Shakib Al Hasan ICC Rankings (June 02, 2014)
ODI Ranking
All Rounder: 2
Bowling: 19
Batting: 26
Test Ranking
All Rounder: 3
Batting: 30
Bowling: 17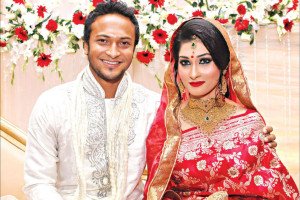 Shakibul with his wife Shishir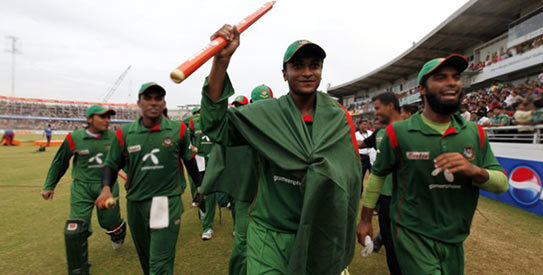 T20 Ranking
All Rounder: 2
Batting: 27
Bowling: 11
Cricket Legend Shakib Al Hasan 's performance in Test, ODI, Twenty20, IPL, CLT20, BPL
Test record
Total Match: 34
Runs: 2278
Highest score: 144
Average: 37.96
Century: 2
Half Century: 16
Boundary: 284
Six: 12
Wickets: 122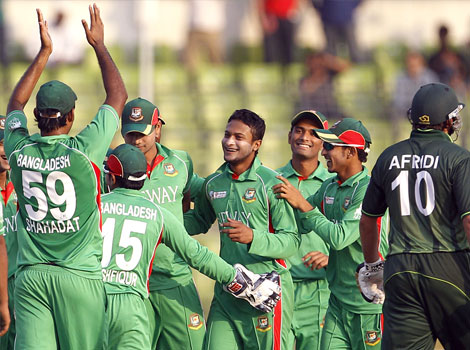 Econ: 2.94
ODI record
Total Match: 129
Runs: 3688
Highest score: 134*
Average: 35.12
Century: 5
Half Century: 25
Boundary: 323
Six: 25
Wickets: 165
Econ: 4.30
T20Is record
Total Match: 135
Runs: 752
Highest score: 84
Average: 35.12
Century: 0
Half Century: 4
Boundary: 78
Six: 20
Wickets: 44
Econ: 6.49
Twenty20 record
Total Match: 140
Runs: 2331
Highest score: 86
Average: 21
Century: 0
Half Century: 9
Boundary: 218
Six: 71
Wickets: 172
Econ: 6.455
Shakib and Shishir with Indian Actor Shah Rukh Khan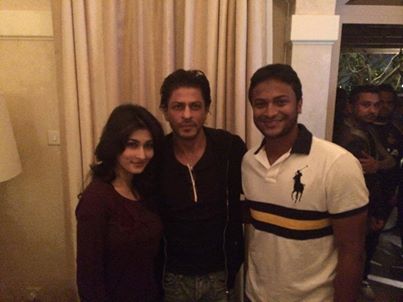 Shakib al Hasan wife Shishir with Indian Actor Shah Rukh Khan, owner KKR – Kolkata Knight Riders
Shakib al Hasan Achievement :
– Shakib Al Hasan became number 1 ODI all rounder of the world in 2009.
– Shakib was awarded Wisden Cricketer of the year in 2009.
– Shakib Al Hasan again became number 1 Test all rounder in 2012.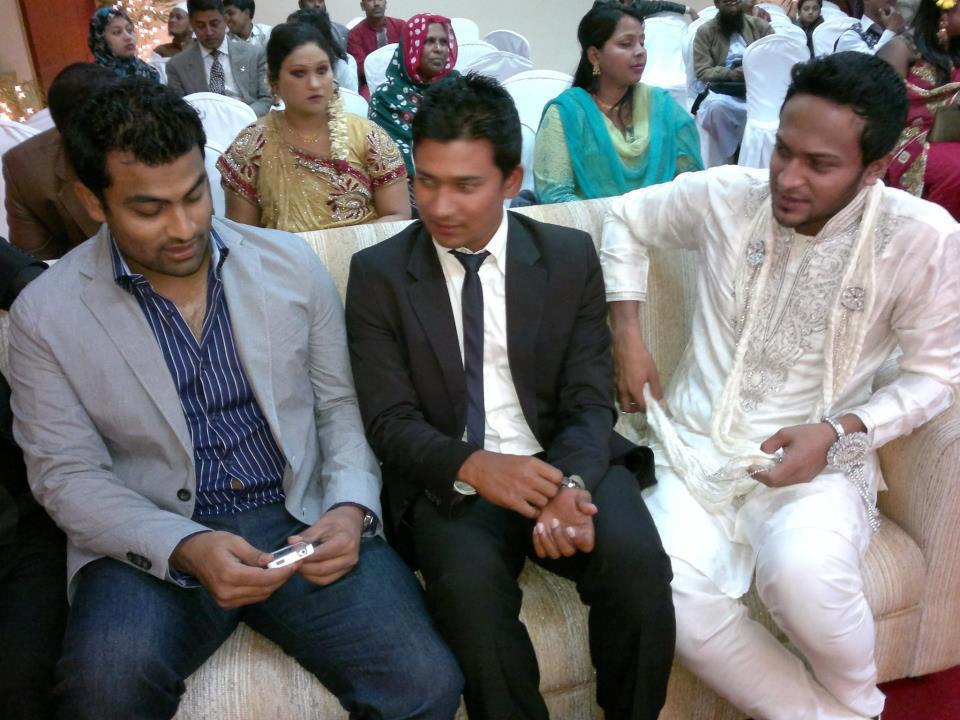 shakib Best friend Tamim (Left)




All rounder Shakib Al Hasan's Personal life :

shakib al hasan wife Umme Ahmed Shishir

Bangladesh Cricketer Shakib Al Hasan married Bangladeshi American Umme Ahmed Shishir on December 12, 2012. Shakib wife Shishir is a Software Engineer and living in Minnesota, USA. Shakib wife Shishir's parents are from Narayanganj. Shishir parents migrated to America when she was 10 years old. Shakib and shakib al hasan wife  met each other in England when Shakib was playing for Worcestershire in 2010.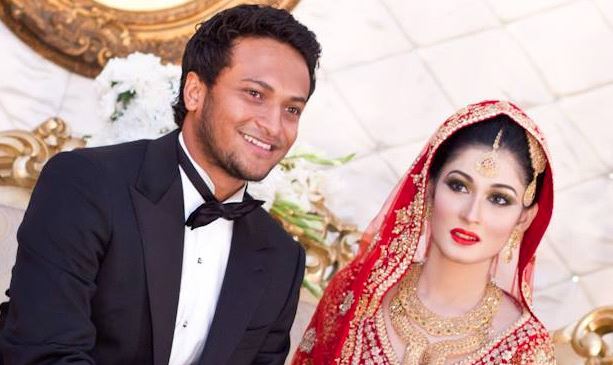 Wife of Shakib al Hasan wife at wedding reception
Shakib al hasan wife and his wedding reception was held at a Hotel in Dhaka on December 05, 2013. Shakib invited Prime Minister Sheikh Hasina, BNP Chairperson Khaleda Zia, Jatiya Party Chairman H M Ershad, Political leaders, businessmen, eminent citizens, Actress , Actor, Journalist and noted persons to the after marriage wedding ceremony (Boubat) of Shishir and Shakib. Shakib Al Hasan and Shishir Gaye holud was held at a Hotel in Dhaka with the present of all cricket players of Bangladesh.
shakib al hasan wife Shishir is the youngest of her 4 elder brothers and a sister. Shishir is looking so beautiful and cute in her early photos with friends in USA, Wedding Video, wedding reception photographs, holud photos. In a photo with her friends shakib al hasan wife Shishir was dancing with smiling. Shakib and Shishir is a happy couple as Shakib always try to keep her beside him to watch cricket, witness Shakib's playing at the playground even in the Hotel.
Shakib al Hasan wife Shishir
Food: Shakib favorite dish is "Shorshey Illish"
Fan: Sakib is a fan of Football and supporter of Spanish club FC Barcelona.
Car: Shakib owns a Honda Accord sedan and he has a Ford Fiesta car.
Shakib al Hasan Wife
shakib al hasan wife  also getting popularity in Bangladesh. Fans of Shakibul Hasan like his wife Shishir very much. Young fans looking Shishir photo and video on the net. Fans of Bangladesh want to see Shakib-Al-Hasan and his wife Shishi would be a very happy family in Bangladesh.
No base of Shakib Al Hasan Scandal or wife Shishir hot photo
We could not find any hot or sexy photo of Shishir on Facebook or any other website. This is just social media gossiping. Shishir living in USA. USA life style and Bangladesh life style is so different. So we could comment about her as Shishir is wife of Bangladesh best player who represent Bangladesh by his best performance. What about Scandal of Shakibul-Hasan? Is there any base of such a information. We could not find any photo or video that claims any Scandal. We should think positive about Shakib and his wife Shishir.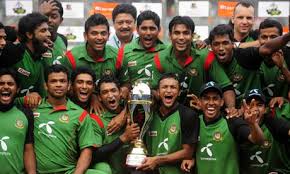 TV Commercial or Brand Ambassador:
Shakil Al Hasan performed in many TVCs for different company and organization such as Gameplan Sports,
Pepsi, Lifebuoy, Shakti Plus, Le Reve (BD), Norton AntiVirus of Computer Source Ltd, United Commercial Bank Ltd, Castrol, Boost, EliteForce, Banglalink, Standard Chartered Bank, runner Group, Tiffin Biscuits of Globe Biscuit Group Of Company, Polar Ice Cream, etc.
Man arrested for harassment of Shakib Al Hasan wife Shishir
Bangladesh Police arrested a man for harassing country's best player Shakib Al Hasan wife Umme Ahmed Shishir in a case filled by Shakib. Shakib's wife Shishir was harassed by several people while she was at Mirpur cricket stadium gallery during an ODI match against India on June 15, 2014.
Bowling action
Sakib Al Hasan complained to BCB, Security staffs of BCB had beaten up some of them while the game was stopped for rain. Shakib Al Hasan filled a case in Mirpur Police station for the incident.
Shakib Al Hasan Photo Gallery
Shakib Al Hasan left dressing room
BCB called Shakib Al Hasan for hearing on beating up the man and left the dressing room on June 15, 2014. All rounder said he left the dressing room for such an incident. He denied raise hand on the spectators. Shakib could face punishment for leaving dressing room that is a breach of the ICC's code. As per the rule Shakib Al Hasan would be fine of Tk 5,000 to Tk 300,000. The man who was arrested by Mirpur Police granted bail the following day. Shakib Al Hasan said Nari Nijjaton ( eve teasing ) happened in Bangladesh, so it should be an example of punishment as he will continue the case.
All Rounder Bangladesh cricketer Shakib Al Hasan facebook page
Popular social networking site Facebook verified Bangladesh cricketer Shakib Al Hasan 's official page. Shakib Al Hasan facebook fan page liked more than 30 lac.  shakib al hasan wife also has her own facebook page. Top all rounder of the World Shakib Al Hasan is the 4th Bangladeshi that recognized by Facebook. This page maintained by Shakib Al Hasan himself.
Shakib al Hasan wife name is Umme Ahmed Shishir
shakib al hasan wife with him beside his awarded car
Sahkib car and Shakib al Hasan wife Shishir after winning BPL Bangladesh Premier Leagure best player award
shakib al hasan family details:
Shakib-Al-Hasan Family : Father, Sister and Mother
Shakib al Hasan with a child in a rickshaw at National stadium during World Cup Opening ceremony
Visit Shakib Al Hasan Facebook page for shakib al hasan wife photos : facebook.com/Shakib.Al.Hasan.Facebook also varified Sheikh Hasina, Sajeeb Wajed Joy, Prothom Alo pages before.
---
Photo REview:
As a Shakib al hasan wife  shishir got popularity in Bangladesh. Media covered many stories on shakib al hasan and his wife from his engagement to running family life. Shakib al hasan wife facebook fans are increasing day by day, teens are searching on the net to find Shakib's wife Shishir facebook account. There are many professional photoshoots on shakib's wife shishir during shakib al hasan wedding reception and then. We have found a shakib al hasan family photos, its shown Shakib with his mother, father and sister. This photo may be taken in Magura, Shakib al Hasan Home district. Specially these professional shakib al hasan wife shishir photos are available every where on the net. Someone said these photos may captured to high light her lifestyle and getting popularity. There is not any picture on shakib's wife shishir scandal on the net. But Shishir got an opportunity to pose with hindi film star Shahruk Khan. A picture is found on the net , shakib al hasan and his wife with shahrukh khan. During Bangladeshi cricketer shakib al hasan playing for Kolkata Knight Riders couple of photos were captured and uploaded at facebook and other websites. Shishir al hasan posed in different places to famed up their interesting moments, One of them is in Stadium, the couple is shown on shakib al hasan car in Stadium. Another interesting picture is that Shakib's wife was dancing with her friends in America. There is an authorized shakib al hasan wedding video on youtube and other website which was recorded during shakib and his wife wedding ceremony. Recently another Bangladeshi cricketers wife also got media coverage, as Bangladesh Captain Musfique got married. Now shakib al hasan ranking is not at the top but every where discussion and debating going about his recent ban by BCB (Bangladesh Cricket Board), But finally the authority reduced his ban and allowed him to pay with Bangladesh Team.
---
All rounder cricketer of Bangladesh Shakib Al Hasan suspended for his camera pose
Shakib Al Hasan suspended for 3 ODIs matched for his unexpected gesture on live television during 2nd ODI aginst Sri Lanka in Mirpur, Dhaka on February 20, 2014. BCB also fined him Taka 300000 ($3846).
Bangladesh icon player Shakib Al Hasan banned for six month

BCB again banned Shakib Al Hasan for six month for breaking rules. Shakib Al Hasan also will not able to play in other country for 18 months. Bangladesh Cricket Board President Nazmul Hasan Papon MP said in a press briefing on 7 July 2014.
Shakib Al Hasan had gone to play Caribbean Premier League without taking proper permission from BCB.
Shakib Al Hasan also threatened to Bangladesh coach Chandika Hathurusingha to quit play for Bangladesh any more. The Coach asked Shakib to join training session on August 1, 2014 but The Caribbian Premier League from July 11 to August 16, 2014.
Later Shakib Al Hasan realized his mistake and said sorry to the Head Coach.
Shakib Al Hasan return from London on July 5, 2014.
BCB president said to media that Shakib Al Hasan breaching rule again and again. "I do not understand how Shakib can say such a thing" Nazmul Hasan Papon said. He said there will be no compromise on discipline.
Shakib Appeal to lift ban
Bangladeshi cricketer All Rounder Shakib Al Hasan officially appeal to BCB to lift ban on July 23, 2014. Bangladesh Cricket Board will give decision on this issue after Eid with discussion on a board meeting. If the ban is not lifted Shakib will not able to play with Bangladesh Team against West Indies starting on August 20, 2014. He will miss series against Zimbabwe in October 2014 also.
---
News on Shakib al Hasan wife
The punishment of Bangladesh all rounder cricket player Shakib Al Hasan could be reduced that is set to discuss on a executive board meeting of BCB on August 25, 2014, said BCB president Nazmul Hassan while talking with a Maasranga Television on August 11, 2014. The all rounder Shakib Al Hasan appealed to Bangladesh Cricket Board to reduced the ban on him.
Shakib was not included in the Bangladesh tour of WestIndies starting from August 20, 2014 but there is a chance to play against Zimbabwe starting from October 17, 2014 in Dhaka.
---
Shakib and shakib al hasan wife Shishir visit Autistic Children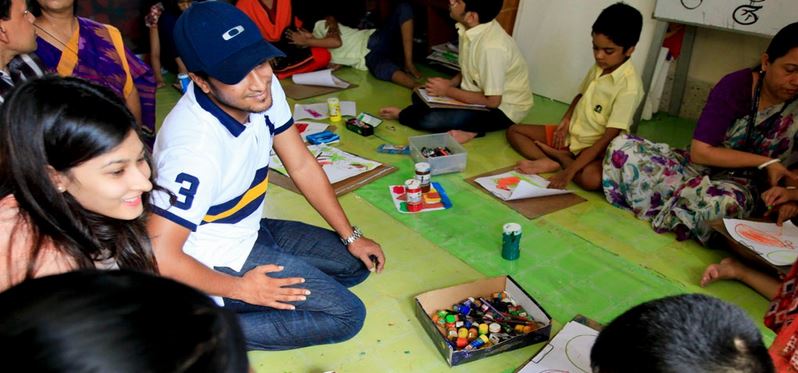 Shakib Al Hasan wife Umme Ahmed Shishir visited the society for welfare of Autistic Children in Dhaka
---
Shakib Al Hasan on a tv program
Shakib al Hasan and his wife Umme Ahmed Shishir appeared on TV show 'Star Night' at Machranga Television during Eid-ul-Fitr 2014. This is the first time as the couple discuss many matter on a tv program about their life, career, after marriage life, friendship, etc.
---
Shakib Al Hasan can not play for Kolkata Knight Riders in 2014
Bangladesh cricket board (BCB) reduced Shakib's ban and he can play from September 2014 with Bangladesh team but still ban for overseas league till 2015. He is an important player for Kolkata Knight Riders. Shakib Al Hasan scored 227 runs at a strike rate of 149.34 and taking 11 wickets with an economy rate of 6.68 for KKR in 2013.