Taskin Ahmed born on April 3, 1995. His nickname is Tazim and height is 6 feet 4 inches (1.93 m). Taskin Ahmed is a Bangladeshi young popular cricketer. He is the son of Abdur Rashid and Sabina Yasmin. Taskin is a right-arm fast bowler & a left-handed batsman.
Taskin Ahmed played for Dhaka Metropolis in first class & listed as a cricketer for the Chittagong Kings & Chittagong Vikings for BPL.
Taskin Ahmed completed his SSC & HSC from King Khaled Institute & Stanford Collage. Now he is a student of AIUB. Taskin Ahmed played cricket in 2007 at Abahani playground. In October 2011 he made his first-class debut for Dhaka Metropils against Barisal Division. After playing under-15 &-17 level Taskin Ahmed able to get chance to play for under-19 team of Bangladesh.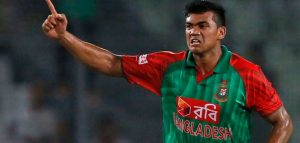 In under-19 World Cup of 2012 Taskin Ahmed was the premier wicket taker from Bangladesh about 11 wickets. In his second Twenty20 in BPL for the Chittagong Kings Taskin Ahmed rewarded man of the match for his bowling records of 4/31 against Duronto Rajshahi in the Semi Final. He took 8 wickets in 4 matches which was very important for his career. In BPL three he played for Chittagong Vikings.
Ruble Hossain is the first faster bowler & Taskin Ahmed is the second faster bowler of Bangladesh. Taskin Ahmed has clocked 148 Km/hrs against Pakistan in Asia cup 2016
He can be able to constantly bowl around 145km/hrs. suddenly, Mashrafe was injured & the door of national team opened for Taskin Ahmed. On April 1,2014 he took the wicket of Glenn Maxwell in T-20 debut. . On 17 June 2014 Taskin Ahmed got 5 wickets against India as the 1st debut bowler of Bangladesh in ODI. It was the outstanding performance of 2014 in Cricinfo award.
Taskin Ahmed also selected for Bangladesh national cricket team in the 2015 ICC cricket world cup for his awesome performance in the season of 2014. In 2015 world cup he got 1,3 & 2 wickets against Afghanistan, Scotland & England which was very important for him. Next time faced India was In Quarter-final in Melbourne. In there, Taskin also get 3 wickets. Taskin also took a important role against Pakistan & India series in 2015 .