The educational system in Bangladesh is three-tiered and highly subsidized. The government of Bangladesh operates many schools in the primary, secondary, and higher secondary levels. It also subsidizes parts of the funding for many private schools. In the tertiary education sector, the government also funds more than 15 state universities through the University Grants Commission.
In the past, Bangladesh education was primarily an English-controlled, upper-class affair with all courses given in English and very little being done for the common people. The Bangladesh education board has taken steps to leave such practises in the past and is looking forward to education as a way to provide a somewhat poverty-stricken nation with a brighter future
Bangladesh fully conforms to the Education For All (EFA) objectives and the Millennium Development Goals (MDG) and international declarations. Article 17 of the Bangladesh Constitution assures that all children between the ages of six and ten years are to be provided basic education free of charge.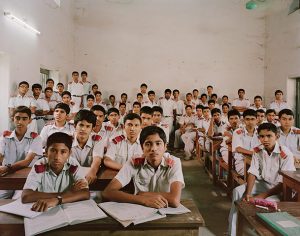 Currently the education system is divided into four levels or stages. The first is the Primary level which incorporates grades 1 to 5. The second is Secondary level which covers grades 6 to 10. The Higher Secondary level consists of grades 11 and 12. If a student wishes to pursue further studies, tertiary education institutions are available. There are 11 government universities in Bangladesh and some 20 private universities which provide tertiary education. Students can choose to further studies in engineering, technology, agriculture and medicine at a variety of universities and colleges.
At all levels of schooling, students can choose to receive their education in English or Bengali. Private schools tend to make use of English-based mediums while government-sponsored schools use Bengali mediums of study.
A separate religious branch of education, known as the Madrasah system, teaches all the basics of education in a religious environment. Madrasahs take in countless homeless children and provide them with food, shelter and education. Religious studies are taught in Arabic and the children also usually serve the related mosques.
Pre-primary and primary education
Following the EFA, the government of Bangladesh made primary education compulsory for all children between the ages of six and ten. This has had a major impact on the system and the gross enrolment rate has increased since from 75% to 95% by 1996 (Sedere 1996).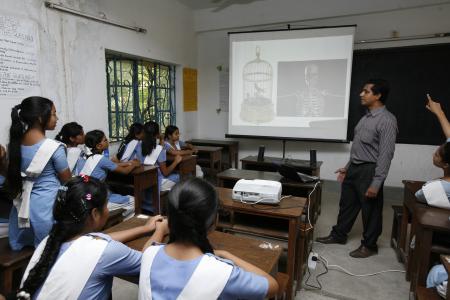 Bangladesh has 18 million children in 62,000 primary schools; this is one of the largest primary systems in the world. Over 65% of the primary schools are government primary schools; the rest are registered non-governmental schools but assisted by the government. The government of Bangladesh distributes free books and education kits to the students of primary schools. There are private schools; however, the number of students enrolled in private schools is much fewer, and these schools largely cater to the social elite. Many schools in the secondary level also have primary sections.
The primary education level is from year 1 to year 5. The primary curriculum is a competency based curriculum developed by the National Curriculum and Textbook Board (NCTB). The Directorate of Primary Education (DPE) implements the curriculum and also manages the system of primary education. There is no nationwide examination at the end of the fifth year. However, the government education boards conduct a scholarship examination at the end of year 5.
Secondary and higher secondary education
The secondary and higher secondary level is between year 6 and year 12. This level is further divided into two sub-levels – the secondary and the higher secondary. The schools in the lower secondary levels have students from year 6 to year 10. The schools in the higher secondary level are called "colleges".
There are two nationwide public examinations in this level. The first one is the Secondary School Certificate examination, conducted at the end of year 10. The other is the Higher Secondary Certificate examination, conducted at the end of year 12. These examinations are conducted by the seven education boards located in Barisal, Chittagong, Comilla, Dhaka, Jessore, Rajshahi, and Sylhet.
Secondary educatio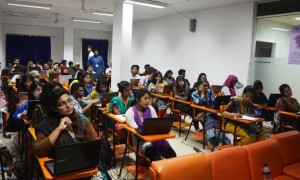 On completion of primary education, students (11+) enrol for junior secondary education that spans 3 years. At the end of this phase of education, some students branch out to join the vocational stream, offered at Vocational Training Institutes (VTI) and Technical Training Centres (TTC) run by the Ministry of Education, and the Ministry of Labour and Employment respectively. Students in the mainstream continue in government and non-government secondary schools for a two-year secondary education in their respective areas of specialization, i.e. humanities, science, commerce, etc. At the end of their secondary education, the students sit for their first public examination (SSC) under the supervision of six education boards.
The students of religious education and English medium streams also sit for their respective public examinations, Dakhil and 'O' level, conducted by the Madrasah Education Board, and London/Cambridge University respectively, facilitated by the British Council in case of the latter.
Higher secondary education
After 10 years of schooling at primary and secondary level, students (16+) who succeed in passing the Secondary School Certificate (SSC) examination have the option of joining a college for a two-year higher secondary education in their respective areas of specialization, or enrolling in technical or polytechnical institutes. After the two-year higher secondary education, one has to sit for another public examination called Higher Secondary Certificate (HSC) Examination conducted by the Education Boards to qualify for further education.
Students of religious and English medium streams also sit for their respective public examinations, Alim and 'A' level, conducted by the Madrasah Education Board and London/Cambridge University respectively to qualify for further education.
Tertiary education
Bangladeshi universities turn out almost 450,000 skilled graduates annually.
Undergraduate education
Undergraduate education of various duration (two to four years) is offered to age 18+ students at a number of public and private universities, degree and honours colleges, technical colleges, and specialized institutions. Successful completion of a degree course is a prerequisite for appointment to a white-collar civilian job.
Post-graduate education
Post-graduate education, normally of a one- to two-year duration, is provided at universities and affiliated colleges and institutions under National University.
Non-formal primary education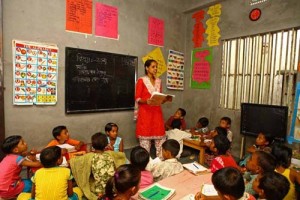 There exists a substantial number of NGO-run non-formal schools, catering mainly for the drop-outs of the government and non-government primary schools. Very few NGOs, however, impart education for the full five-year primary education cycle. Because of this, on completion of their two-to three-year non-formal primary education in NGO-run schools, students normally re-enter into government/non-government primary schools at higher classes.
There are Non-Governmental Schools (NGO) and Non-Formal Education Centers (NFE) and many of these are funded by the government. The largest NFE program is the much reputed BRAC program. However, all NFE graduates do not continue on to secondary school.
NGO-run schools differ from other non-government private schools. While the private schools operate like private enterprises often guided by commercial interests, NGO schools operate mainly in areas not served either by the government or private schools, essentially to meet the educational needs of vulnerable groups in the society. They usually follow an informal approach to suit the special needs of children from these vulnerable groups