HSC admission schedule has been announced for the SSC passed students in 2018.  This year SSC passed students can choose maximum 10 colleges for admission. They can choose the colleges if they interest to make admit there. Student should apply between May 13 to May 24, 2018.
SSC result for secondary school certificate examiners re-scrutiny program starts within one week of the ssc result in Bangladesh for all education boards.
HSC admission in Bangladesh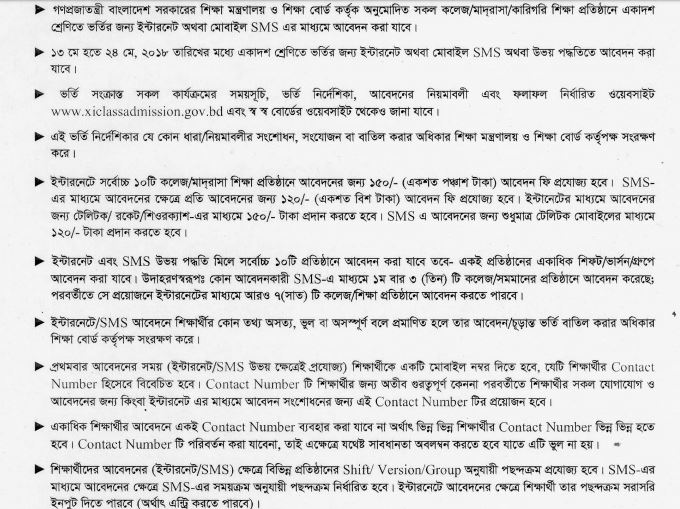 Online sms  period of time – within 10 to 12 days of result published.
HSC admission result -(First Merit Position)
Application  method –Online/sms
Application  fees – Tk 150 for online application and Tk 120 for SMS per collage.
Qualification for HSC Admission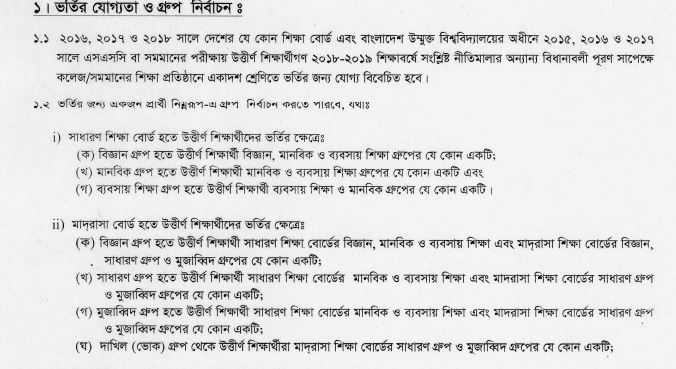 ---
Internet based HSC Admission


HSC Admission through SMS

HSC Admission Schedule
Online Admission Application
How student can apply for the admission
Students can apply by teletalk prepaid mobile phone,
At first go to message option and type
CAD <space>WEB<space>Board Roll<space>  Year<space> Reg. No.then send to 16222 from biometric registered teletalk mobile number.
example: CAD WEB DHA 125556 2016 1523658962
you will received a SMS with name, year, board, rool number to pay Tk. 150.
Reply message
CAD <space> Yes<space> PIN<space> Contact Mobile Number (biometric registered teletalk mobile number.)
send to 16222
example: CAD YES 1278284 017 # # # # # # # #
If you deserve a Quota
CAD<space>Web<space>First two letters of desired group <space>First 3 letters of  your SSC board <space>SSC roll<space>Passing year<space>Name of shift<space>Version<space> Quota  send to 16222
After completion payment for online application through teletalk, go to www.xiclassadmission.gov.bd
Click 'Apply Online"
enter ssc/equivalent roll, board, year and registration number.
Then you will see your details and GPA.
Then enter your Guardian mobile number.
Next step to select
College
Group
Shift
Version
Select college.
Each student can select maximum 10 colleges from the list.
Then , Submit
finally, you will see a form with your name, roll, ragistration/group/ship/version.
You can download or pint the form for future use.
You can select 3/4 college today, and tomorrow again you edit this form to add more colleges.
---
SMS for HSC admission application
You should use Teletalk mobile to send SMS for HSC admission application
CAD<space>college EIIN<space>group<space>Board<space>year<space>registration<space>shift / N<space>version
then send to 16222.
Example: CAD 655954 SC DHA 122256 2016 1599678902 D B FQ
they will send you sms to pay Tk. 120.
reply with
CAD <space> Yes<space> PIN<space> Contact Mobile Number (biometric registered teletalk mobile number.)
example: CAD YES 1258234 (017 # # # # # # #)
then you will get another message with confirmation.
You can apply maximum 10 college through sms by giving tk. 120 for each application.
---
Who can apply for admission?
The students who passed SSC in last 3 years are eligible to get admission. Every candidate can apply for few colleges by giving online or sms fees.
HSC Admission Results:
There will be no admission test for HSC admission  under academic session.
1st Merit list will be published in a schedule time. HSC Admission date from 1st Merit list will be puslished. Then 2nd, 3rd merit list.
2nd Merit list.
HSC Admission from 2nd merit list
Release Slip. Result for HSC release slip.
HSC Admission with late fee is also possible
Admission Fee for HSC
Upozila Level Colleges: Tk. 1000/-
District Level colleges: Tk. 2000/-
Dhaka MPO Colleges: 5000/-
Dhaka Half MPO Colleges: 9000/-
Other Metropolitan Area Colleges: 3000/-
Registration Fee and others : Tk. 300/-
Development Fund Highest: Tk. 3000/-
HSC Class Schedule
Class for New HSC students will be started soon after completion admission.
Group keyword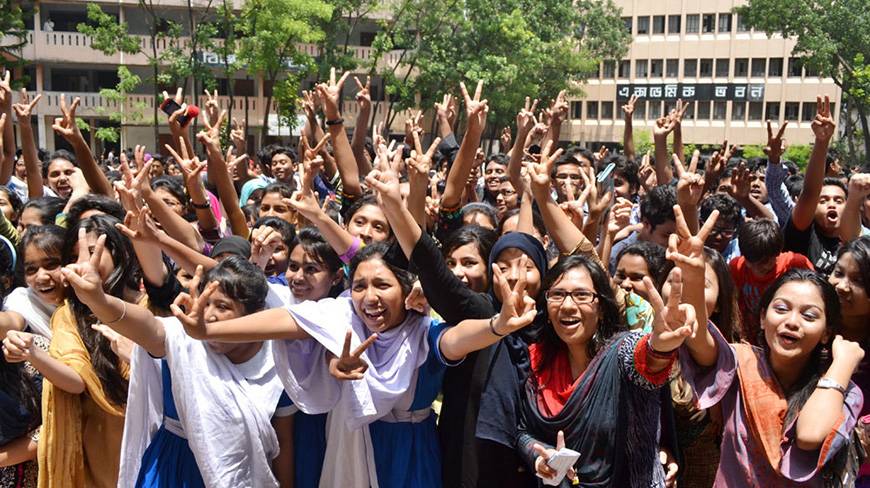 Science=SC,
Business Studies =BS,
Humanities =HU,
Home Economics=HE,
Islamic Studies= IS
Shift keyword
Morning =M,
Day=D,
Evening=E (if there is no shift type N)
Version keyword
Bangla=B,
English=E
Quota keyword
Freedom fighter Quota=FQ,
Employee Child of Desired or Education Ministry= EQ,
Spacial Quota=SQ (declared by board)
All Boards First 3 letters:
Dhaka Board =DHA,
Comilla Board =COM,
Rajshahi Board =RAJ,
Jessore Board =JES,
Chittagong Board =CHI,
Barisal Board =BAR,
Sylhet Board =SYL,
Dinajpur Board =DIN,
Madrasha Board=MAD
---
Important Links For  Students