Dhaka is the capital of Bangladesh. The Dhaka city is located on the Bariganga River. It is the largest city of the world. Dhaka is called "City of Mosques" and is known "City of Rickshaws".
In 17th century, during Mughal Emperor Dhaka was the capital of Bengal. If we compare the Dhaka map of Mughal period with current map then we will understand what changes happened within 300 years.
Dhaka is one of the world largest populus City. Road map of Dhaka city is very comprehensive. Most of the city road was not pre-designed before the dweller setter their houses.


Map of Dhaka showing all police station, thana, roads, word, market, historical and administrative locaiton of city corporation south and north.
The Bangladesh government divided Dhaka City Corporation into South and North as Dhaka South City Corporation and Dhaka North City Corporation. Now both city corporations have separate administrative offices and Dhaka City Map.
Dhaka city corporations also have Dhaka ward map for each city corporation. They have details Dhaka Thana map or Dhaka area map also. See Dhaka City Corporation word list and area below.
Dhaka Map | Dhaka South and North city Corporation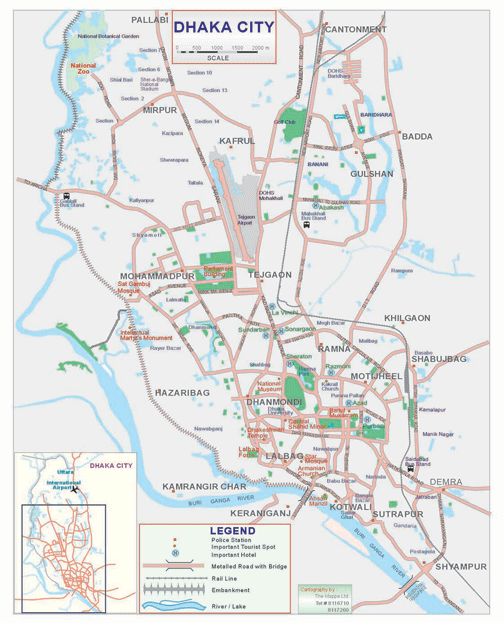 Dhaka Map


North and South Dhaka City Corporation summary

Number of Wards
92
Number of Wards Commissioners
Number of Elected Women Ward Commissioners
Number of Zones
10
Area
360 sq.km.(Approx)
No. of Project
18
Total Budget of the Projects
1318.98crore taka
Total Budget of DCC (2003-2004)
762.9 Crore taka (estimated)
Population in DCC
5.4million
Number of Officers/Staffs
11000
Road
1968km.
Drains
2460km
Sewerage
1431km
Footpaths
163km
Roads Media
200km.
Foot over Bridges
19
---

Dhaka North  City Corporation
Dhaka North City Corporation wards list
Zone-1- wards list (Uttara)

Area (Sq km)

Nos. of Holding / House

Ward Area Name

Ward No. 1

6.095

8,823

Uttara Model Town

Ward No. 17

5.475

5,880

Kuril, Khilkhat, Nikunjo

Zone-2 wards list – Mirpur-Pallabi

Area (Sq km)

Nos. of Holding / House

Ward Area Name

Ward-No. 02

3.048

4,902

Mirpur section-12, Mirpur Ceramic

Ward-No. 03

1.101

3,150

Mirpur section-10

Ward-No. 04

1.338

1,361

Mirpur section-14, Byshteki

Ward-No. 05

1.3444

2,190

Mirpur section-11, Bawneabad Area

Ward-No. 06

3.029

3,135

Mirpur section-6 & 7, Pollabi

Ward-No. 07

1.875

2,981

Mirpur section-2, Rupnagar, Govt. housing Estate

Ward-No. 08

3.776

3,040

Mirpur section-1, Box nagar, Zoo and Botanical Garden

Ward-No. 15

5.806

3,729

Vasantek, Maticata, Manikdey, Barentek.

Zone-3 wards list – Gulshan

Area (Sq km)

Nos. of Holding / House

Ward Area Name

Ward No. 18

1.749

3,344

Baridhara, Shahjadpur

Ward No. 19

5.186

12,889

Gulshan, Banani

Ward No. 20

1.729

4,062

Mohakhali, Niketan,

Ward No. 21

1.449

4,648

Badda

Ward No. 22

1.808

4,219

East rampura, Ulon, West Haji Para.

Ward No. 23

0.855

1,782

Khilgaon B Zone, Purbo Haji Para, Chowdhury Para.

Ward No. 24

3.075

1,656

Tajgaon I/A, Kunipara,

Ward No. 25

1.218

2,453

Azrat Para, Rasul bag, Tajgaon

Ward No. 35

1.149

4,200

Boro Moghbazar, Eskaton,

Ward No. 36

0.769

2,225

Neyatola

Zone-4 wards list – Mirpur-Kazi Para, Gabtoli

Area (Sq km)

Nos. of Holding / House

Ward Area Name

Ward No. 09

1.615

2,010

Golartek, Bagbari, Gabtoli Bus Terminal

Ward No. 10

1.669

2,515

Gabtoli, Mirpur Colony, Darus Salam

Ward No. 11

1.133

3,733

Paikpara

Ward No. 12

1.697

3,266

Ahmed Nagar

Ward No. 13

1.814

4,880

Monipur, Parer Bagh

Ward No. 14

1.946

6,907

Kazipara, Sawrapara, Senpara-parbata

Ward No. 16

2.088

4,559

Ibrahinpur, Kafrul

Zone-5 – wards list – Kawranbazar

Area (Sq km)

Nos. of Holding / House

Word Area Name

Ward No. 26

1.374

4,153

Kawranbazar, Tegturipara, Tejkunipara

Ward No. 27

3.661

3,730

Razabazar, Monipuripara, Indra road

Ward No. 28

1.528

1,719

Agargaon, Taltola Staff Quarter

Ward No. 29

0.712

2,173

Mohammadpur

Ward No. 30

2.383

5,742

Shamoli Ring road, Adabor, Shakertek

Ward No. 31

0.629

2,450

Mohammadpur azam road, Jakir Hossain Road, Nazrul Islam Road.

Ward No. 32

1.561

4,340

Lalmatia, Asad Gate, Khilgi Road, Babar Road, Iqbal Road, Arongajeb Road, PC Culture

Ward No. 33

5.592

4,287

Basila, Katasur, Mohammadia Housing, Basbari

Ward No. 34

1.362

2,397

Jafrabad, Sultanganj, Rayer Bazar, Bibir Bazar, Madhu Bazar
Dhaka Map : Dhaka North City corporation Map
Dhaka North City corporation Map
---
 Dhaka South  City Corporation
You can Download Dhaka South city Corporation Wards list and Zones list 
Dhaka Map : Dhaka south City corporation Map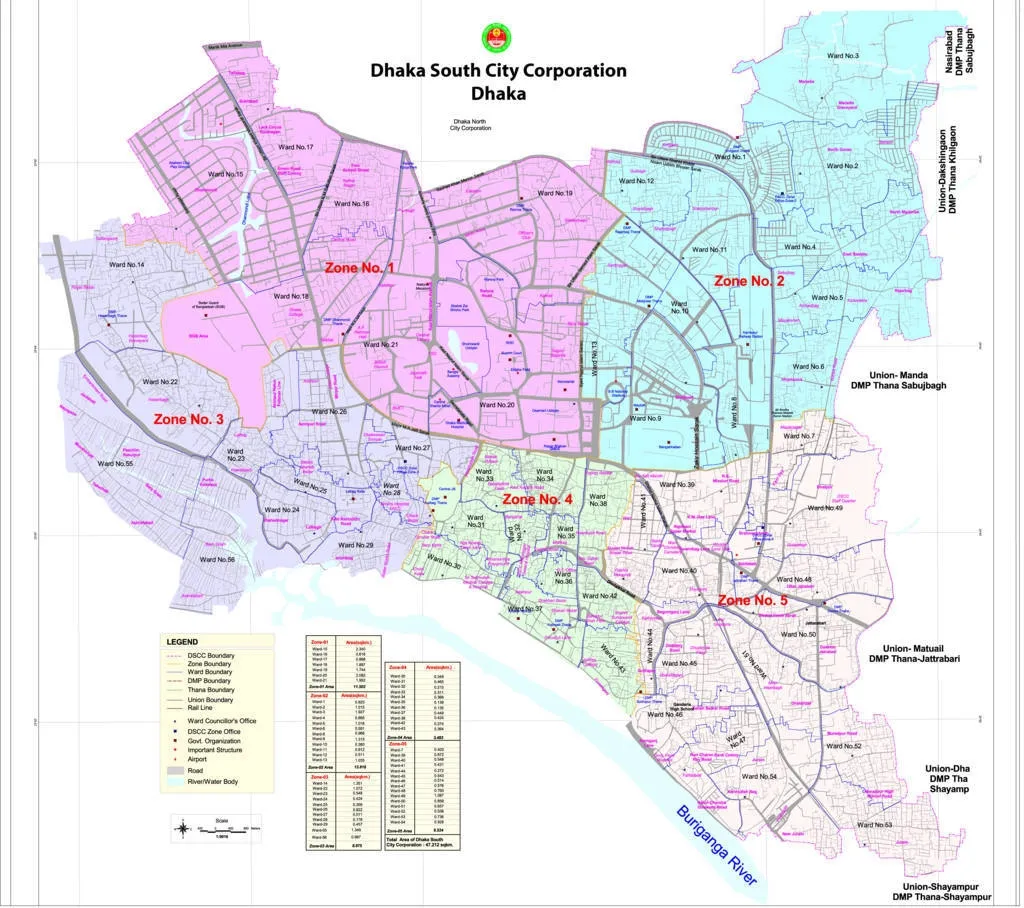 Dhaka South City Corporation wards list
—-
---
The Muthal Capital Dhaka Map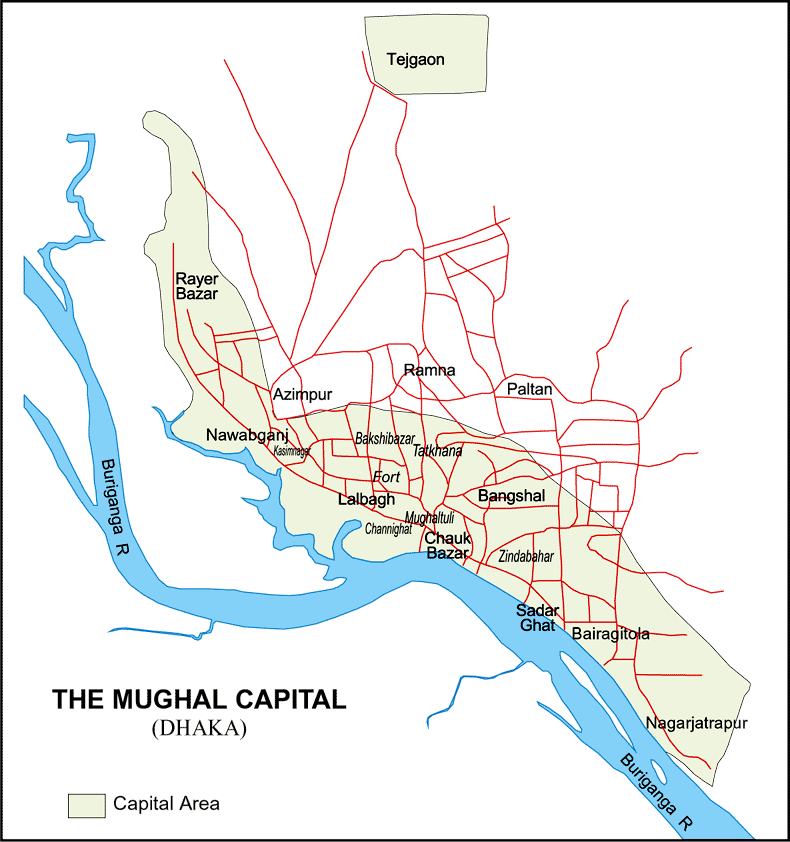 more.. about Dhaka city and Bangladesh Map
If we compare today's Dhaka city map with Dhaka city map of Mughal dynasty, there are hundreds changed. Sadar Ghat, Chalk Bazar, Lalbagh, Nawabganj, Bangshal, Paltan, Ramna, Rayer bazar, Tejgaon still exists as the historical places and witness many things of hundreds years. During the Mughal Emperor people of Dhaka was inhabited near or beside the river Bariganga to get benefits of the river way.
Hundreds years later, Dhaka city map extended to Tongi, Uttara, Pallabi and Cantonment in the north, Badda, Gulshan, Khilgaon, Sahbujbagh, Demra in the east side, Mirpur, Mohammadpur, Hazaribagh, Dhanmondi in the west of the modern city. Within few years, the Dhaka city will be extended in the east to Purbachal and other areas of Rupgonj upazila of Narayanganj.