Setting up of Amusement Parks in Dhaka City was almost ignored until the private sector ushered in a modest ray of hope in this sector. Now-a-days amusement-starved Dhaka city dwellers are opting for different venues and enjoying there free time at Shishu Park at Shahbagh, Shishu Mela at Shyamoli, Wonderland at Gulshan and most importantly Fantasy Kingdom at Ashulia and Nandan Park at Chandura.
The last two destinations are becoming the leading amusement hub of the fast expanding Dhaka city where a whole family could entertain themselves not for a while or few hours but for a full day forgetting life's monotony.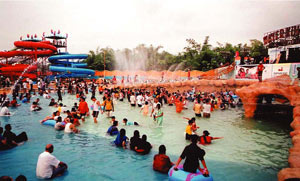 Shishu Park is the oldest amusement park of the city situated at Shahbagh run by the Dhaka City Corporation was established in 1979. The park has been set up on 15 acres of land adjacent to Suhrawardy Uddyan former Race Course ground. Though the name of this park indicates for children but people of all ages usually visit there and most of the rides are fit for all. The park has 12 rides including Train, Merry Go Round, Jet Star, Flying Spaceship, Battery Car, Roller Skating, Flower Cup, Chair Tower, Jumping, Wonder Wheel, New Travel and Jet Plane. The park remains open from 3.00-8.00pm in winter and 2.00-7.00pm at summer.The staff size of this park is about 90 and Sunday is there holiday. Entry and every ride ticket price are Taka 8.00 and Taka 6.00. On every Wednesday poor children can visit and enjoy the rides without charges.
Shishu Mela is the first private small amusement park situated at Shyamoli was established in 1994 by leasing land from City Corporation. Total land area of this park is only one acre but it has vast of rides for different age group with fun and thrills. The park has more than 50 types of rides including Mini Train, Merry Go Round, Swan Adventure, Battery Car, K.B. Car, Flower Cup, Twist, Paratrooper, Kid Adventure, Battery Castle, Helicopter, 3D Movie, and Space Shuttle.The park remains open from 10.00am to 9.00pm round the week. Entry and every ride ticket price are Taka 25.00 and Taka 20.00.  About 400 to 500 people visit the parks everyday as saying Lion Mamoon Parvej, Managing Director of the park. He claims that they took initiative first ever to enhance the amusement facility of the city.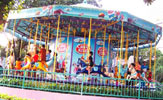 Wonderland Park, the second private amusement park in the city situated at Gulshan, was also established in 1994. The park has been set up on 6.3 acres of land. In accordance to the posh area and its inhabitants some amusement arrangements of this park are different types than the others. To participate in music as vocal with pre-arranged rhythms, massaging machine, restaurant in plane etc. are the examples.
Wonderland Park has plenty of rides with different thrill and fun. The mentionable rides are Super Chair, Voyager Duck, Western Train, Paratrooper, Jetsetter, Adventure Wall, Balloon Side, Merry Carousal, Battery Car, Bounce Castle, Coffee Cup, Mini Flower Cup, Mini Train, Ball House, Bumper Boat, Bumper Car, Thrill Hider, 3D Adventure, Volcano Drama, Ice House, Rocket and Water Costar. The park remains open from 10.00am to 9.00pm round the week. The staff size of this park is about 125. Entry and every ride ticket price are Taka 50.00 and Taka 20.00-40.00.
Fantasy Kingdom in Ashulia, just 25 minutes drive from the capital was established in 2002. The park has been set up on 20 acres of land. It has international standard and thrilling rides. This park is very attractive for people of all ages to enjoy different rides. There are two types of paddleboats and the most thrilling ride is the roller coaster. Moreover, there is giant flume, Santa Maria, magic carpet, whirly bird, happy kangaroo, bumper boat, bumper cart, izzy dizzy, zuzu train and many more. There are arrangements of concerts and various cultural programs for the visitors all round the year. The park is open from 10.00am to 8.00pm on weekends and 11.00am to 8.00pm on weekdays.
Nandan Park at Baroipara on the Nabinagar-Chandra Highway, just an hour's ride from the city is another attractive spot with exciting unique amusement facilities in spacious atmospheres. The Nandan Park began its journey on October 2003 spans 33 acres in collaboration with Nicco India. The rides like Cable Car, Wave Pool, Zip Slide, Rock Climbing, Rippling etc. are first of its kind in Bangladesh. The other attractive rides of the parks are Moon Raker, Tilt-a-whirl, Caterpillar, Water Coster, Ice Land, Paddle Boat etc. Beyond unique Cable Car and exceptional Water World the park has two different zone comprising Adventure and Kid. The entry fees are Taka 90 and another Taka 250 for entry into Water World. The criteria for these entry fees are height; over 120 cm is Taka 250, under 120 cm Taka 200 and under 80 cm it is free. The park keeps open from 11:00am to 9:00pm at weekdays and 10:00am to 9:00pm at holidays.