A city is best known by its shopping centres and markets. Dhaka has gradually turned into a modern mega city during the two last decades. Traditionally Dhaka is famous for its fabrics since time immemorial. Folkloric cotton fabrics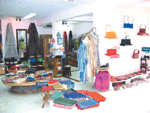 and woven garments still attract young and old, equally.
March being a bit warm, but pleasant weather is congenial to roam around. You will find beautiful bright sun and lots of wind. It will be pleasure to go around the market places before noon and of course in the afternoon.
While at Dhaka it would be almost a sin not to go around and visit the shopping areas. You do not have to make a schedule to visit them, just take an hour or two breaks from your busy time and take a cab or jump on a rickshaw, if you can and just take a trip into some of these places. There are wide varieties of shops, small and large, some of them are well-decorated and of course airconditioned. You will find local botique too. These are at Gulshan, Banani, Uttara and some are at Dhanmandi and Mispur.
Let's take a short visit to some of these shopping places.
Giant Distributors launched the unique concept of retailing brand products in Bangladesh around 2001, introducing four of the world's best-known menswear brands- Allen Solly, Louis Phillipe, Peter England and Van Heusen. All discerning buyers and brand lovers will get a wide range of branded menswear at Banani's Planet Fashion. It offers an exclusive collection of checks, stripes and solids in rich and vivid colours.
Just a few minutes drive from Planet Fashion you'll find Mantra at Gulshan, which is a house of exclusive wear. This retailer shop in Dhaka 's fashion district started with a mission to make branded apparel available in Dhaka . Here you'll also find Shoppers' World, which offers all the latest fashion trends under one roof.
Kumudini at Gulshan Avenue is a name you can trust for quality, design and fabric finishes. This fashion house promotes the traditional arts and crafts of Bangladesh , giving support to craftsmen and underprivileged artisans across the country. Kumudini use of natural vegetable dyes, specialising in Jamdani, Kantha and Nakshi work- the incomparable richness of which draw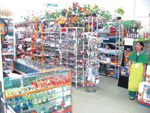 s the most discerning of patrons.
Nandan Mega Shop is a super market on Gulshan's Kamak Ataturk Avenue , offering a choice of over 25,000 items from the product range, well, you name it, and they have it. Both self service and service from well-trained and knowledgeable staff are available here.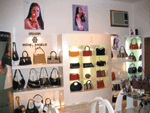 Banglar Mela at Banani Road no 11 was remained in creating a wide array of competitive priced garments, using traditional fabrics. Banglar Mela is renowned for its handloom and hand crafted products. With Banani outlet the Banglar Mela currently has four outlets. Desigo, the designer boti-que of Banani largely incorporates the retail section comprising smart and casual dresses, while a special section is dedicated to scarves, bags, belts and accessories.
In Dhanmandi area there is Rapa Plaza , a massive six-storied structure adjacent to Road No. 27, targeted towards every segment of society. It offers good varieties of branded, Non-branded and local retail outlets. Eas-tern Plaza , a 10-storied shopping mall on the busy crossroads of Dhaka 's Hatirpul area, was the pioneer retail destination to introduce centrally air-conditioned interiors, escalators and elevators.
Monsoon Rain at Hatirpool is one of the biggest chains of fashion stores across the country, their target customers being the young and fashion conscious clientele of Dhaka . Piran, the designer botique at Dhanmandi is popularly known for its metal ornaments in both modern and antique styles and designs. Most of Piran's collections are made by traditional craftsmen, some are imported.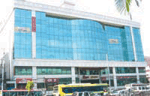 These are only a few to mention. We would request you to go through the streets and avenues of Dhaka city and find for yourself more interesting joints of Dhaka .