Bhasani Novo Theatre, located near Bijoy Sarani of Dhaka is the country's only planetarium to present a celestial show of stars, planets and other heavenly objects of in virtual reality. This dome-shaped theatre with latest technological equipment enables visitors to soar into the space as well as experience the thrills of an inter-planetary journey in a three dimensional environment.
Bhasani Novo Theatre, constructed on 22.96 thousand square metres of land at a cost Tk 123 crore, was inaugurated on September 25, 2004. The project was taken up in May, 1997. The Ministry of Science and Information and Communication Technology established the theatre as a non-formal science education centre to inculcate positive scientific temperament in the minds of people, especially among the students. The unique architecture of Novo Theatre with light blue metallic dome easily draws attention of the passers-by.
The imposing structure of the planetarium stands on 14 free height Roman columns, seven on each side, at the entrance. The images of the columns are reflected on the three fountains in front of the planetarium. A four-storey administrative block is located at the back of the theatre.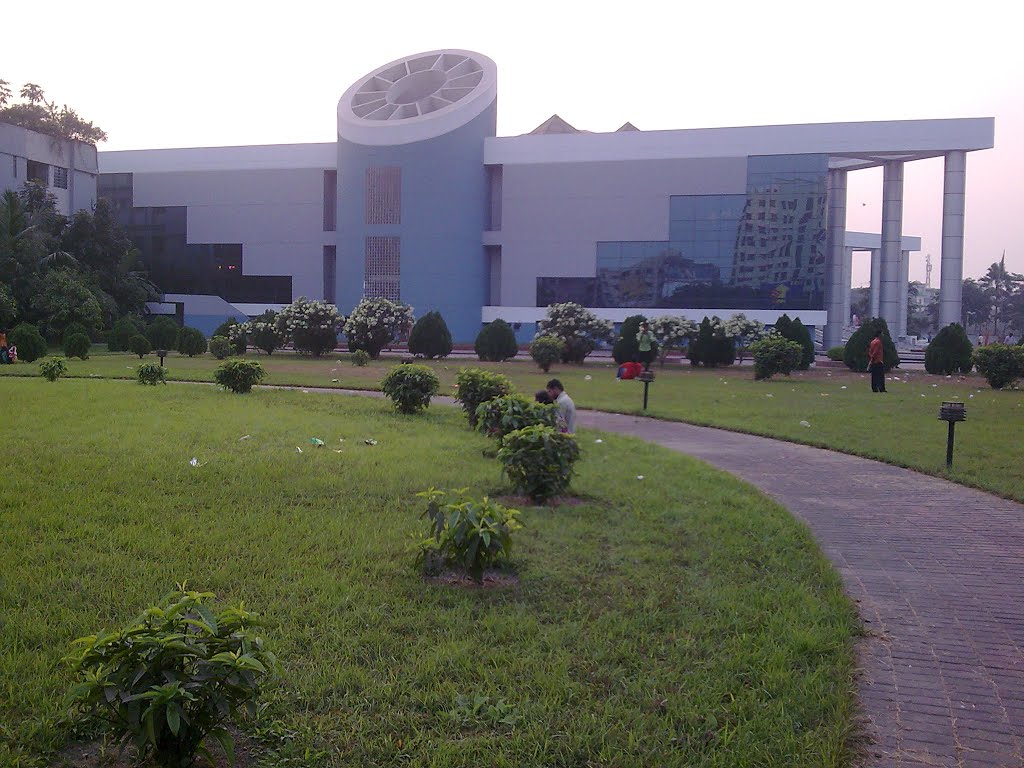 The prime objective of the project is to attract the youths, particularly the students, to planetary studies. Computer fairs, space fairs, Internet fairs, seminars, meetings, scientific workshops etc. are being organised here regularly since its inception. These events of Bhasani Novo Theatre  are helping build up an educated and science-oriented nation. Inside the Planetarium a very exciting Ride Simulator, model of the planets of Solar System, scientific exhibits and portraits of world-renowned scientists and scholars can be seen.
Bhasani Novo Theatre of Dhaka also contains audio-video units, a 150-seated auditorium, an excellent conference room, hydraulic lifts and ramp for celestial shows.
A large number of advanced technological instruments have been procured from Japan, US, Korea and India for the planetarium. The prime activities of this Theatre are arranging three-dimensional shows at its dome-shaped 275-seat auditorium. Every day it arranges four shows. On Saturdays, Sundays, Mondays, Tuesdays and Thursdays show times are 11am, 1pm, 3pm and 5pm while in Friday's show times are at 10am, 3pm, 5pm and 7pm. Bhasani Novo Theatre remains closed on Wednesday and also on other government holidays.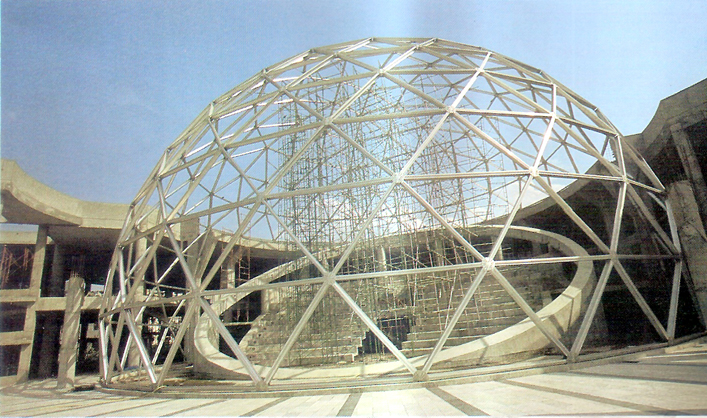 Each show of Novo Theatre contains two parts. One is Planetarium Show and the other is Large Format Film Show. First one is named "The Journey to Infinity." It shows stars, planets, galaxies and so on. Contents of the other one, large format film show, is changed once every year. From September 2007 `The LivingSea' is showing regularly. The previous large format films shown here were `Africa the Serengeti,' `The Grand Canyon' and `Whales,' said Zillur Rahman, Public Relation Officer of Novo Theatre.
The second part of the show proves to be a bit of an anti-climax, as instead of being
showing anything related to space, a documentary of the kind that one gets to see on
National Geographic channel is shown. Nevertheless, the first part of the show is so lively and realistic that you'll forgive the second part.
The price of an entry ticket is Taka 50.00. Tickets are sold from Bhasani Novo Theatre  counters located at the entry gate. Sale of tickets starts usually before two hours of each show and one person standing in a queue can collect one ticket only at a time on first come first served basis. There is also the arrangement of advance ticket booking for students and institutions.
Children aged less than two years are discouraged to watch planetarium show. Food, beverage, bags, cameras are not allowed inside the Novo Theatre. Taking photographs, using mobile phones or switching on any light inside the auditorium is strictly prohibited. Visitors are not allowed to enter into the dome after the start the show.
Usually the shows of 5pm and 7pm of Friday tend to be very popular with most people as the day being a holiday. So if you want to watch the shows on Fridays then you will have to reach the venue at least an hour before the show starts, or else you might not get tickets