Kuakata, locally known as Sagar Kannya (Daughter of the Sea) is a rare scenic beauty spot on the southernmost tip of Bangladesh. Kuakata in Latachapli union under Kalapara Police Station of Patuakhali district is about 30 km in length and 6 km in breadth.
It is 70 km from Patuakhali district headquarters and 320 km from Dhaka.At Kuakata excellent combination of the picturesque natural beauty, sandy beach, blue sky, huge expanse of water of the Bay and evergreen forest in really eye-catching. From its seashore you can watch both sunrise and sunset. The coconut trees increase the scenic beauty of this seashore.The main tourist season is in winter but all over the year tourists visit this place.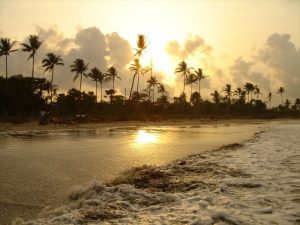 In Kuaka you can visit the life style of tribe Rakhains, who are very friendly to the tourist and visitors.You can visit Buddhist Temple where you can see the statue of Goutom Buddha and two wells of 200 years old. Local name of the well is Kua and Kata is a local name of digging a well; so was the name Kuakata. Fisherman village is another place where you can visit and watch the lifestyle of the Fisherman. If you are adventurous you may also go for fishing on the fishing boat if you can manage the local fishermen. That will give you pleasure and experience, which you won?t be able to gather from anywhere else.
In the fishermen village you will find the fishermen coming back from the fishing and you can purchase some fresh Hilsha fish from them, and by the side of village there are some local restaurants from where you can get the Hilshas cooked and ready for eating.
You will remember the wonderful taste of the fresh Hilshas of Kuakata for a long time. From Kuakata you can visit to a part of the great Sundarban forest, which is called Gangamoti Reserve Forest. Don?t forget to visit Fatra?s Chor another tourist place nearby Kuakata. Kuakata is one of the rarest places, which has the unique beauty of offering the full view of the rising and setting of crimson sun in the water of the Bay of Bengal in a calm environment. That perhaps makes Kuakata one of the world's unique beaches.
The long and wide beach at Kuakata has a typical natural setting. This sandy beach has gentle slopes into the Bay of Bengal and bathing there is as pleasant as is walking or diving.Kuakata is truly a virgin beach-a sanctuary for migratory winter birds, a series of coconut trees, sandy beach of blue Bay, a feast for the eye. Forest, boats plying in the Bay of Bengal with colorful sails, fishing, towering cliffs, surfing waves everything here touches every visitor's heart.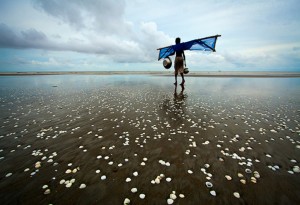 The unique customs and costumes of the 'Rakhyne' tribal families and Buddhist Temple of about hundred years old indicate the ancient tradition and cultural heritage, which are objects of great pleasure Kuakata is the place of pilgrimage of the Hindus and Buddhist communities. Innumerable devotees arrive here at the festival of 'Rush Purnima' and 'Maghi Purnima'. On these two days they take holy bath and traditional fairs are held here. All these additional offers to panoramic beauty make the beach more attractive to the visitors. One should visit Kuakata and discover the lovely grace of Bangladesh