Heritages site in Dhaka given its historical, aesthetic, scientific, social and cultural, religious and political significance even if it is not 100-years-old.
Buildings to be included in the gazette notification in old Dhaka are: Binat Bibi Mosque, Bara Katra, Chhoto Katra, Lalbag Fort Complex, Nimtoli Dewri, Kartalab Khan Mosque, Khan Muhammad Mirdha Mosque, Shaista Khan Mosque, Gol Talab (pond), Buckland Bundh, Christian Cemetery, Hosaini Dalan, Dhakeshwari Temple, Joykali Temple and Ram Sita Temple, Armenian Church, Bara Dayra Sharif, Star Mosque, Bangshal Jame Mosque, North Brooke Hall, Kasaituli Mosque, St. Thomas Church, St. Gregory's Church, Radha Govinda Temple at Mill Barrack, Shashan Temple at Banianagar, Radha Govinda Temple (Sutrapur),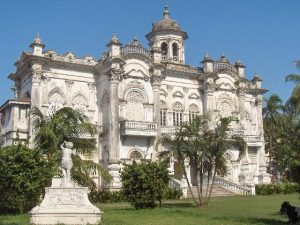 Ram Sita Temple (Amligola), Tomb of Daroga Amiruddin, Gouri Moth, Ramkrishna Mission, Nawab Bari Mosque (close to Rajuk Bhaban), Bahadur Shah Park, Water Tank (at Bahadur Shah park), Laxmi Narayan Mandir, Shusila Kuthir, Brahmosamaj Temple, Raja Ram Mohan Library, Ruplal House, Ahsan Manjil, Mitford Hospital (old three buildings), Weiz House (Weisghat), Rose Garden,
Shankhanidi Palace, Iskon Mandir, St Gregory's School, Pogose School, Manuk House (Bangha Bhaban), Balda Garden, Jagannath University Admin Building, Buildings at plots 7-9 (Koilash Ghosh Lane), building no-28 (Utsob Poddar Lane), buildings no. 8, 8/1, 8/2 (Jhulan Bari Lane), Dhaka Medical College (Arts Building, Hospital Building, Gate Houses),
Dhaka University campus: Vice Chancellor's Residence, Madhur Canteen, Twin Hindu Math (TSC), Curzon Hall, FH Hall, SM Hall at DU, Jagannath Hall, Mir Jumla Gate (Dhaka Gate, Doel Chottar), Shikh Guru Duara, Greek Memorial, Burdwan House (Bangla Academy), Faculty of Fine Arts (Art College), University Central Library and Kendrio Shahid Minar.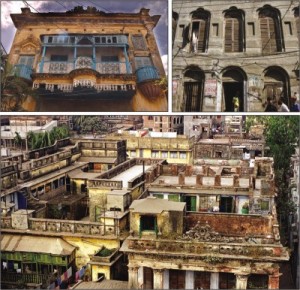 Other structures: Mughal Eidgah (Dhanmondi), Satgambuj Mosque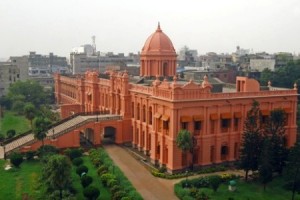 (Mohammadpur), Unknown Tomb at Banshbari (Mohammadpur), Shahbaz Khan Mosque and Tomb (Old High Court Area), Holy Rozario Church (Tejgaon), Dewanbari Complex and Mosque (Aminbazar), Ambar Shah Mosque (Karwan Bazar), Bhuiyan Bari Mosque (Beraid), Kalibari (Siddheswari), Archbishop House and Church (Kakrail), Race Course Gallery (Suhrawardy Udyan), Old High Court Building, Chummery House (Topkhana Road),
Govt Employees Hospital (Fulbari), Rashid Bhaban (BUET), Foreign Ministry (Segunbagicha), Jatiya Sangsad Bhaban and Sher-e-Bangla Nagar Complex, NAEM (Education Extension Centre, Dhanmondi), Kamalapur Railway Station, residence no- 301-B (Road 24, Dhanmondi), Shahid Buddijibi Smrithisoudha (Mirpur), Rayer Bazar Badya Bhumi Smriti Soudha, Bangabandhu Museum (Dhanmondi), Rajuk Bhaban, Nagar Bhaban (DCC).
Roads, lanes, and open spaces are: Hrishi Kesh Das Road, Rebati Mohan Das Road, BK Das Road, Farashganj Road in Farashganj, Shakhari Bazar and Panitola in Shakharibazar, Pyari Das Road and Hemenda Das Road in Sutrapur, Baily Road, Minto Road, Hare Road and Park Avenue in Ramna.