We heard about the reputed feminist 'Sultana's Dream' by Rokeya Sakhawat Hossain, the first Bengali Muslim feminist observer, writer, educator. Begum Rokeya Sakhawat was born in 1880 in Pairaband of Rangpur district in a conservative family. Her father name was Jahir Uddin Mohammad Abu Ali Haider Saber, was a land lord. Mother name was Rahatunnesa Sabera Chowdhurany. Sisters are Karimunnesa and Huymaira. She died on December 9, 1932.
She wrote many essays on feminism, Novels, poems, humor, satirical articles in her 52 years life.
Begum Rokeya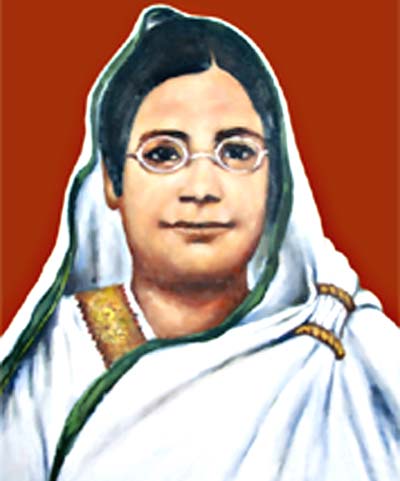 During her childhood, Muslim family only allowed women to learn Qu'ran in Arabic. But Rokeya brother Ibrahim Saber help her to learn Bengali and English. Rokeya elder sister Karimunnessa was also interested to learn Bangla and English literature. The family decided to keep away them from learning Bengali and Karimunnessa was given marriage at age of 14 and Rokeya at age of 16 in 1996 to Khan Bahadur Sakhawat Hossain who was a widower and more than twice her age.
Sakhawat Hossain was a deputy magistrate of Bhagalpur, Bihar province of India. Mr. Sakhawat Hossain inspired Rokeya to learn English; she learned English quickly and became an authoress in 1902.
She established the 'Sakhawat Hossain Memorial Girls' School in 1909 within 5 months of her husband death. The school still exists there. Rokeya gave birth of 2 children but none of them lived more than 6 six months. Within few months, Rokeya Step daughter and son-in-law started conspiracy over the ownership of the property. Rokeya came to Kolkata, West Bengal from Rangpur and established the 'Sakhawat Hossain Memorial Girls' School' in 1911. The school situated in Waliullah Lane of Kolkata run by the West Bengal Government which is a popular school in the city.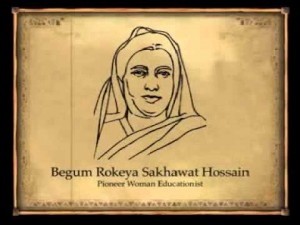 Rokeya books are 'Matichur' first volume published in 1904, 'Martichur' second volume published in 1907, 'Sultana's Dream' in English, published in 1908, 'Padmarag' is a novel, published in 1924, 'Oborodh Bashini' in 1931, Gyanphol, etc.
Sultana of 'Sultana's Dream' was a woman of British India who had a day dream of a lady land where she is free from any sin or harm, where virtue itself reigns. In that time, men dominated the society, kept the women inside the home as a safeguard from crime like rape, theft, burglary and any other evils. Because men were thinking women are so weak by considering the physical composition.
In 'Sultana's Dream' Rokeya express her deep thinking of Lady Land (nari rajya). Sultana visit the lady land accompanied by a lady named sister Sara. There was no man in the street, female laugh at her. Sultana wants to know why they are laughing at her, Sister Sara replies, Stylish Sultana look like a man. Sara said that male dominated this land about 50 years ago.
When the last king died and his daughter came to the throne, she took many programs to educate women, established schools, colleges and universities for women and specially teaching them science and technology. But commander in chief, ministers, power structure were controlled by men. When a war stared with a neighboring country, fought with huge courage but ultimately they failed to achieve the victory.
A women scientist then urged the queen to keep all men at home for some days and let her handle the war matter. The lady scientist made a technology to fight with enemy army. Finally they won the war and from that day all men to stay at home in that Lady Land.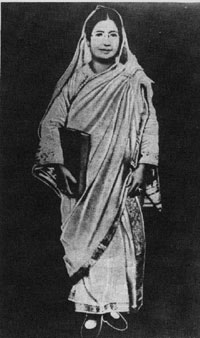 Rokeya Husband handed over the English write-up of 'Sultana's Dream' to a senior British Supervisor to check the English grammar. The British supervisor did not change any word, replied 'What a terrible revenge!'.
Rokeya's 'Gyanphol' (fruits of Knowledge) regarding the common myth of Judaism-Christianty-Islam wherein Eve or the first of woman was condemned to seduce Adam (A) into eating the forbidden fruit of Eden. Though the was the only devils (saitan) conspiracy.
Adam and Eve lose their innocence and were sent to earth by the Almighty Allah. Begum Rokeya shows that Eve was so passionate about knowing everything and very much interested to take new challenge that she influenced Adam into eating the fruits. Thus they gained knowledge, came to the earth, established the great world. Without encouragement of Eve human life not have been possible on the earth. But Adam or men still condemns Eve rather thanking her.
Begum Rokeya Sakhawat Hossain mocks the ever impulsive nature of men in her novel 'Padmagar'. Rokeya reveals how women are oppressed in all communities as well as countries' irrespective mode into any step of women.
In her novel, oppressed women from Hindu-Muslim-Christian society take shelter in a home set up by Mrs. Tarini Sen, a hindu bramman. Jainab is an aristocratic and educated young muslim woman and abandoned by husband over her family failure to give dowry. Joinab comes to the home after losing her elder brother. After few days, her husband understand their mistake and asked to come back with him.
But Jainab answer, 'If today I get back with you, our conservative grandmother will say to other women rebelling against gender injustices, 'Look, even a rebel like Jainab has also surrendered, I do not believe that only married life can be the ultimate success of women.'
Begum Rokeya Sakhawat reveals women problems and how to face obstacle and indiscrimination in the family, society to come out from men dominated society. Salute the pioneer of the women freedom.