On 25 August 2017, Some of  insurgents attacks on few police outposts and an army camp in Myanmer, In a reaction to this incident, Myanmar security agencies force people of Rakhine State to leave the state by burning down their villages, killing their men and woman, raping women and by other crimes against humanity. More than 5000 people died till September 20, 2017 and fled over 500000 to Bangladesh. Almost 500,000 registered Rohingyas have remained in Bangladesh.
Myanmar, then called Burma, became independent in 1948 from the Britain, a year after the latter's withdrawal from the Indian subcontinent in 1947. Rakhine state of Burma, the spot of current conflict is taking place is  separated from the main land of Myanmar by barren mountain range.
History says the Rakhine had Territory with a distinct Rakhine Kingdom was established in 1430, The capital of Rakhine Kingdom was Mrauk U. After 350 years of The Rakhine Kingdom, in 1784, Burmese conquered the Rakhine Kingdom and it became a state of Burma. In 1824, British occupied the Rakhine State and made a part of the British Indian Empire. The Population of  Rohingyas state is 1300000 and most of them but are not recognized legally as one of the 135 ethnic groups constituting a part of the citizenry of Myanmar.
This ethnic minority group, most of whom are Muslims, had been stateless or country less through the 1982 Citizenship Act passed by the Myanmar Government and Rohingyas was excluded from the 2015 national census.
Nobel Laureate Prof. Muhammad Yunus proposed a 7point recommendation to solve the ongoing Rohingya crisis
1) An enforcement committee with the members of the Annan Commission will have to be formed immediately which will work to implement the commission's recommendation to put an end to the Rohingya crisis.
2) The refugee influx towards Bangladesh will must be stopped
3) International observers will be allowed to visit the affected area in Myanmar.
4) Immediate measures will have to be taken to take back the Rohingyas who have fled from their country in the face of persecution.
5) A transit camp with the help of the United Nations will have to be set up in Myanmar to rehabilitate the repatriated Rohingya people.
6) Myanmar citizenship will have to be given to the Rohingya people according to the Annan Commission reports and
7) Political independence of the Rohingya people will have to be ensured.
Myanmar vice president bluffs world using Suu Kyi's claims
Myanmar's Vice-President Henry Van Thio has reiterated the claims of the country's de facto leader Aung San Suu Kyi in an effort to pull a veil of bluff over the world, yet again.
Henry Van Thio phrased Suu Kyi's speech before the world and repeated that Myanmar government is oblivious to the reason behind the exodus of 500,000 Rohingyas fleeing into Bangladesh.
In face of international condemnation and subjection over violence on Rohingya State of Myanmar – which has been termed ethnic cleansing, Van Thio reiterated some of the dubious claims of Suu Kyi.
Vice-President Henry Van Thio was speaking at the UN General Assembly in place of Aung San Suu Kyi, who declined to attend the General Assembly in order to handle the crisis in face of mounting international pressure.
16000 Rohingya women pargnent
Ministry of Health, Bangladesh confirmed that more than 16000 of Rohingya women who fled to Bangladesh are pregnant. nurses and midwives have assisted the normal delivery of 173 babies in health centers in the Rohingya refugee camps of Cox's Bazar, Bangladesh.
A Rohingya refugee woman, Khadija, who has taken shelter in refugee camp in Ukhia of Cox's Bazar, has delivered a baby girl and named her after Bangladesh Prime Minister 'Sheikh Hasina'.
Healthcare for Rohingya refugees
Around 3,520 Rohingya people are affected by diarrhoea,
7,969 suffering from respiratory infection and
2,335 from skin diseases
2, 364 Rohingyas people who have serious injuries were given medical assistance by voluntary medical teams of the Bangladesh government.
Turkish First Lady Visit Rohingyas
Turkish First Lady Emine Erdogan & Foreign Minister Mevlut Cavusoglu arrived Bangladesh on September 7, 2017 visit Rohingya Refugees Camp in Bangladesh.
Tukish First Lady with Foreign Minister visited a registered Rohingya camp in Kutupalang of Cox's Bazar's Ukhia upazila on September 7, 2017.
"Turkish President Tayyip Erdogan will take up Rohingyas Issue at the UN General Assembly in a bid to bring an immediate resolution to the Rohingya crisis," the first lady said.
Early in the morning, a special aircraft carrying Turkey's First Lady Emine Erdogan & her entourage landed at Shahjalal International Airport in Dhaka around 3:00am. Turkey's Foreign Minister Mevlut Cavusoglu have reached in Dhaka in another aircraft earlier.
Indonesian Foreign Minister visits Bangladesh on Rohingyas Issue
Indonesian Foreign Minister  Retno Marsudi, who flew to Bangladesh at 12 noon, on September 5, 2017 for a 10-hour trip following her talks with Myanmar national leader Aung San Suu Kyi, said she was tasked by Indonesian President Joko Widodo to visit Bangladesh to convey three things.
"One is to convey the sympathy of Indonesia to the burden of Bangladesh on the refugee issue.
Second one is to convey Indonesia's readiness to support in easing the burden of the government of Bangladesh and
the third was to discuss the situation on the ground," she said.
Indonesian Foreign Minister Retno Marsudi yesterday said the humanitarian crisis in Rakhine State of Myanmar must end.
Rohingyas Crisis
Donation for Rohingyas Refugee
United Nations helps for Rohingya
The United Nations (UN) has called for USD 77 million in urgent assistance for the Rohingya people who have fled into Bangladesh.
Turkey Aid to Rohingya in Myanmar
Turkey ship arrived in Myanmar with 1,000 tons of emergency aid packages containing rice, dried fish and clothing. The Aid was delivered to the Social Services Ministry in Rakhine State at a handover ceremony. The Turkey Aid will be distributed to conflict areas via military helicopters in coordination with the Rakhine State government as uncertainty and security concerns continue in the region.
Denmark helps for Rohingyas
Denmark Donate Tk. 256 Million to United Nations World Food Programme – WFP for Rohingyas Refugee.
India, China, Russia and other countries Relation with Myanmar
China Relation with Myanmar
China is silence or unqualified support to Myanmar. China and Myanmar has close ally for decades. Myanmar plays a key role in China's planned 'One Belt One Road', which is a billions of dollars of investments in energy and infrastructure projects.
Russia Relation with Myanmar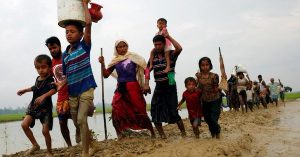 Russia has unchanged and stand beside support to the Military back Government of Myanmar. In 2016, both China and Russia vetoed the UN Security Council motion to censure Myanmar.
India relation with Myanmar
In the recent 'genocide' in Myanmar, India is silence. On the other hand, the Indian prime minister has extended unequivocal support to the Myanmar government while making an official visit In Septermber 2017, and the Indian government has threatened to deport 40,000 Rohingya refugees from India.
Israel relation with Myanmar
Despite an embargo on weapons sale to Myanmar, Israel has supplied weapons to Myanmar.
Pakistan
In February this year, Pakistan signed a deal to supply F-16 jets to Myanmar.
USA The United States, which began a new era of engagement with Myanmar when the country moved towards democracy in 2014.
Amir Liaquat and Wakar Zaka arrested
Pakistan celebrity and TV personalities Amir Liaquat and Wakar Zaka arrested by Myanmar Immigration Authority on September 9, 2017.
Earlier, in 2015, Waqar Zaka had set foot in Myanmar and helped distribute aid to the Rohingya community on his own. He had been praised all across Pakistan and was dubbed as the only media personality from Pakistan to set foot in Myanmar to physically help out the Rohingya Muslims