Full name : Mashrafe Bin Mortaza.
Born : October 5, 1983, Norail, Jessore.
Major teams:  Bangladesh, Asia XI, Khulna Division, Kolkata Knight Riders.
Nick Name: Koushik
Height : 6 feet 3 inch (1.91 meter)
Spouse: Sumona Haque Shumi (married 2006)
Children: Humaira Mortaza, Sahil Mortaza
Current teams: Khulna Division cricket team, Dhaka Gladiators, Bangladesh national cricket team , Comilla Victorians.
Batting style: Right-hand bat
Bowling style : Right-arm fast-medium
Young, quick and aggressive, Mashrafe Mortaza has emerged as the leader of Bangladesh Cricket Team to win World Cup, although he has problem in his knee. Mashrafe Mortaza made great strides under the tutelage of Andy Roberts, working on his stamina, and he was given his first Test cap against Zimbabwe at Dhaka Bangladesh in 2001-2002, in what was his first-class debut – indeed by mid-2006 Mashrafe Mortaza had played only seven first-class matches outside the Test matches.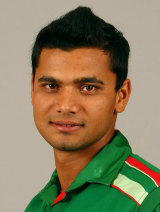 Though banging it in is his preferred style, Mashrafe proved adept at reining in his attacking instincts to concentrate on line and length. He excelled in the second Test against England in 2003-04, taking 4 for 60 in the first innings to keep Bangladesh in touch, but suffered a twisted knee towards the end of the game that kept him out of Tests for over a year. He was recalled towards the end of 2004, and subsequently enhanced his reputation on the inaugural tour of England, standing head and shoulders above his team-mates in a torrid series.
Mashrafe Mortaza is not a complete mug with the bat. A persistent back injury caused him to return home early and miss the Test series in Sri Lanka in September 2005 – the sixth time he had failed to last throughout a tour – but he was back to face the Australians in April 2006, and removed Matthew Hayden early on to start the Aussies' embarrassment in the first Test at Fatullah. Mortaza broke Aftab Ahmed's national record when he took 6 for 26 to seal a 3-0 win in the one-day series against Kenya in August. Mortaza had a Champions Trophy in October-November during which he took only 2 wickets in 3 games but he struck form against Zimbabwe and Scotland in the 1-day series that followed.
Although he's still Bangladesh's spearhead, he has often struggled to maintain the intensity and stamina after starting a good spell. At his peak, he can be a matchwinner, like when his 4 for 44 set up Bangladesh's maiden ODI win against New Zealand in 2008. That form prompted the IPL's Kolkata Knight Riders to to sign him on for $600,000 in February 2009. After Bangladesh's disappointing campaign in the World Twenty20, he was named captain for the tours of West Indies and Zimbabwe.
Mashrafe Mortaza Cricket Career
| Competition | Test | ODI | FC | LA |
| --- | --- | --- | --- | --- |
| Matches | 36 | 157 | 54 | 191 |
| Runs scored | 797 | 1,399 | 1,433 | 2,192 |
| Batting average | 12.85 | 14.57 | 16.10 | 17.67 |
| 100s/50s | 0/3 | 0/1 | 1/6 | 0/7 |
| Top score | 79 | 51* | 132* | 69 |
| Balls bowled | 5,990 | 7,813 | 8,673 | 9,468 |
| Wickets | 78 | 200 | 129 | 256 |
| Bowling average | 41.52 | 30.88 | 35.19 | 28.78 |
| 5 wickets in innings | 0 | 1 | 0 | 2 |
| 10 wickets in match | 0 | n/a | 0 | n/a |
| Best bowling | 4/60 | 6/26 | 4/27 | 6/26 |
| Catches/stumpings | 9/– | 49/– | 23/– | 58/– |
Mashrafe Mortaza captaincy
Mortaza's record as captain
Matches
Won
Lost
Drawn
Test
1
1
0
0
ODI
28
20
8
–
T20I
13
5
8
–