Malaysia Airlines Flight 370 was disappeared on March 8, 2014 while going to China from Kuala Lumpur Malaysia. The Boeing 777-200ER of Malaysia Airlines contacted with Malaysia Aviation Authority at 01:19 pm (MYT) within one hour of its takeoff while it was crossing South China Sea. At 01:22 pm (MYT) on March 8, 2014, the plan disappeared from Malaysia air traffic controllers' radar screens.
Malaysia Airlines Flight 370
‪‪Malaysia Airlines Flight 370‬‬ was still tracked on Malaysia military radar as it deviated westwards from its planned flight path and crossed the Malay Peninsula. The aircraft left Malaysian military radar at 02:22 pm MYT while the plan was over the Andaman Sea just 370km from Penang in north-western Malaysia.
Malaysia Airlines Flight 370 Flight Information – Historical Tragedy
Flight No: 370.
Air Craft: Boeing 777
Date of Missing: March 8, 2014.
Missing site: Southern Indian Ocean.
Passenger: 227.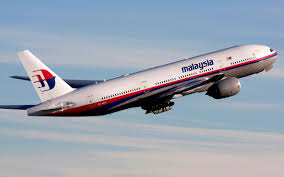 Crew: 12.
Passenger from Countries: 15
Total loss : 239 people on board.
Plane Operator: Malaysia Airliens.
Flight Departure: Kuala Lumpur International Airport, Malaysia.
Flight Destination: Beijing Capital International Airport, China.
Possible end point of Malaysia Airlines Flight 370
On 24 March, 2014, the Malaysian government announced that the final location determined by the satellite is far from any possible landing place of the world, and concluded that "Flight MH 370" ended in the southern Indian Ocean.
Based on analysis of the Inmarsat's satellite communication , the aircraft turned south after passing north of Sumatra and the Malaysia Airlines Flight 370 continued for 6 hours with little deviation in its track, ending when its fuel was exhausted.
Where searched for the Missing Aircraft 370?
Gulf of Thailand
South China Sea
Andaman Sea
Indian Ocean
On 17 March, 2014, Australia took charge of the search when the search moved to the southern Indian Ocean.
Untill January 2017, a comprehensive survey and search of 120,000 km2 of sea water about 1,800 km south-west of Perth, Western Australia yielded no evidence of the Malaysia Airlines Flight 370‬‬.
Actual route, Search area and sea, radar information as follows: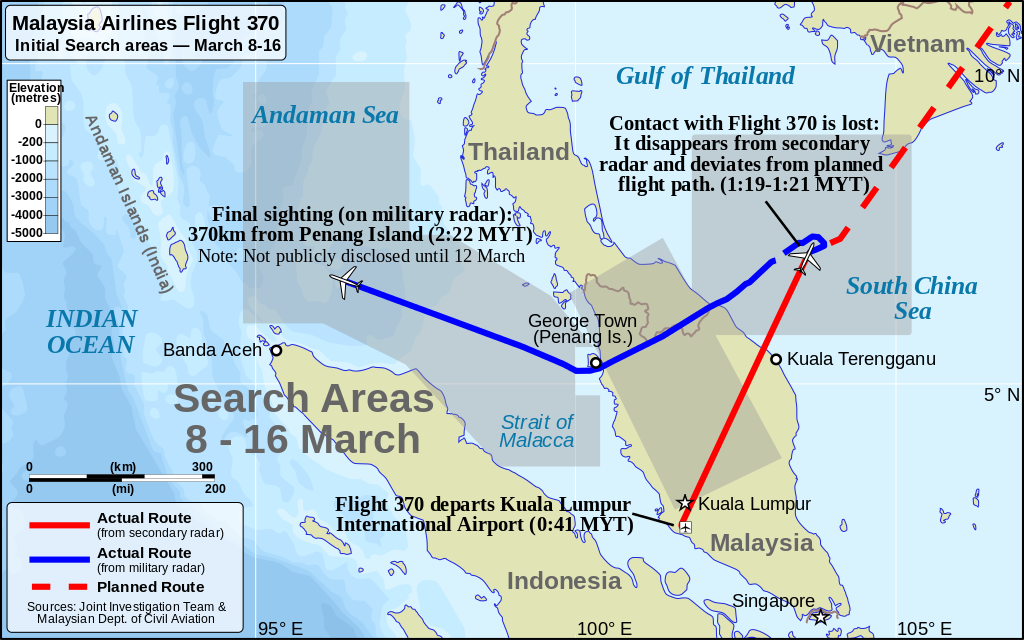 Malaysia Airlines Flight 370 – People on board
Australia citizens: 6
Canada citizens: 2
China citizens: 153
France citizens: 4
India citizens: 5
Indonesia citizens:7
Iran citizens: 2
Malaysia citizens: 50
Netherlands citizens: 1
New Zealand citizens: 2
Russia citizens: 1
Taiwan citizens: 1
Ukraine citizens: 2
United States citizens: 3
Pilot and Air Hostage at Malaysia Airlines Flight 370
All 12 crew members were Malaysian citizens. Two pilots were among them are Captain Zaharie Ahmad Shah and Fariq Abdul Hamid
Captain Zaharie Ahmad Shah
The pilot Zaharie Ahmad Shah in command was 53 year-old Captain from Penang, Malaysia. Zaharie joined Malaysia Airlines as a cadet pilot in the year 1981, after receiving training for his commercial pilot's licence, became a 2nd Officer with the airline in the year 1983. captain Zaharie Ahmad Shah was promoted as Captain of Boeing 737-400 in 1991, promoted Captain of Airbus A330-300 in 1996, and promoted to Captain of Boeing 777-200 in 1998. Captain Zaharie Ahmad Shah  had 18,365 hours of flying experience.
Fariq Abdul Hamid
The co-pilot of Malaysia Airlines Fariq Abdul Hamid was 27 year-old 1st Officer. Fariq  joined Malaysia Airlines as a cadet pilot in the year 2007 and he became a 2nd Officer on Boeing 737-400 aircraft. Fariq Abdul Hamid was promoted to 1st Officer of Boeing 737-400 aircraft in the year 2010, promoted as captain to Airbus A330-300 aircraft in 2012 . In November 2013, he began training as First Officer on Boeing 777-200 aircraft. Flight 370 was his final training flight and Fariq Abdul Hamid was planned to be examined on his next flight for 777. Fariq Abdul Hamid had 2,763 hours of flying experience.
Boeing 777 – Malaysia Airlines Flight 370
Aircraft: 777-2H6ER
Serial Number: 28420
Registration No: 9M-MRO.
Place in the Boeing 777 Flet: 404th
First Flight: May 14, 2002.
Malysia Bought: May 31, 2002.
Number of Engines: 2, Rolls-Royce. Trent 892 engines
Passenger Capacity: 282.
Run Hours: 53,471
Major Incident: No
Last Maintenace Check: February 23, 2014.
Boeing 777 First Produce : 1994.
Boeing 777 First Commercial Flight: June 1995.
Accident records of Boeing 777:
– British Airways Flight 38 in 2008;
– A cockpit fire in a parked EgyptAir Flight 667 at Cairo.
– The crash of Asiana Airlines Flight 214 in 2013, in which three people died;- Malaysia Airlines Flight 17, shot down over Ukraine with 298 people aboard in July 2014.
– August 2016, 777-300 crashed while landing and caught fire at Dubai.