Famous Kaptai Lake, the largest "man-made" lake, spreading over 680 sq. km. of crystal-clean water flanked by hills and evergreen forests lies in the Rangmati Hill District. The lake was formed when the Karnaphuli river dam (153 feet high, 1800 feet long crest) was built for the purpose of hydroelectric power project at Kaptai.
The old Rangmati town was submerged under lake water and a new town had to be built later. The lake is full of fish and provides facilities for cruising.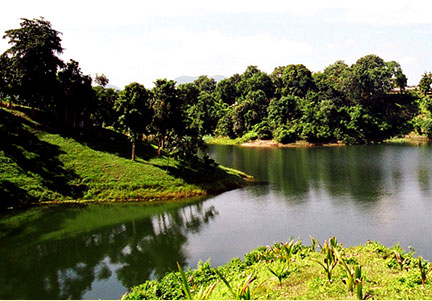 Geologically, the lower part of Kaptai Lake, in and around the Kaptai-Rangamati region (ie Kaptai Syncline), is composed mainly of yellowish brown, fine to medium grained, massive to cross-bedded sandstone with alternating shale and silty shale (Tipam Sandstone Formation) and the upper part is featured by yellowish brown, fine to medium grained, subangular to sub-rounded, moderately to poorly sorted, massive to thick-bedded and occasionally cross-bedded sandstone with quartz granules, pebbles, clay galls and contains well preserved leaf impressions (Dupi Tila Formation).
However, around Shubalong and Barkal, the lake mainly comprises Bhuban formation. As the local people remove the protective vegetation around the lake, these rocks are exposed to the monsoon rains and thus eroded easily. This results in landslides, and the loose rock material is washed down the slopes and carried by rivers into the lake. As a result, the lake is silting up rapidly. By the early 1990s, in its 30-year existence, it had already lost about 25% of its volume due to siltation.
Apart from generation of hydroelectricity, the lake has become an important resource for some other considerations. It has created a diversified and long waterway. Many places that used to take a day or even more to reach have now become an hour's trip by speedboat or launch. It has become much easier to exploit forest resources that had earlier been inaccessible.
The whole lake is now a great tourist attraction. The lake's contribution to the development of agriculture and fishery is significant. Since the water level of the lake is maintained at different heights in different months of the year, the lakeshores are under an automatic irrigation system and are very fertile. People practice controlled farming in about 6,075 ha of land on leasehold basis through agreements with the local government.