Furniture  in Bangladesh, the usually movable articles in a room that equip it for use. The most common pieces of furniture are beds, chairs, tables, and chests. in the past couple of decades furniture styles in Bangladesh has under gone dramatic change. From traditional style, it has proliferated to such a degree that literally hundreds of examples added.
The positive aspect of this stylistic glut is the enormous range of choice it is offering, from classic modern pieces still in manufacture to "high-tech" medical and industrial furnishings, from antiques of any period (or costly reproductions of them) to inexpensive do-it-yourself unassembled furniture in any style desired.
Historically, the most common material for making furniture has been wood, but other materials, such as metal and stone, have also been used. Furniture designs have reflected the fashion of every era from ancient times to the present. Whereas in most periods a single style dominated, a wide variety of old and new styles influences current design.
Some of the most highly prized pieces of furniture used in contemporary homes, however, ar , e antiques-pieces anywhere from 50 to 300 or more years old. Today the most astute designers are eclectic, and furniture ranges from innovative designs to adaptations of historical models for special needs, including carefully made reproductions based on early examples. Even the basic requirements of furniture design are complex, for appearance has always been as important as function, and the general tendency has been to design furniture to complement architectural interiors.
Indeed, some furniture forms were conceived architecturally, with legs designed as columns; others were at least in part anthropomorphic, with legs in animal forms. Furniture design ranges from simple to elaborate, depending on the pieces' intended use rather than on the period in which they were made. The earliest records, such as ancient Mesopotamian inventories, describe richly decorated interiors with gold cloth and gilded furniture. Some surviving ancient Egyptian examples are elaborate and were originally sheathed in gold, but many very plain pieces were also made in ancient times. in the history of furniture, however, the elegant work takes precedence because in general it has been the best preserved.
In addition, elaborate designs reveal the most about a period because high style changes more frequently than other styles to reflect new ideas. The simplest work, made for the farmer or laborer, tends to be more purely functional and timeless; tables and chairs used by working people in 1800 BC are surprisingly like tables and chairs in farmhouses of AD 1800. History of Furniture Reconstruction of the prehistoric house with any certainty is impossible, although all indications are that it contained furniture.
A history of furniture begins from the 4th Dynasty to the 6th Dynasty (2680-2260 BQ of Old Kingdom Egypt. The dry Egyptian climate and elaborate burial procedures are in part responsible for the survival of pieces, which include stools, tables, chairs, and couches. in addition, wall paintings give insight into the design of Egyptian furniture.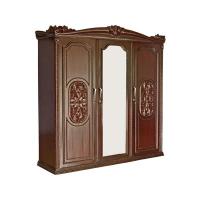 With respect to both design and construction, the methods used in ancient Egypt are followed wherever furniture is made today. Indian Furniture: Examples of ancient Indian furniture beyond the medieval period are rather impossible to find as nothing has survived. Mesopotamian Furniture: Although virtually no examples have survived, inlays and reliefs provide an idea of what furniture from the Tigris-Euph rates Valley looked like.
Greek Furniture: Greek furniture, like Mesopotamian, is best known from paintings and sculpture, as few specimens have survived intact. Roman Furniture: At first glance, Roman furniture design appears to have been based on Greek prototypes. In the first century AD opulent Roman design reflected strong Greek influence.
Extant examples indicate that the Romans made more marble and bronze furniture than Greeks did Byzantine and Early Medieval Furniture: Although other surviving artifacts are abundant, there is strangely little evidence of furniture from Early Christian Ord century to 7th century AD) and Byzantine (5th century to 1 5th century) periods, either in the East or the West. Gothic Furniture: The decorative elements of the Gothic, particularly the pointed arch, were not employed in furniture ornament until about 1400. Then, for more than a century, tracery and arches were carved on the panels of chairs, on chests, and on tables of every size.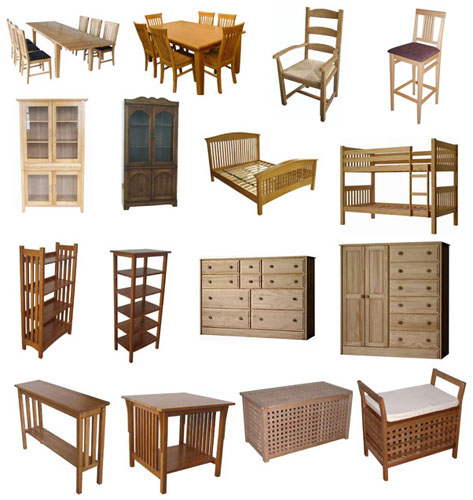 Renaissance Furniture: Renaissance painting, sculpture, and architecture developed in Italy before 1425, but Italian furniture design in the I 5th century tended to be simple and functional. Italy: The first innovation in Italian Renaissance furniture was the cassone, a chest with elaborate carved or stucco decoration and gilt or painted finish; the designs were based on classical proto types. Rich marquetry, imaginative carving, and the use of walnut in place of oak (which had been preferred for earlier work) characterized the more flamboyant efforts of the 1 500s. A greater variety of forms and richer ornament were employed than in earlier periods. Portable folding chairs were revived, with seats of tapestry or leather. New solid-backed side chairs were developed that had carved backs and, instead of legs, solid carved panels as supports. France: Even richer decoration is found on the French furniture of the 1 500s that reflected Renaissance influence. As in France, the interest in Renaissance design persisted until about the mid-17th century in England. The Netherlands: The Dutch were conservative, and Renaissance designs were still popular in the 1 650s and later. Spain: In Spain, influences were more varied.
The new ideas of the Renaissance affected design, but so did a long local Moorish tradition. Chinese Furniture of the Ming Dynasty: During the Ming dynasty 0 368-1644) Chinese furniture making was at its height. Tall cabinets, graceful tables, chairs, and benches were made in subtle designs. Straight legs on tables and chairs often were finished with delicately curved edges. Brackets and stretchers used as reinforcements also functioned as decorative elements; these were restrained but showed to advantage the cabinetmaker's understanding of the beauty of wood. Asian decoration was well known in Europe in the 1 7th century and was probably an important influence on later Western design. imported Chinese and Japanese lacquer chests were used extensively in Western settings, beginning in the 1 7th century. English and American chair designs are the exception to the rule of continuing classical emphasis.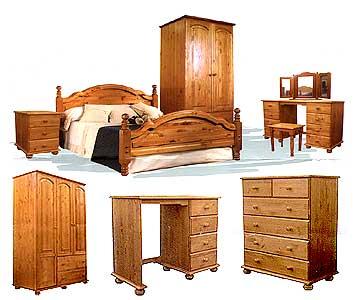 Fashionable designers in London developed elegant side and armchairs with wooden backs, a basic form different from the upholstered-back chairs favored on the Continent. At first, the backs were made with solid splats as the central support, framed by curving rails and stiles in a design that was a very free adaptation of Chinese chairs. Later, the frame was yoke-shaped, and the splat was executed in one of a large repertoire-rococo in spirit-of pierced-work designs. In the English approach to furniture design, woods were handled with an appreciation of their dis tinctive qualities, and American cabinetmakers chose to follow the same path. In Europe, cabinetmakers were more intent on creating the appropriate rococo fantasies, using paint where inlays and ormolu might prove too expensive. Italian, German, Scandinavian, and even provincial French cabinetmakers followed this Continental manner of executing rococo design.
Empire Furniture: The use of archaeological ly inspired design increased in the late 18th century, and it appears to have influenced furniture made both in England and in Europe. This new emphasis marks a second phase of neoclassicism, called the Empire style because it was first identified with Napoleon's imperial efforts. Although the tendency to design furniture in ancient Roman style had begun before the French Revolution 0 789-1799), Napoleon's designers were the most innovative. Empire became an international style, with Scandinavian, German, Italian, Russian, and American interpretations. Scandinavian Furniture: Some of the most widely admired contemporary furniture originated in Scandinavia, especially in the years following World War 110 939-1945). 20th-Century American Furniture: Until 1946, furniture designers in the United States were, with few exceptions, overshadowed by their European counterparts and were heavily influenced by them. American Furniture to 1939: American arts-and-crafts movements led at the turn of the century to the establishment of numerous ateliers and small factories which, created the mission style, ostensibly based on old Spanish furniture. American mass manufacturers took up the mission style with a will and produced great quantities of ponderous imitation. Contemporary American Furniture: In the decade following World War 11, many American furniture designers came to prominence.
Adapting wartime technology in the use of wood, metals, and plastics, they collaborated on the design of the so-called Eames chair and ottoman, constructed of subtly curved molded plywood with deeply padded leather upholstery, set on a metal pedestal base. In 1956 an entire range of pedestal furniture in molded plastic and metal were designed. Indo-Bangladesh Furniture: Among the varied consequences of the European arrival in Indian subcontinent was the commissioning of furniture intended either for export or local consumption.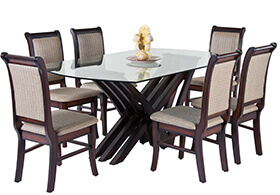 The availability of good quality wood and the artistic skills of the local carpenters resulted in the creation of new colonial styles. The local production of furniture was, for the British, essential in a smoother adaptation to a new and difficult environment, much as it had been earlier for the Portuguese and the Dutch. During the period of British rule, vast amounts of furniture were produced throughout India, inspired particularly by English models. Besides artistic excellence, this artistic furniture is the culmination of exquisite workmanship and artistic perception. Flawlessly crafted using different hard wood and designs, with great attention invested on intricacy and detail, this furniture are matchless in beauty and range. Bangladesh Furniture: Following Indian tradition, Bangladesh wooden furniture binds up in tradition and culture. Though contemporary in nature and highly influenced by Western designs, each and every furniLure producL froni Ballgiddesh has Lhe Lone of iLs rich hisLory of LradiLiori. Bangladesh furniture made of Teak, Mahogany, Sesame, Jackfruit Trees, Mango and Jam (Black Berry) enables the buyer to use the product for a long time. The age of only solid wood based furniture in Bangladesh is gone. Gone also the days when furniture was meant mainly for bedrooms and drawing rooms. In the new age, along with solid wood, wood based, metal (of various kind), molded plastic furniture for wide use including kitchen and bathrooms are now available in various shapes and colours. The furniture market in Bangladesh has become most attractive right now. Never before, it offered so much variety in respect of use, material and design.