6 Islamic program presenters sued over killing Faruqi
Six presenters of Islamic programs in private channel in Bangladesh sued over killing Nurul Islam Faruqi. The accusing six presenters are Tareque Monowar of ATN Bangla and nTV, Kazi Ibrahim of Peace TV, Kamal Uddin Jafari ATN Bangla and nTV, Khaled Shifullah Bakshi  of RTV, Arkan Ullah Haruni  of ATN Bangla and Mukhtar Ahmed of Bangla Vision.
Imran Hasan tushar, leader of Islami Chhatra Sena filled the case with Chief Metropolitan Magistrate court in Dhaka accusing 6 in connection of with killing of Nurul Islam Faruqi.
---
Mowlana Nurul Islam Faruqi was murdered in his East Razabarzar residence on August 27, 2014.  Nurul Islam Faruqi was a chief imam of the Supreme Court mosque in Dhaka.  Nurul Islam Faruqi was the International Affairs Secretary of Ahle Sunnat wal Jammat and Presidium member of Bangladesh Islami Front. Faruqi also owned a Hajj Agency Business name "Faruqi Tours and Travels Pte Ltd.
Nurul Islam Faruqi was a TV presenter for popular Islamic programs  "Kafela" and "Shantir Pathe" aired on 2 channels in Bangladesh.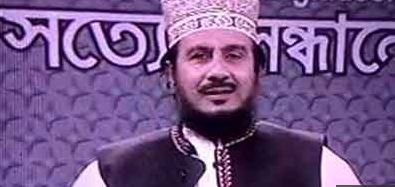 Faisal faruqi , son of Nurul Islam Faruqi filed a murder and robbery case with Sher e Bangla Nagar Thana against 8 unnamed persons.
On Wednesday, August 27 2014 a group of 8 to 10 members entered Nurul Islam Faruqi house at 8:30 pm. They were talking to perform Hajj through Faruqi Hajj Agency.  The unidentified assailants pointed a gun at Nurul Islam Faruqi forehead and ask him to give them Tk. 50,00,000. But he offered them tk 1,00,000 which had in his house. They took Nurul Islam Faruqi to the dining room and slaughtered him there according to Maruf, Nephew of Faruqi. He said they tied all family members; Faisal, Faruqi wife, Grandmother, housemaid and me with long clothes at gunpoint.
The murder took place around 9:15 pm on Wednesday night. Family members were locked and found tied with rope and clothes.
"The neighbours freed them and later entring the dinning room found Nurul Islam Faruqi tied with a chair and his neck slit by sharp weapon", said SI of Sher e Bangla Nagar Polic station according to print media news.
He said wife, daughter, mother of Nurul Islam Faruqi was locked in a room and son, nephew, Belal Hossain, 2 other visitor were found tied in a room.
Activities of Bangladesh Islami Chhatra Sena, a student wing of Bangladesh Islami Front demonstrated in front of Jatiya Press Club and announced a country wide demostration programme and half day hartal on Sunday August 31, 2014 in Bangladesh.
State Minister for Home Minister of Bangladesh Asaduzzaman Kamal visited the spot.
Police arrested Mahmuda Khatun (45) and Shariful Islam from Murapara of Rupgonj upazila, Narayanganj on 30 August 2014 for alleged involvement in the murder of Shaikh Nurul Islam Faruqui.
Police first arrested Shariful, who has been traced by mobile call list of Mowlana Nurul Islam Faruqi. Later the team of DMP raided a 2-soried house in Murapara of Rupgonja and arrested the woman.