Bangladesh cabinet approved the National Broadcasting Policy 2014 on 04 August 2014 to monitoring news, programs, advertisement, talk-show in the television and Radio.
Electronic media cannot broadcast any false, baseless information, in their news and programs.
Cabinet Secretary Musharraf Hossain said the National Broadcasting Policy was made to ensure freedom of speech, free flow of information, social responsibilities, and flourishing independent mass media.
The National Broadcasting Policy 2014 of Bangladesh will implement through a  independent broadcasting commission. The Independent broadcasting commission of Bangladesh would form within short time, cabinet secretary said.
Prime Minister Bangladesh Defends National Broadcasting Policy 2014
Bangladesh PM has defended the national broadcasting policy saying the decision to make a media guideline and the broadcasting policy was not made in a day. She said that it was put on the government website and was amended according to the people suggestion. Sheikh Hasina said that her government would not have opened up the media to the Private Sector if her government did not believe in the freedom of the press.
The National broadcasting Policy 2014 of Bangladesh restricts the followings in News and Programs :
– Ridiculing the national ideas and objectives,
– Undermining any people
– Harm the unity and independent of Bangladesh
– Spark Separatism and unrest
– Create hatred amount different castes, creeds and religions
–  Personal privacy,
– Impede the state security
– Hurt religious values and non-communal  spirit
– News on any country which would be harmful to other countries
– Encourage mutiny, anarchy, and violent acts
– Inspire corruption directly or indirectly
– Ridiculing the Armed Forces and the law-enforcement agencies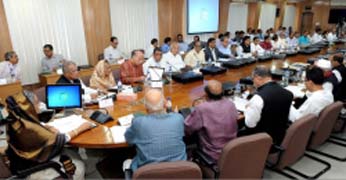 The National broadcasting Policy 2014 of Bangladesh restricts the followings in Advertisement :
– Advertising company will have to restructure significantly to follow the policy, which bans direct or indirect inclusion of the Liberation War, the Language Movement and the Independence Day.
–  Cannot broadcast any advertisement without obtaining clearance certificate
– Nationally important establishments of Bangladesh such as – Parliament building, Prime Minister's Office, President Office-Cum Residence Bangabhaban, court, cantonment, Shaheed Minar and the national mausoleum cannot be shown in advertisement.
– Professional advice should be avoided in advertisement
– Advice & identity of doctors cannot be used in advertisement of medicines and healthcare products
–  Health and sexual health products cannot be aired
The cabinet secretary Musharraf Hossain said the National Broadcasting policy 2014  would be applicable for both the government and private media and the information ministry will implement the policy until formation of an independent broadcast commission.
---
BNP reaction on National Broadcast Policy 2014
Dr. Mayeen Khan, Standing Committee Member of Bangladesh Nationalist Party (BNP) said National Broadcasting Policy 2014 a black law to control media. BNP's official reaction  on the much talked National Broadcasting Policy 2014 in a press conference in Gulshan office of BNP Chairperson on August 5, 2014. BNP demanded cancellation of Bangladesh National Broadcasting Policy 2014.
Journalists Protest against National Broadcasting Policy of Bangladesh
A section of Journalists of Bangladesh demonstrated   in front of National Press Club  on August 5, 2014 for cancellation of National Broadcasting Policy 2014. The Media rally was jointly organized by Federal Union of Journalist (BFUJ) (part) and Dhaka Union of Journalist (DUJ). BFUJ president Shawkat Mahmud, former BFUJ president Ruhul Amin Gazi, DUJ President Abdul Hai Shikdar attended the protesting  rally.
Association of Television Channel Owners (ATCO) wants independent broadcasting commission
ATCO urges the government not to implement National Broadcasting Policy 2014 until broadcasting commission is formed. Private television owners took decision after discussion the matter in a meeting at the ATCO office in Dhaka.
ATCO General Secretary Shykh Siraj said a broadcasting commission should be formed first to regulate Television and radio and stakeholder should be included in the commission to flourish it for the sake of democracy. Mossadek Ali, Chairman of Association of Television Channel Owners said a delegation of ATCO will meet the Information Minister of Bangladesh.
The Information Ministry has issued a gazette  of the Bangladesh National Broadcasting Policy on 07 August 2014.  Senior Secretary Akhtaruzzaman Talukder signed the gazette notification.