The holy month of Ramazan is back again in the Muslim world. Bangladesh with its large Muslim population observes Ramazan with great piety and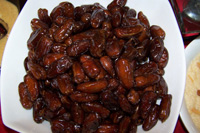 fervour. The daylong fasting ends at sunset and the faithful break their fasting with the delicacies of Iftari.
Iftari is also a main attraction for fasting people in Dhaka, particularly its densely populated older section bustles and buzzes with the rush home and the selling and buying of Iftari items as the time for Iftar draws near.
Almost every restaurant of the city, from the 5-star hotels to road side outlets prepares their traditional and special Iftari items. Iftari items displayed on open-air stalls and tables with the adjacent gas burner or the stove frying Iftar items on large pans, some other in syrupy liquid and sizzling the other Iftaris over red-hot charcoal fire becomes the Ramazan image of Dhaka .
It is an exposure worth taking back for a visitor to Dhaka . The 5-star hotels, Pan Pacific Sonargaon and Ruposhi Bangla also offer Iftar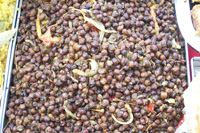 delicacies in boxes or inbuffet but the items are more an assortment of Mughlai and Western delicacies. Iftar food seller increase in the month of Ramadan. These Ramadan Foods of Bangladesh are different from the daily foods. The Iftari bazaar however lies outside the 5-star elegance in all parts of Dhaka . Large number of hotels and restaurants arrange iftar with many delicious items. City Dwellers can carry a box to home for family member or can be eaten iftar by sitting there. Chawk Bazar of old Dhaka is the age-old place for traditional Iftari market. Iftari of Chalk Bazar is a message to the old Dhaka people the prestigious habits of Moghul dynasty.
The entire span of the road in front of Chawk Bazar Shahi Masjid throbs with the bustling sound of human multitude buying their Iftar items from Iftari stalls spreading from one corner of the road to the other. Most of the people in this area collect iftar items from these shops. Residents from other parts of Dhaka city come here to buy these tradition iftar items too. This has a typical Islamic flavour one finds in different parts of the Muslim world during the month of Ramadan. The air is redolent with the strong aroma of the piled up heaps of Iftari delicacies laid out on large trays and in bamboo baskets.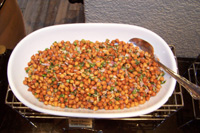 The scenario stretches from one end of old Dhaka to another and in other parts of the city. The exotic charm is at its vibrant best iftar items at Chawk Bazar and Lalbagh Shahi Masjid. Thatari Bazar ( B.C.C. Road ) Kaptain Bazar section around Star Hotel and Restaurant, Rai Saheb Bazar around Nawabpur Road crossing, Bangshal Nazira Bazar led by Hotel Al Razzak, Babu Bazar and Sadraghat areas of Dhaka, Bangladesh are busy places that do brisk business in Iftari items.
Baily Road known for its Saree Houses, boutiques, chic snacks corner, confectioneries and above all for the Mohila Samity (Women's Association) auditorium, the hub of Dhaka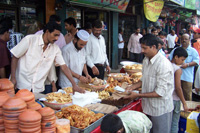 's burgeoning theatre has also developed into a favourite place for the homebound professionals to buy their Iftar items from.
Even the rich choose this place for Iftari delicacies. As the time for Iftar draws near the entire expanse of the road becomes congested with parked cars and vehicular traffic. It has a definite class of it's own in the wide range and the quality of Iftari delicacies the outlets offer. Capital, one of the oldest confectionary of the Dhaka remains very busy as the Iftar hour draws near.
Lake Circus Kalabagan of Dhaka crossing is another place that does brisk Iftar business. The Hatirpool New Market Elephant Road section being the largest shopping area of the city with increasing number of large shopping centres and poshshops plunges into Iftar items buying as the time for Iftar draws near.
As a Iftar month Ramadan, bakery, sweet, glossary shops owners take special preparation to sale Itar. They recruit extra sales man and chef to increase sale of iftari items. As a part of this, they extend their shops on the road to attract passer-by and offer home bound people of Dhaka to take iftari items. All most all family chooses Boot, Muri, Halim, Piaju, Beguni in evvery day's iftar. Also local iftari providers take this opportunity of iftar selling, as they increase iftari food price up 50%.
Items of Iftar in Bangladesh
The top of the list Iftar item in all seasons for all places and for all people is 'Muri' or sand fried rice. It goes with everything a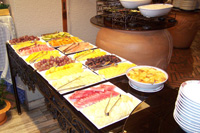 nd offers something to munch on. 'Piazu' or paste of mashed lentils mixed with onion peelings and red chilli fried in soybean oil, 'Jhal boot' or soybean oil fried peas, 'Beguni' or 'beson' (crushed yellow peas) smeared slice of eggplant fried in soybean oil and 'Ghoogni' or yellow peas boiled in water with cooking soda bi carb are next in demand and are taken with Muri. 'Alu Puri' or doughnut shaped item made of flour with potato paste inside and 'Dal Puri', the one with mashed lentil inside are also very popular, particularly with the common man. These six items, Muri, Piazu, Jhal boot, Beguni, Ghoogni and Alu Puri or Dal Puri are all mashed into a single preparation with a little addition of mustard oil and green chillies. It is generally taken from a large bowl as a shared delicacy. Chawk Bazar sells a distinctive variety of this mashed assortment by adding minced chicken to it that goes by a grandiose name 'Boro Baper Pola' or for the rich men's sons.
'Jilapi' a sweetmeat prepared by swirling a paste of flour and cream mixed with bit of cooking sodium bi carb and frying it in boiling syrupy sugar is greatly valued as Iftari delicacy. 'Halim' a pasty broth made of mutton and mung peas has grown into a popular Iftari delicacy of Bangladesh . Both Halim and 'Dahi Bara' another delicacy is from the northern and southern parts of India . Kalabagan is famous for its 'Mama Halim' (Haleem).
'Patisapta' a local variety of sweetmeat is also a great favourite for Iftar among delicacy lovers. 'Paratha' and 'Kabab' are Mughlai d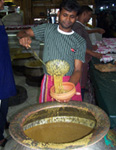 elicacies for Iftar. 'Sutli Kebab' is a speciality of Dhakaiyya tradition. It is minced beef packed around the Shik with thin thread winding all over it. The Sutli Kabab can be taken with 'Bakerkhani' and 'Nimsuka', a variety of baked crunchy flour cake. 'Shik Kabab' and 'Boti Kabab' can be both of mutton and beef. Then there are 'Swami Kabab' and 'Nargisi Kabab' (with boiled egg inside it).
Home made iftari items good for many reasons though these are not so delicacies iftar. Gastric patient and other health disorder like heart disease, blood pressure diabetics patients should not eat fried iftar heavily at the time of break fasting. Iftari items making beside the road are not advisable to these kinds of patience. Do not include red meat in iftar or any iftari items that is high risk of blood pressure and heart disease patients.
Ramadan is the month of piety and gourmet's delight too for the wide range of Iftari delicacies in Bangladesh. The many Iftari shops of Dhaka and other regions of Bangladesh with stalls of stacked Iftari items, the rush of the homebound city dwellers and local people to buy Iftari and the sellers last minute animated effort to serve the customers well together constitute a stimulating social scenario that makes Ramadan a memorable time of the year.
Five star hotel to 3 star hotels in Dhaka, Bangladesh offer best iftar in the month of Ramadan. Iftari items and package prices are different from one hotel to another hotels. Prices of Iftar offer including buffet dinner from 500 taka to 3000 taka. Manu restaurants offer iftar box for family. Restaurant in Gulshan, Banani, Dhanmondi and other area of Dhaka as well as other main cities like Chittagong, Khulna, Barisal, Rajshahi, Sylhet make itari package with buffet dinner and without dinner. Hotel Razzak in old Dhaka offer economic iftar box for local residences.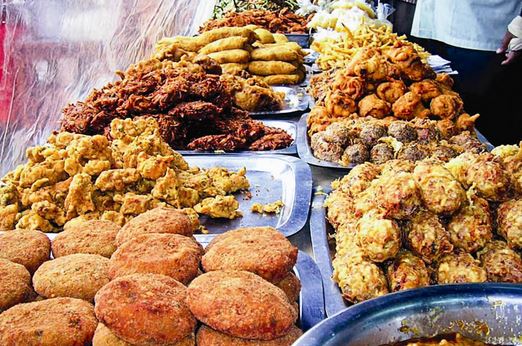 Old Dhaka iftari has a traditional style 100 years and renown in Bangladesh. Chalkbazar is one of the main hubs of these iftari items. if any one do not take Dhaka iftari may he will miss an different delicious of this iftar flavor and test.
Iftar buffet offer in Dhaka of Bangladesh
Buffet iftar in Pan Pacific Sonargaon Hotel
Kazi Nazrul Islam Avenue, Dhaka, Bangladesh
Tel: 008802-8140401
Dinner Buffet iftar in Radission Blu Water Garden Dhaka
Airport Road
Dhaka, Bangladesh
Phone: 02-8754555
Buffet Iftar in Ruposhi Bangla Hotel (Sheraton Hotel)
Minto Road, Dhaka, Bangladesh
telephone: +8802-8330001
Buffet iftar in Dhaka Regency Hotel & Resort
Contact:
Nikunja-2, Dhaka Bangladesh
Tel: 02-8913912
Best iftar in Long Beach
Gulshan, Dhaka Bangladesh
Telephone: 02-984-0331
Delicious iftar in Orchard Suites @ Tk. 600/-
Block C , Banani, Dhaka Bangladesh
Tele: 0088-0194-441-1144
Dinner Buffet in Westin Dhaka Hotel
Gulshan Avenue, Gulshan 2
Dhaka Bangladesh
Contact no. 02-9891988
Nando's
Road 16 (new), Dhanmondi
Dhaka, BangladeshTelephone: Tel: 0088-02 812-2720
Buffet iftar in Kabab Factory
Lake Drive Road, Uttara , Dhaka Bangladesh
Telephone: 02-893-2727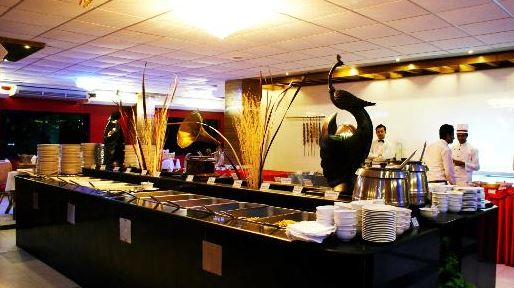 Ramadan Iftar in BRONIA CAFÉ & GALLERY
Gulshan Avenue
Gulshan-1
Dhaka, Bangladesh.
Tele: 0088-02 988-2816
ENTRÉE CAFÉ LOUNGE
House 34, Road 10
Block-D, Banani
Dhaka, Bangladesh.
Mobile: 0088 0177-020-6457
MERMAID GALLERY CAFÉ
Progoti Sharani,
Baridhara
Dhaka, Bangladesh.
Tel: 0088- 0184-141-6474, 0184-141-6470
KHAZANA
Gulshan 2
Dhaka, Bangladesh.
Telephone: 0088 0171-147-6379
Iftar at PIZZA HUT
Road -140,
Bir uttam Mir Shawkat Ali Shorok
Gulshan Bangladesh
phone= 0088-02 885-7535
KFC at Mirpur
Block – A Section- 11
Mirpur
Dhaka, Bangladesh.
Tele: 0088-02 805-1280
Sehri also available in these resturants in Dhaka
Buffet Iftari Menu in hotels and restaurants in Dhaka Bangladesh
Dates, Lemon juice, Lassi, Fruits, Yoghurt, Cucumber, Tomato, Carrot, Onion, Green Chilli, Potato, Haleem, Pakora, fried grain, potato chop, piaju, beguni, chola boot, B-B-Q Chicken, tandori chicken, fish, chicken jhal mosala, beef, mixed vegetable, fresh rice, chicken biryani, naan ruti, Jilabi, Labang, etc.