ICT Division
Ministry of Posts, Telecommunications and Information Technology
Information and Communication Division promoting ICT technology in Bangladesh. The name of Science and Technology ministry was change to Ministry of Science and Information & Communication Technology in 2002. In 2011, ICT division was given full ministry to Ministry of Information & Communication Technology. In 2014, ICT ministry included with Ministry of Posts and Telecommunications and formed Ministry of Posts, Telecommunications and Information Technology.Website: www.ictd.gov.bd , cybernirapotta.net
ICT association in Bangladesh
Bangladesh Association of Software and Information Services (BASIS)
Bangladesh Association of Software and Information Services (BASIS) was established in 1997. ICT association BASIS is working to software and enhance ICT services in the IT industry of Bangladesh. BASIS main a

ctivities are software development, software sales and marketing in Bangladesh and International market as well as capacity building of members of BASIS.
This ICT association 's office Address:
BDBL Bhaban (5th Floor – West), 12 Kawran Bazar, Dhaka -1215
Phone: +880 96 123 BASIS(22747), 00880 2 8151196; 8144708-09
Fax: 0080 2 8151197
www.basis.org.bd
Bangladesh Computer Samity (BCS)
Bangladesh Computer Samity (BCS ) was established in 1987. ICT association BCS members are engages in the business and services like computer and computer accessories sales and distribution, software developments, ICT base education and training, etc.

The IT association Office location :
Sonartori Tower (12th Fl), Plot NO. 12, Biponon C/A
Sonargaon Road, Dhaka 1000
Tel : 00880-2-9670955-56
Fax : 00880-2-9670955-56 Ext : 108
bcs.org.bd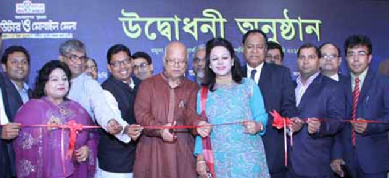 Internet Service Providers Association Bangladesh (ISPAB)
Members of this ICT association provide internet connection in Dhaka and other major cities of Bangladesh
This ICT association Office is located:
Information Services Network Ltd.
TMC Building (4th floor)
52, New Eskaton Road, Dhaka-1000
Tel: 8322785,01819221942
Bangladesh Computer Council
Bangladesh Computer Council (BCC) works as the ICT department of Bangladesh Government in policy formulation, developing and implementation to use IT equipment and software in different departments of the government.
BCC Address: Bangladesh Computer Council BCC Bhaban, Agargaon, Dhaka 1207.
Telephone No. :00 88-02-8144046;
Fax: 0088-02-9124626;
www.bcc.net.bd
Bangladesh ICT Journalist Forum (BIJF)
BIJF is a professional journalist association in Bangladesh. Bangladesh ICT journalist association of Bangladesh was established in 2002. The IT Journalist association members are working in print, Internet and electronic media for daily, weekly, monthly publications in the country. The association BIJF also organize skill development workshop and seminars for Journalists.
Address:
Bangladesh ICT Journalist Forum (BIJF)
44/H No. Azimpur Road, Baily Garden, Dhaka 1205, Bangladesh
Mobile No. : 01712198039, 01911341654, 01711103419
Fax: 0088-02-9664723
www.bijf.org