Hilsa fish or ilish fish any of the members of the genus Tenualosa of the family Clupeidae, order Clupeiformes, scientific Species Tenualosa ilisha. Bangla name is Ilish, the Hilsa national fish of Bangladesh. Ilish fish body is strongly compressed & moderately deep with dorsal and ventral profile equally convex.
The upper jaw of Hilsha fish has a distinct median notch. Regularly arranged medium-sized scales cover the metallic silver-colored body. Ilish fish body length may reach up to 60 centimeter or 24 inches, but commonly found specimens measure 35 to 40 centimeter or 15 inches of Ilish in Bangladesh.
A large-sized Hilsa or Ilish weighs about 2.5 kilograms. Females Hilsa grow faster and are usually larger than males ilish. The hilsa fish is known to be a fast swimmer, and Ilish fish attains maturity in one to two years.
Hilsa Fish is the National fish of Bangladesh
Ilish or Hilsa fish has a wide range of distribution and occurs in marine, estuarine and riverine environments of Bangladesh. The Hilsa fish is found in the Bay of Bengal of Bangladesh , India and Myanmar area. Hilsa also found other sea like Persian Gulf, Vietnam Sea Arabian Sea, China Sea. and Red Sea. The Ilish habitat in the Padma, Meghna, Jamuna, Karnafully and other coaster rivers of Bangladesh is very tasty. The Hilsa also found Eastern & Western Rivers of India, the Indus of Pakistan, Satil Arab, and the Tigris & Euphrates of Iran and Iraq and the Irrawaddy River of Myanmar.
Hilsha fish life and Breeding
The Hilsa fish is anadromous, with a life cycle that follows the general breeding pattern upstream in fresh water of channels of the Padma, Meghna, Karnafully, Jamuna and other rivers of Bangladesh. Ilish larvae hatching from the free-floating eggs. The immature hilsa in the early life grow in river channels of Bangladesh and then descend to the Bay of Bengal for a period of feeding & growth before returning to the rivers as mature breeding adults to complete the cycle.
The Ilish is a highly fecund fish. A large-sized female hilsa may produce about 2 million eggs. Although hilsas fish spawn more or less throughout the year, they have a minor spawning season is from February to March and a major season is from September to October of the year in Bangladesh. Small hilsa fish 2 inches to 4 inches ( 6-10 centimeter ), known as Jatka, are strictly prohibited to catch during their seaward season in all rivers and coastal area of Bangladesh.
Hilsa as Food :
Hilsa is primarily a plankton feeder and its food includes diatoms, blue-green algae, cladocera, desmids, copepods, rotifers, etc. The feeding habit may vary according to the season, age and living environment of Hilsa.
Hilsa fish Nutrition Facts – Food Value in 100 grams
– Calories : 309.58
– Total Fat : 22 gram.
– Protein : 25 gram.
– Total carbohydrate: 3.29 gram.
– Calcium : 204.12mg.
– Vitamin C : 27.22mg,
– Iron : 2.38mg.
Frozen hilsa fish export from Bangladesh
About 60% of Hilsa fish of the world found in Bangladesh. Hilsa production is 16.4 % (appx.) of total fish in Bangladesh. Bangladesh export Hilsa to India, Middle East, Europe and America. This frozen fish export is increasing significantly and has an important role to the economy of Bangladesh in recent year. It is estimated that about 2 million fishermen and traders are engaged in hilsa fishing in the country.
Hilsa or Ilish fish price in BD
1 kilogram hilsa fish price is Tk. 500 to Tk. 1000 per piece in local market of Bangladesh. During Pohela Boishak or Puja Ilish price go high to Tk. 1000 to 2000 taka per piece.
Ilish Maach Curry and Panta Ilish
Bangladeshi people like mouthwatering 'shorshe ilish' dish very much, it is very tasty Bengali Cuisine dish. This hilsa dish is cooked by slices of ilish, mustard seed, onion and spices with smoke fire. Panta Ilish (Fried slice hilsa fish, chilies, onions, dried fish paste) is a traditional food of Bengali, especially in the first day of Bangla New Year "Pohela Boishakh". There are many more popular Hisla recipes in Bangladesh and India.
---
Hilsa is locally called Macher Raja, King of fish. Its flavour, oily texture, tastefulness made its Raja or KING.
Catch hilsha fish in the river.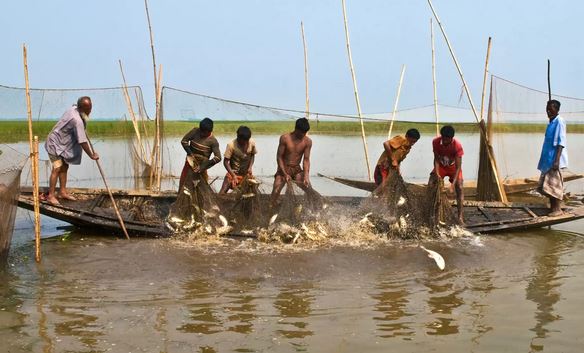 It is not so easy to catch hilsha fish from the river. Fishermen can do that because they can drive to the deep of the river. And normally hilsha fish not available near the bank of river to catch by armature fishermen.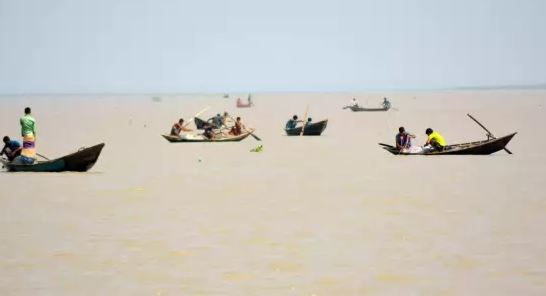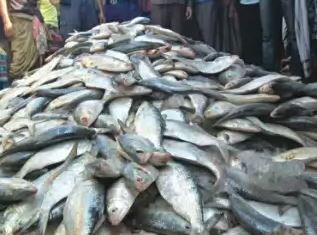 ---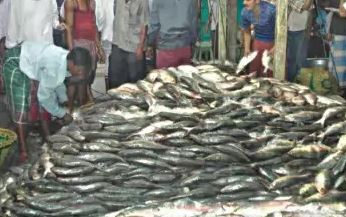 Hilsha fish picture
Hilsa is one of the foreign currency earning Bangladeshi fish. This Bangladesh fish export Asian, Europe, American country and earn huge foreign currency every year. We should take many other steps to top catching Elish fish during breeding season.
---
Ilish fish Curry (Hilsa curry)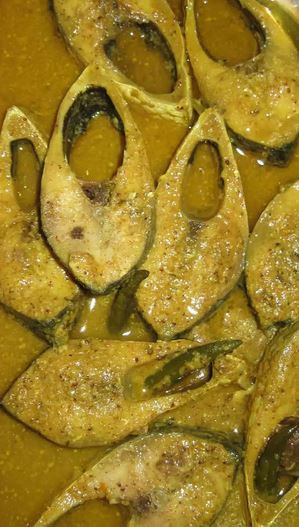 Every Bengali people like this curry and very easy to prepare.
Ingredients for cooking hilsha fish curry
– Cut hilsh fish into think pices.
– 1 table spoon black cumin seeds (kolojeera)
– 0.5 table spoon turmeric powder (halud)
– Green chilies 4-6
– 1 table spoon mustard oil (soyabean oil also can be used)
– Salt to taste.
How to cook hilsha fish curry?
– Fry fish pieces until becomes golden brown and take it down for a white.
– In a pot, pour 1 table spoon oil and heat. Add 1 table spoon cumin seeds to be crackled.
– Add about a cup of hot water, 0.5 turmeric power, salt as need and stir. Heat for 5-6 minutes.
– Mix hilsha slices into it, cut green chillies and add
– cook for 10-20 minutes
– Check salt test and take.
– Hilsha dish is ready to server.
There are different curry that Bengali family like to cook regularly like Hilsa Fish Fry, Hilsa Fish Bhapa, Hilsha Fish Jhol, Shorshe Ilish, Lau Ilish, Kachu Ilish, Pantha Ilish, etc.
West Bengal people like Bangladeshi hilsa very much. Most of the people from Bangladesh and India think hilsa is an identity of Bengali.  Ilish mach is related to our culture and religion.
Bangladesh Govt bans expert of Hilsa
Bangladesh govt has banned export of hilsa fish on July 31, 2012 but allowed export of hilsa eggs to India, Saudi Arabia, Pakistan, Nepal, Maldives, America and the European countries. Hilsa eggs are much demanded in many countries of the world. Hilsa eggs traders are coming here to do the business thus supply of hilsa in the local market has reduced significantly. Per kilogram (kg) hilsa eggs is sold at Tk1,400 in West Bengal of India. (news source:observerbd [dot]com
Hilsa contributes 1% to the gross domestic product (GDP) of Bangladesh. It is able to meet 11% of the country's total demand for fish. About 5 lak fishermen are directly involved in catching hilsa and over 20 lak are living on hilsa fishing.
The government should take tough steps to protect 'Jatka'. Jatka caches 10,900 tonnes in 2011, 11,500 tonnes in 2013 & 11,800 tonnes in 2014. The size of jatka is 14c.m. to 20c.m. Its average weight is only 30 grams.