Bangladesh Awami League (AL) on 29 November 2013 announced the names of candidates for the national polls 2014
AL General Secretary Syed Ashraful Islam has made the announcement at the party's Dhanmondi offices around 5:45pm.
List of Awami Leagure candidates for national election 2014 are given below:
Nilphamari-1: Aftab Uddin Sarker
Nilphamari-2: Asaduzzaman Nur
Nilphamari-3: Golam Mustafa
Nilphamari-4: Maruf Saqlain
Lalmonirhaat-1: Motahar Hossain
Lalmonirhaat-2: Nuruzzaman
Lalmonirhaat-3: Abu Saleh Mohammad
Rangpur-1; Ruhul Amin
Rangpur-2: Abul Kalam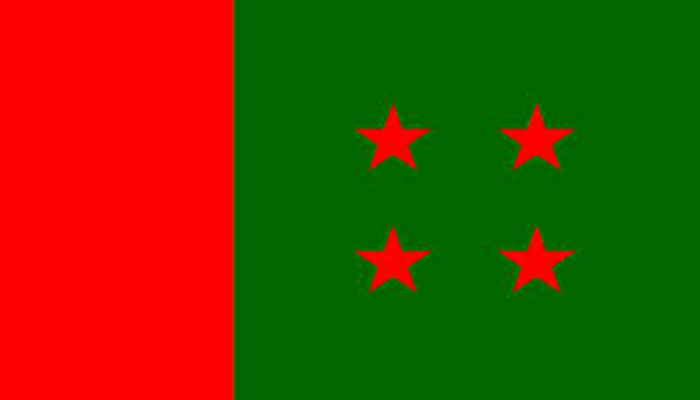 Rangpur-3: Khalekuzzaman
Rangpur-4: Tipu Munsi
Rangpur-5: H.N. Ashikur Rahman
Rangpur-6: Sheikh Hasina
Natore-1: Abul kalam
Natore-2; Shafikul Islam Shimul
Natore-3: Junaid Ahmed Polok
Natore-4: Md. Abdul Kuddus
Sirajganj-1: Md. Nasim
Sirajganj-2: Dr. Habibe Millat
Sirajganj-3: Gazi Ishaq Hossain Talukder
Sirajganj-4: Tanvir Imam
Awami Leagure (AL) list of candidates for national polls 2014
Sirajganj-5: Abdul Maid Mandal
Sirajganj-6: Hasibur Rahman
Pabna-1: Shamsul Huq Tuku
Pabna-2: Azizur Rahman
Pabna-3: Mokbul Hossain
Pabna-4: Shamsur Rahman Sharif
Pabna-5: Golam Dulu Khandaker
Kushtia-1: Afaz Uddin
Kushtia-2: Mahbubul Alam Hanif
Jessore-1: Sheikh Afil Uddin
Jessore-2: Monirul Islam
Jessore-3: Kazi Nabil Ahmed
Jessore-4: Ranjit Kumar Roy
Jessore-5: Tipu Sultan
Jessore-6: Ismat Ara Sadek
Magura-1: Md. Sirajul Akber
Magura-2: Biren Shikder
Bagerhaat-1: Sheikh HelaL Uddin
Bagerhaat-3: Talukdar Abdul Khalek
Bagerhaat-4: Dr. Mozammel Huq
Khulna-1: Panchanan Bishwash
Khulna-2: Mizanur Rahman Mizan
Khulna-3: Begum Munnuzan Sufian
Khulna-4: Mostafa Rashid Suza
Khulna-5: Narayan Chandra Chanda
Khulna-6: Nurul Huq
Barguna-1: Dhriendra Debnath Shamvu
Barguna-2: Shawkat Hachanur Rahman Rimon
Vola-1: Tofael Ahmed
Vola-2: Nurunnobi Chowdhury Shawon
Vola-3: Abdllah Al Islam Jacob
Barishal-1: Abul Hasnat Abdullah
Barishal-4: Pankaj Debnath
Barishal-5: Shawkat Hosein Hiran
Barishal-6: Hafiz Mallik
Jhalkathi-2: Amir Hossein Amu
Tangail-4: Abdul Latif Siddique
Tangail-6: Khandaker Abdul Baten
Tangail-7: Md. Ekabbor Hossein
Tangail-8: Shawkat Momen Shahzahan
Jamalpur-1: Abul Kalam Azad
Jamalpur-3: Mirza Azam
Jamalpur-5: Rezaul Karim Hira
Sherpur-2: Begum Matia Chowdhury
Mymensing-1: Promod Mankin
Mymensigh-4: Principal Matiur Rahman
Mymensingh-5: K.M. Khalid Babu
Mymensigh-6: Md. Mosleh Uddin
Mymensigh-7: Reza Ali
Mymensigh-10: Fahim Golondaz
Mymensingh_11: Dr. Amanullah
Netrokona-1: Chobi Bishwash
Netrokona-2: Arif Khan Joy
Netrokona-3: Rebeka Matin
Kishoreganz-1: Syed Ashraful Islam
Kishorganz-6: Nazmul Hasan Papon
Manikgonj-1: M Naimur Rahman Durjoy
Manikgonj-2; Mmotaz Begum
Manikgonj-3: Jahid Malek Roton
Munsiganj-2: Sagufta Hossain Emily
Munsiganj-3: Advocate Mrinal Kanti Das
Dhaka-1: Abdul Mannan Khan
Dhaka-2: Md. Kamrul Islam
Dhaka-3: Nasrul Hamid
Dhaka-4: Sanzida Khanam
Dhaka-5: Habibur Rahman Molla
Dhaka-6; Mizanur Rahman KhAN
Dhaka-7: Mostofa Jalal Mohiuddin
Dhaka-9: Saber Hossein Chowdhury
Dhaka-10: Sheikh Fazle Nur Taposh
Dhaka-11: A.K.M. Rahmatullah
Dhaka-12: Barrister Sheikh Fazle Nur Taposh
Dhaka-14: Md. Aslamul Huq
Dhaka-15: Kamal Ahmed Mazumdar
Dhaka-16: Md. Ilias Uddin Molla
Dhaka-18: Begum Sahara Khatun
Gazipur-1: A K M Mozammel Huq
Gazipur-4: Begum Simin Hossein Rimi
Narsingdi-5: Raji Uddin Ahmed
Narayanganj-1: Golam Dastagir Gazi
Narayanganj-4: Shamim Osman
Narayanganj-5: Shukur Mahmud
Faridpur-1: Syeda Sazeda Chowdhury
Faridpur-3: Khandaker Mosharrof Hossain
Faridpur-4: Kazi Zafar Ullah
Gopalganj-1: Md. Faruk Khan
Gopalganj-2: Sheikh Fazlul Karim Selim
Gopalganj-3: Sheikh Hasina
Shariatpur-1: B M Mozammel Huq
Sharoiatpur-2: Colonel Showkat Ali
Shariatpur-3: Nahim Razzaq
Sunamganj-2: Suranjit Sengupta
Sunamganj-3: M.A. Mannan
Sylhet-1: Abul Maal Abdul muhit
Sylhet-6: Nurul Islam Nahid
Brahhamanbaria-1: R A M Ubaidul Muktadir Chowdhury
Brahhamnabaria-6; A B Tazul Islam
Kumilla-1: Md. Subid Ali Bhuiyan
Kumilla-7: Principal Md. Ali Ashraf
Kumilla-9: Md. Tazul Islam
Chandpur-1: Dr. Mohiuddin Khan Alamgir
Chandpur-2: Mofazzel Hossain Chowdhury Maya
Chandpur-3: Dipu Moni
Chandpur-4; Md. Shamsul Huq Bhuiyan
Chandpur -5: Major (retd.) Rafikul Islam
Feni-1: Khairul Boshor Mozumdar
Feni-2: Nijam Uddin Hazari
Feni-3: Md. Abul Bashar
Noakhali-5: Obaidul Kader
Chittagong-1: Ingr. Mosharrof Hossein
Chittagong-2: Khadizatul Anwar
Chittagong-6; Md. Hachan Mahmud
Chittagong-8: Nurul Islam BCS
Chittagong-9: Md. Afsarul Amin
Khagrachori: Jatindra Laal Tripura
Rangamati: Dipankar Talukder
The ruling Awami League started selling nomination forms on November 10, 2013 to select candidates for the upcoming general elections.
Earlier On November 25, the Election Commission of Bangladesh announced the schedule of the 10th general election.