Fifa World Cup 2014 is going to start on June 12, 2014 and the fever grips football fans in Bangladesh. Fans are taking preparation to watch favorite teams' matches on new brand TV. Football Fans looking for new brand LED, LCD even CRT monitors to watch one month long football extravaganza.
---
Fans buy new LED, LCD, CRT Display
Local LED LCD CRT manufacturing company WALTON and Marcel CRT t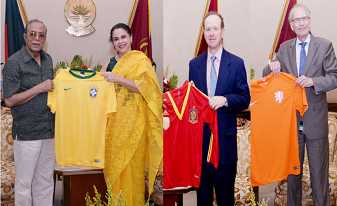 elevisions sales have increased about 40%. Ahead of Fifa World Cup 2014 international LED LCD manufacturing company like Samsung, LG, Sony, Singer, Panasonic and Transtec also took preparation to sale extra television.  Football Fans of Dhaka University will set up a giant screen near Oporajeyo Bangla to watch World Cup football 2014.
World cup 2014 Jersey in Bangladesh
Garments manufacturers also got $500m order to export teams' new jersey for World Cup fans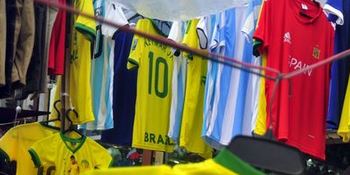 worldwide. World Cup 2014 Football fans showing pleasure by wearing new jersey of favorite teams. Bangladesh garments manufacturer made all most 32 teams' jerseys in this year.  Brazil, Argentina, England, France, Germany, Italy, Portugal, Spain are in the top list of Jersey selling.  Fans like Icon players jersey of Messey, Neymar, Ronaldo  also available in the local market.
Football fans also wearing this icon player jersey. Most of the fans are teens like college
or university students, even children fans wearing world cup jersey. Jersey is sold in major cities of Bangladesh. Hawker selling Jersey beside busy streets and downtown of Dhaka city.
Brazil Jersey for Bangladesh Fans
Brazil Ambassador to Bangladesh Wanja Campos presented Brazil jersey to Bangladesh President Abdul Hamid. Ambassador of Spain Luis Tejada Chacon and Ambassador of Netherlands Gerben Sjored de Jon

g also presented Champion Jersey and Runner-up Jersey respectively.
World cup Brazil 2014 Flags for Fans
Fans of World Cup Football hanging Flags of favorite teams top of the houses, outside the corridors, wall beside the road and public places across the country.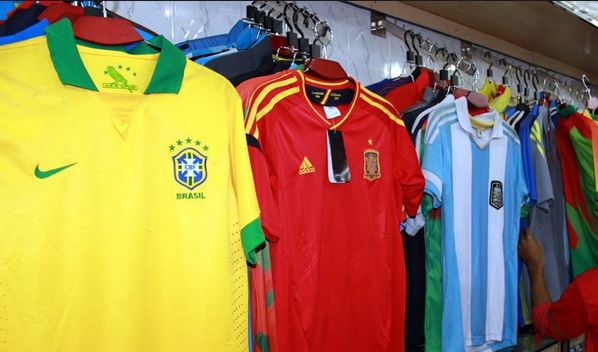 These fever grips football fans decorating own houses and clubs with countries flags and jersey.
Brazil Flag for Bangladesh Fans

Fans of Brazil display Green-Yellow color Brazil flag roof of the house, road side, in the car, balcony. Brazil fans hanged a 300 meters long Brazil flag in Tikatuli area of Dhaka. Participate world cup quiz competition and win  a fifa world cup football.
Argentina Flag for Bangladesh Fans

Argentina fans also showing their joyous with displaying Argentina Flag. Argentina  Blue-White flag is displayed road side, in the market even top of the house in the Dhaka city.
Every people of the country should respect our national flag and should avoid to hang another country flag. If you lastly want to display other country flag, do not forget to display our national flag up of the other country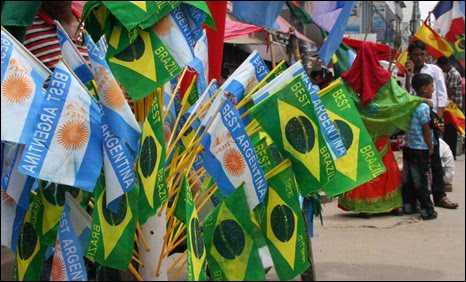 flag. Some fans respect to  the national flag of Bangladesh  and display Green-Red one beside Brazil or Argentina Flag.
Many companies started quiz competition for the World Cup 2014 fans and
the winner will get a different kinds of gifts.
World Cup Fans discuss about world cup 2014 Brazil everywhere, which team will win? Who will be the best player? Wil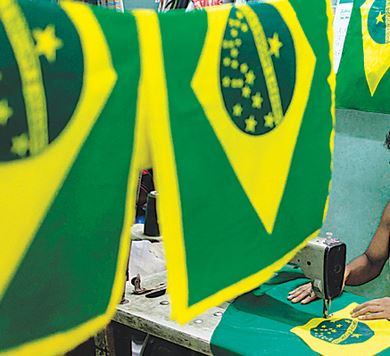 l Argentina win? Will Brazil win? and so on..  Gossiping in the tea stall, market place, club, across the country will be continuing till final match.
Fans choose Argentina Jersey :
Argentina fans in Bangladesh already bought Argentina Jersey T-shirt. Every where of the country few fans are wearing Argentina Jersey designed T-shirt. Not only in Dhaka city but also village fans.
Argentina and Brazil Jersey Price for Bangladeshi Fans

Jersey price is not so high. Jersey for Children at 100 taka. Small and Medium size  Jersey at 150 taka and Large size jersey at 200 taka only. Where you will get Jersey? Made in Bangladesh any team's jersey available in the shopping center of Golistan, Motijheel, Firmgate, Dhammondi, Mouchak, Gulshan, Mirpur as well as footpath. If you buy jersey from a shop price will be little high. Participate Robi world cup quiz competition and win a Jersey.
Argentina and Brazil Flag price
There is no color difference of original flag of Argentina or Brazil. You can buy a flag easily from the local shop. If you wish to hang a big size flag, you can buy same color clothes from the shopping center and ask tailor of your area to make a flag for you.  Alternative you can buy small size flag from footpath at Tk. 150 to 300 taka. Argentina and Brazila or any other country flag are available  with cheap price. As a fan of any country, do not forget to buy your own country's flag. Its matter of your Nationalism.
World Cup Quiz in Bangladesh
World cup 2014 fans quiz competition are going to at the end. National and multinational company already started world cup quiz competition in Bangladesh. Most of the world cup quiz are SMS base and any one can participate these quiz competition of Television channels, mobile phone company, consumer product manufacturer company. Keep eyes on below scroll bar of channel to find world cup quiz, check newspaper for world cup quiz, check promotional message of mobile phone for world cup quiz.
Opinion on Bangladeshi fans fever in World cup 2014

Brazil World cup 2014 started on June 12, 2014. Crazy Fans also started argument about Brazil and Argentina mainly. Brazil supporters say Brazil will be winner of 2014. Argentina supporters say Argentina will be winner of 2014. Brazil supporters are wearing Jersey of Brazil and Argentina supporters   are wearing Jersey of Argentina. But Why? What is the meaning of wearing Jersey outside the filed? If you ask any Brazil or Argentina player to wear Jersey outside the playground, may be they will feel shame. People of our country like Brazil since Pele had shown his magic in the previous world cup and Because of Maradona  people like Argentina very much and Wearing jersey. People have witnessed Maradona magic in 1986 world cup. Anyone can wear Argentina or Brazil Jersey, no problem. But why supporters of Argentina and Brazil hang flag of these 2 countries. We should respect our own flag. Yes, we can support any team, any player, and any country. You support Argentina, No problem. You support Brazil no problem. May be you wearing Argentina or Brazil Jersey that is also acceptable. If you hang other country's flag in our country, would this suitable? We respect every country's flag. We must respect our flag first. You can do one thing; just display your national flag with Argentina or Brazil flag also.