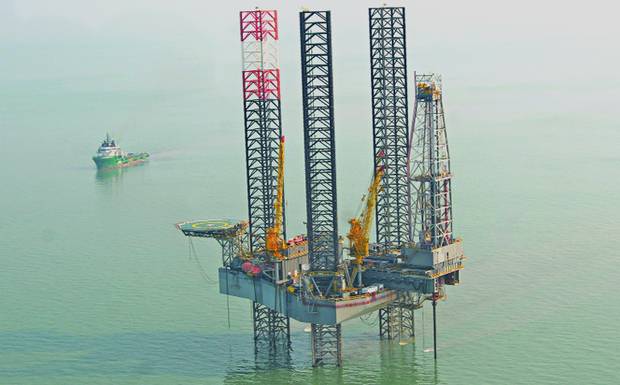 Bangladesh govt owned company Petrobangla has signed a production sharing contract (PSC) with Santos-Kris Energy, an Australia-Singapore joint venture, for hydrocarbon exploration in  Block-11 of the Bay of Bengal.
---
Petrobangla's subsidiary, Bangladesh Petroleum Exploration and Production Company Ltd (BAPEX), will have 10 per cent carried interest in the gas block.
The cost recovery will be a maximum 55 percent per year of available petroleum. The joint venture has also offered 55 to 80 percent profit share to the government in case of gas or oil discovery while the rest will go to the contractor.
Again, BAPEX will get 10 percent as carried interest from the contractors.
The block SS-11 is located at southeast offshore from Bangladesh and close to Myanmar's sea territory.

Officials of the Energy Division, Petrobangla, Santos, Kris Energy and Bapex signed the contract at Petrobangla.
Finance Minister AMA Muhith, Prime Minister's Energy Affairs Advisor Tawfiq-e-Elahi Chowdhury and State Minister for Power, Energy and Mineral Resources Nasrul Hamid Bipu were present at signing ceremony.
The exploration company will propose the selling of the extracted oil and gas to Petrobangla. The contractor can sell its gas to any third party if Petrobangla refuses to buy.
As per the model production-sharing contract, gas price for the shallow sea block has been pegged to high sulfur fuel oil price and the floor price for HSFO has been fixed at US$ 100 per tonne and the ceiling price at $200 per tonne.
Under the deal, Santos and Kris-Energy will invest US$ 15 million as guarantee for an initial eight-year initial period.
Under the Model PSC-2012, Petrobangla had last year invited tender for a total of nine blocks and received offers from three oil-gas exploring companies for four blocks. But there was no competitor for any of the four blocks.
There are huge opportunities for Bangladesh to have such a oil well in the Bey of Bengal.