In Bangladesh winter days are not wintry days. Winter in Bangladesh is pleasant, eagerly awaited and planned for. The autumn season passes off almost unnoticed in this country. But if nature had shortchanged us in one way, she has compensated by giving a balmy buoyant winter. The Bengali month of Kartik, that is early winter, is celebrated by poet Jibanananda Das in his poetry as a period that reveals the inner beauty and soul of Bengal . Kartik is now over and even the month of Agrahayan is more than half-way through. Winter has now fully set in. The sun-bathed fields and farms look as serene as though they were flooded by moonlight. The fog and mist lend an added mystery to the quiet beauty. It is another irony that winter days are short but crowded with activities. Outings, picnics, educational and religious programmes, even political activities receive a fresh spurt during winter.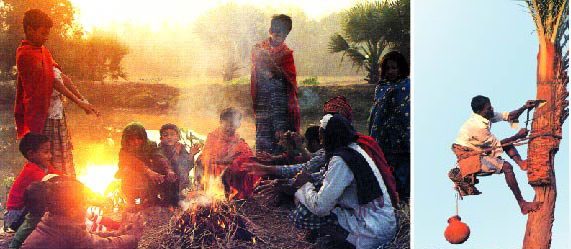 The gift of winter is also manifested on the dining table. New vegetables arrive, supply of fishes is somewhat better and even poor people can look forward to an occasional hearty meal. The foggy morning will be flavored by the steaming hot Pitha (sweet pie) made from ground rice and seasonal date-palm molasses.
The best time to visit Bangladesh is in the winter when the weather is dry and fresh. Yet tourists arriving in Bangladesh have been swelling in numbers day by day. They are visiting places like Cox' Bazar, Teknaf, the Sundarbans, Kuakata, Paharpur and Tetulia. Not only is it international visitors but locals are also using their holidays to visit different places of the country including Dhaka , Khulna and Chittagong . Many of the visitors are expatriate Bangladeshis coming to Bangladesh not only to visit their families, but for a holiday and to experience the vibrant and culturally rich country of their forbearers. Catering for all these people has seen an increase in the demand for new hotels and restaurants in Dhaka and at other tourist locations.
You can taste a variety of Bangladeshi spicy food, sweets, seasonal winter cakes and snacks. The climates of Bangladesh during 'camp season' (October-February) are sunny winter-spring and are very healthy and comfortable. As a whole, foreigners' stay in Bangladesh is most exciting and enjoyable experience.


Bangladesh offers many and varied bird watching opportunities, especially during the winter season.
It's possible to observe and photograph a large number of migratory bird species that include rare forest birds, Herons, Basas, Hornbills, Pheasants, Fortails, Laughing Thrushes, Babblers, Raptors, Jacanas, waders, passerines, Kingfishers, Kites, Eagles etc.
In winter 'Pitha Utsab' (Cake Festival) usually celebrated by the people of capital Dhaka , mainly at old areas. Those coming to the capital city, in last few decades, have note
d the celebration with interest. They participate in the 'Pitha Utsab' arranged by the Amra Dhaka Bashi and other organisations. The festival has been projected in different locations including parks, some private houses and cultural complexes. Among other festivities in Bangladesh , the Pitha Utsab or the Cake Festival creates an extra attraction for the people in winter.
In olden days marriage ceremonies in rural Bangladesh were unthinkable without Pithas. People used to make Pitha to present those to their relatives to celebrate the birth of grandsons or granddaughters. Food served to guests invariably included Pithas in the morning. The main season of Pithas is the winter when people in rural areas harvest new paddy and are relatively free from the anxieties of wants and pressure of loans taken during lean-work month. Winter is suitable for Pithas also because date palm juice, molasses from sugarcane are found in abundance.
The 'Pitha Utsab' gives the people of urban areas an opportunity to have a flashback of the ceremonies that the rural people of the country solemnized by making food of different tastes and attractive forms and sizes. In modern urban life people have neither the time nor the materials to make and taste cakes of traditional varieties. These cakes are made of natural ingredients and are free from adulteration as is sometimes the case with fast-food sold in cities and town.
For the poverty-stricken people the balmy and comfortably cool days of winter bring no cheer. And this year it will perhaps be no different. Many people live in perpetual misery and want so acute that even our mild winter spells tragedy for them. Deaths from cold wave are not uncommon, since many having no roof over their heads have to sleep in the open. And this is going to be a hard winter for others as well.
When crises are growing, economy is in doldrums, insecurity has gripped the country, a paean for winter may look like escapist distraction, but then a celebration of life and nature is part of our very struggle for existence. Let us welcome the season with guarded optimism.