Bangladesh Securities and Exchange Commission (BSEC)
Jiban Bima Tower (14th , 15th , 16th and 20th Floor).
10, Dilkusha C/A, Dhaka-1000, Bangladesh.
Phone:00 880-2-9568101-2, 02-9561525, Fax:00 880-2-9563721
www.sec.gov.bd
Dhaka Stock Exchange
Dhaka Stock Exchange established in 1952 as the Stock Exchange Association Ltd, East Pakistan.
Dhaka stock exchange (DSE) is a public limited company managed by company act 1994, SEC Act 1993, SECR 1994, Security exchange inside trading regulation 1994. Total members of Dhaka Stock Exchange are 328, listed companies are 538 and market capital $50.28 billion on April 05. 2010. Dhaka Stock Exchange is operated by 25 members Board of Director, 12 members are elected from DSE member, 12 members are selected from association or organization of Bangladesh including Bangladesh, DCCI, FBCCI.
Dhaka Stock Exchange  Trading Hour: Monday to Friday from 10:30am -2:30pm
Dhaka Stock Exchange Ramadan time : Monday to Friday from 10:30am to 1:30pm
Dhaka Stock Exchange is located in Motijheel, near Ittefaq mor, Dhaka, Bangla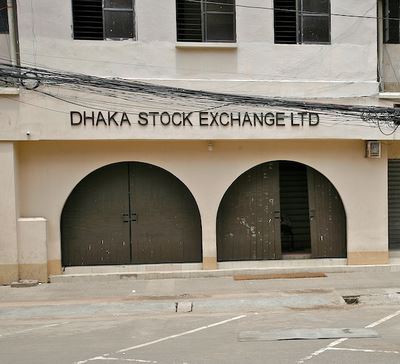 desh.
Dhaka Stock Exchange – DSE
9-F, Motijheel Commercial Area, Dhaka – 1000, PABX: 02-9564601, 7175703-11
Fax: 0088-02-9564727
www.dsebd.org /www.dse.org.bd
Dhaka Stock Exchange  Chittagong Office
6, Shafi Bhaban, Sheikh Mujib Road, Agrabad Commercia Area, Chittagong-4100
Phone: +88-031-2514100, Fax: +88- 031-2514100
Dhaka Stock Exchange Sylhet Office
RN Tower, Chowhatta, Sylhet
Phone: +88- 0821-2830975 , Fax: +88- 0821-2830975
Dhaka Stock Exchange Khulna Office
Chamber Mansion (6th Floor), Khan-A-Sobur Road, 5, K.D.A. Commercial Area, Khulna, Phone: 0088- 041-811600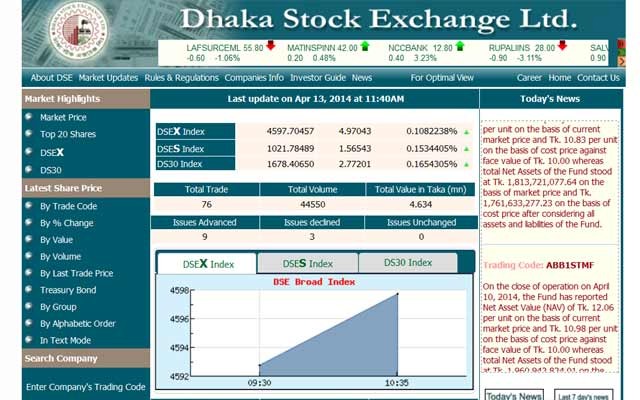 ---
Share Market in Chittagong
Chittagong Stock Exchange (CSE)
Chittagong Stock Exchange Building, 1080, Sk. Mujib Road, Agrabad, Chittagong, Bangladesh.
Telephone: 00880-31-714632-3, 00880-31-720871
Fax: 00880-31-714101
www.csebd.com /
www.cse.com.bd.
Chittagong Stock Exchange Dhaka Liaison Office
102, Kazi Nazrul Islam Avenue (level-8), Kawran Bazar, Dhaka-1215 Tel: +880-2-8125381-83, +880-2-9123023 FAX: +880-2-9123022
Chittagong Stock Exchange Sylhet Liaison Office
R.N. Tower (3 rd floor), Chowhatta, Sylhet-3100 Tel: +880-821-721215, +880-821-723090 Fax: +880-821-721214