It has been gratifying a watch a struggling college grow from precarious beginings to become what it is today. Each member of the staff and all students past and present have had a part in the making of Holy Cross College.
–  Sister Augustine Marie, C.S.C.
Holy Cross College is one of the famous colleges in Dhaka, Bangladesh. Holy Cross College was established in 1950. Earlier Holy Cross College name was Holy Cross School and College, later the name changed to only Holy Cross College.
There are threee groups Science, Humanities and Business Studies are available in Holy Cross College.
It has 2 shifts for school section and college section. Morning shift from 8am to 12pm, and Day shift from 12:30 to 4:30 pm. Weekly  2 holidays are Friday and Saturday.
Holy Cross College
Holy Cross College EIIN No- 131962 for online admission.
Holy Cross College hsc admission is mobile SMS base online, student can send message from from by using EIIN no. 121962.
Mobile SMS system is: CAD  131962 SC Dha 123457 2015 D B FQ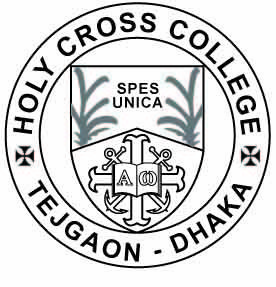 131962  – College EIIN
SC – Group name's first 2 letter.
Dha – Education board's first 3 letters.
123456 – applicant Roll number.
2015 – year of passing.
D – Shift Day
B – Version Bangal
FQ – Freedom fighter.
 Academic Levels:
– Secondary School Certificate (SSC)
– Higher Secondary Certificate (HSC)
Any SSC or HSC graduate of Holy Cross College will be eligible for full membership Holy Cross College Alumnae Association.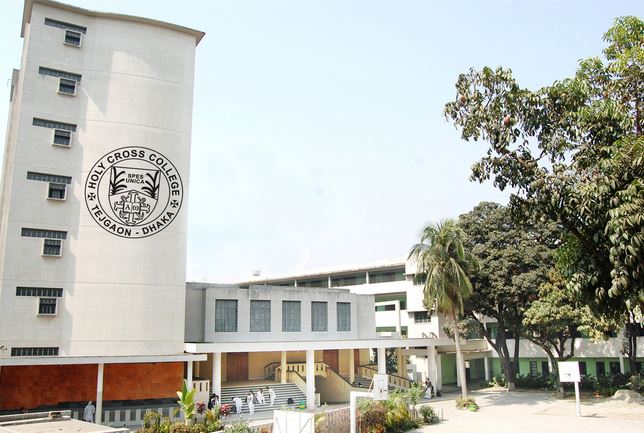 A HOLY CROSS SONG
Hail to Thee, our Alma Mater
We with loving hearts proclaim,
Long may our college live
Ever glorious be her name.
Orient skies smile upon us
As we pledge our love anew,
Holy Cross, we shall be loyal
Holy Cross, we shall be true.
Through the years our song will echo
As we walk our paths apart,
Each note will bind us closely
To our Alma Mater's heart.
Orient skies smile upon us
As we pledge our love anew,
Holy Cross, we shall be loyal
Holy Cross, we shall be true…
Address & Contact:
Farmgate, Tejgaon, Dhaka-1215.
Tel: 02-9110493
---
Holy Cross Alumnae Association Website: www.hccaa.net
The Holy Cross College Alumnae Association (HCCAA) contributes to the enhancement of education by offering scholarships in different categories to the students of the college..
The most important scholarship of Holy Cross College is  SAMMA, given in honor of Sister Augustine Marie, the Foundress Principal. This scholarship is given to students who are needy and put in effort in their studies.
Two other scholarships are awarded in the names of Zainul Abedin and Fazlur Rahman. These are sponsored by our alumna friend Ms. Nina Shaheen.
The former Holy Cross College Vice President, Mrs. Ulfat Shahabuddin, has introduced another scholarship in the name of her parents, Mr. wares and Mrs. Afruzi Wares. This is given to students with the best performance in the HSC Examination from the 3 departments: Humanities, Science & Business Studies.
Another scholarship for the meritorious students will be introduced by Recording Secretary, Mrs. Farhana Ferdousi.